Tahrir Square and England's Pompeii: The Week in Global-Affairs Writing
The highlights from seven days of reading about the world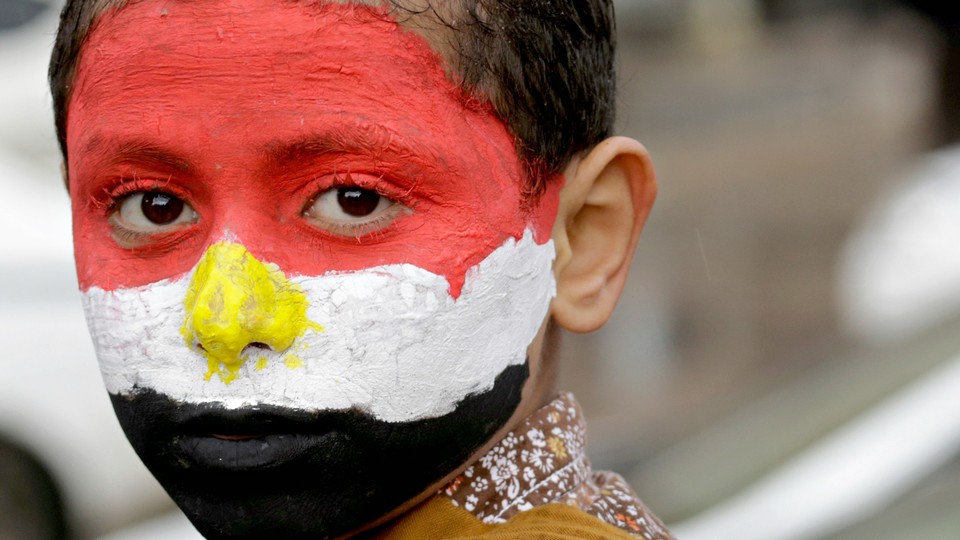 Archaeologists in England Tackle Mystery of Prehistoric Village's Rapid Demise
Stephen Castle | The New York Times
"No one knows why a catastrophic fire tore through the small settlement that rose by a river channel, incinerating the homes of several families and sending burning timbers crashing into the marsh below. It might have been an accident, an attack by enemies or even some sort of ritual.
Yet answers are emerging, piece by piece, some 3,000 years later."
​* * *
Life and Death Inside an ISIS Prison
Mike Giglio and Munzer al-Awad | Buzzfeed
"The prisoners were kept in small rooms. ... They scratched and penciled cryptic phrases onto the concrete walls. Some had written their names. ... Others left only phone numbers. … Now most of the lines are dead. But on a recent night, a soft-voiced man answered one. 'How did you get this number?' he asked."
* * *
A Rainy Anniversary in Tahrir Square
Peter Hessler | The New Yorker
"Sometimes I feel like the most useful thing that I've learned about Egypt can be summed up as: It doesn't have to make sense. Or perhaps it's better to say that many different and apparently contradictory things can be true at the same time. It's possible that Egypt's economy and political life have been badly damaged in the post-Tahrir era, but that the majority of citizens still, for whatever reason, respond positively to a survey about the aftermath of the revolution. It's possible for a man to travel three hours to celebrate the fifth anniversary of a revolution, and yet speak fondly of the leader who was toppled by that movement."
​* * *
Why Tokyo Is the World's Best Food City
Dave Chang | Lucky Peach
"Japan has taken from everywhere, because that's what Japanese culture does: they take and they polish and shine and they make it better. The rest of the world's food cultures could disappear, and as long as Tokyo remains, everything will be okay. It's the GenBank for food. Everything that is good in the world is there."
​* * *
The Unlikely Revolutionary
Jared Malsin | Time
"How does a protest become a revolution? In Egypt, part of the answer was death. During the first four days of the uprising, thousands of Egyptians had violent encounters with Mubarak's police state, battling security forces—and sometimes paying with their lives. ... It was a moment of extremes: the euphoria of a triumphant revolt tempered by the sorrow of loss and the anxiety about the uncertain road ahead. For many, the traumas catalyzed a sense of personal transformation, as Egyptians with little or no experience in politics, people who had acquiesced to the regime for decades, came to think of themselves as revolutionaries."
* * *
What Donald Rumsfeld Knew We Didn't Know About Iraq
John Walcott | Politico Magazine
"On September 9, 2002, as the George W. Bush administration was launching its campaign to invade Iraq, a classified report landed on the desk of the chairman of the Joint Chiefs of Staff. It came from Defense Secretary Donald Rumsfeld, and it carried an ominous note.
'Please take a look at this material as to what we don't know about WMD,' Rumsfeld wrote to Air Force General Richard Myers. 'It is big.'"
* * *
Did China Invent Football?
BBC News Magazine
"The heyday of Chinese football was in the Song Dynasty, from 960 to 1279AD. Kickball then was part of the wider urban culture of entertainment, sports, leisure and pleasure and there were different forms. In one version the idea was to keep the ball in the air as long as possible, but there were also competitive team games in which the idea was to get a ball into a goal."