Hope for a Besieged Syrian Town
Aid convoys reached Madaya where as many as 28 people are reported to have died of starvation since December 1.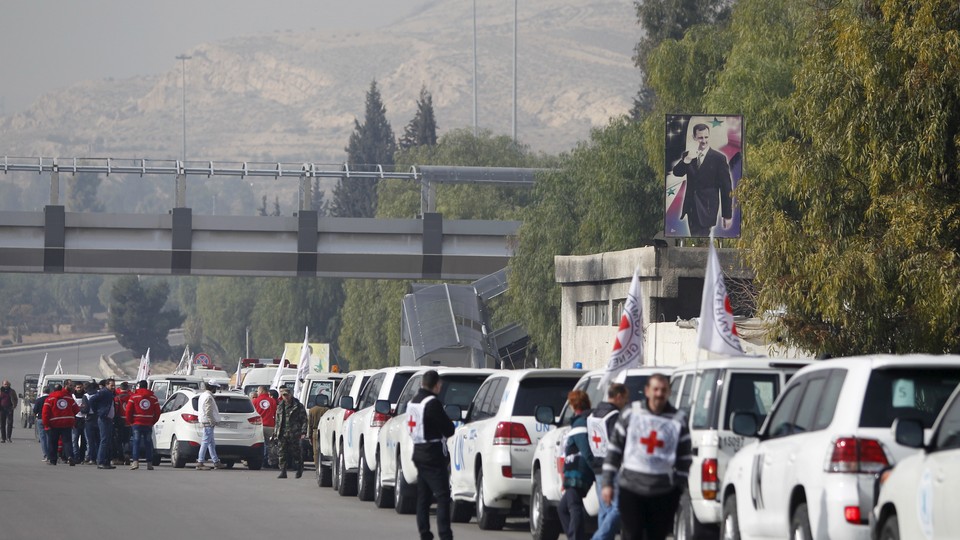 Updated on January 11 at 3:06 p.m. ET
Aid convoys have arrived in the besieged Syrian town of Madaya where as many as 28 people are reported to have died of starvation since December 1.
The ICRC is working with the Red Crescent and the United Nations to deliver the supplies.
"Crowds of hungry kids around," Sajjad Malik, UNHCR's representative in Syria, said in a text message from Madaya, the agency said in a statement. "It's heart-breaking to see so many hungry people. It's cold and raining but there is excitement because we are here with some food and blankets."

Madaya, which is near Syria's border with Lebanon, is controlled by rebel groups and has been subjected to a blockade for months by government forces and their allies in Hezbollah, the Shiite militia group from Lebanon. Madaya's residents last received food and supplies six months ago. The  convoy—49 vehicles carrying basic food items, water, medical supplies, infant formula, and blankets—will deliver enough food to last about 40,000 people for one month.
Aid will simultaneously be delivered to Foua and Kefraia, two villages in northern Idlib province that have been encircled by rebels. Approximately 20,000 people are believed to be trapped in the villages since last March, and a convoy of 21 trucks is taking supplies to them.
On Monday, Médecins Sans Frontières (MSF), the international-aid group that's also known as Doctors Without Borders, said five people, including a 9-year-old boy, died of starvation in Madaya on Sunday. That brings to 28 the number of people who have died because of a lack of food in the besieged city.
The starvation deaths in the city made Madaya the current face of suffering in Syria's civil war. Reuters reports that Syrian rebel leaders told the UN that they won't take part in talks with the government until the siege on Madaya, as well as other blockades, are lifted.
The Syrian civil war pits the government of President Bashar al-Assad, backed by Russia, Iran, and Hezbollah, against a slew of rebel groups, ranging from secular to Islamist. Some of these groups are backed by the West. The nearly five-year-long civil war has created a massive humanitarian disaster, a refugee crisis that has long-term political implications for Syria's neighbors, and a massive influx of migrants to Europe.