The Humanitarian Crisis in Madaya
A UN official says 400 people need to be evacuated from the besieged Syrian town so they can be given life-saving medical treatment.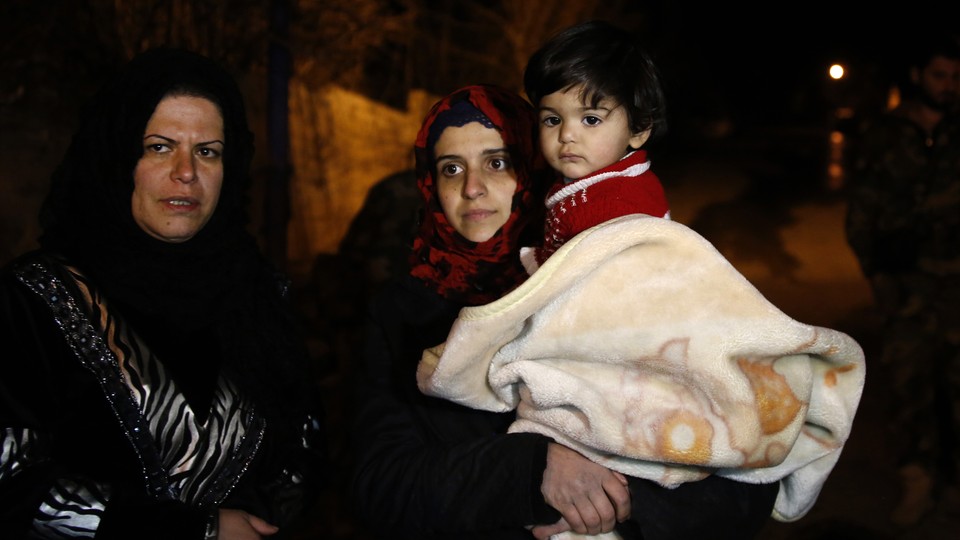 International relief agencies have delivered aid to the besieged Syrian town of Madaya where as many as 28 people are reported to have died of starvation. A UN official said 400 people need to be evacuated from the town so they can be given life-saving medical treatment, and the WHO has reportedly asked the Syrian government for permission to send mobile clinics to the town.
Madaya, which is near Syria's border with Lebanon, is controlled by rebel groups and has been subjected to a blockade for months by government forces and their allies in Hezbollah, the Shiite militia group from Lebanon. Madaya's residents last received food and supplies six months ago. The  convoy—49 vehicles carrying basic food items, water, medical supplies, infant formula, and blankets—… [delivered] enough food to last about 40,000 people for one month.

Aid [was] ... simultaneously … delivered to Foua and Kefraia, two villages in northern Idlib province that have been encircled by rebels. Approximately 20,000 people are believed to be trapped in the villages since last March, and a convoy of 21 trucks [took] … supplies to them.
At the United Nations, Stephen O'Brien, the under-secretary-general for humanitarian affairs and emergency-relief coordinator, told the Security Council late Monday that 400 people need to be evacuated immediately from Madaya or they will die.
"We must seek to do this and put the arrangements in place as soon as possible for medical treatment," he said, "or they are in grave peril of losing their lives and dying with either the causes being from malnutrition or for complications for other medical reasons."
Elizabeth Hoff, the WHO representative in Damascus who went with the aid convoy to Madaya on Monday, told Reuters her organization had asked the Syrian government's permission to take mobile clinics to treat people trapped in the town. She said a "door-to-door assessment" was needed in the town of about 40,000 people; 300-400 people needed special care, a local doctor told her, she said.
"I am really alarmed," she told Reuters from Damascus. "People gathered in the market place. You could see many were malnourished, starving. They were skinny, tired, severely distressed. There was no smile on anybody's face. It is not what you see when you arrive with a convoy. The children I talked to said they had no strength to play."