Deadly Explosions in Syria
At least 45 people were killed in three blasts near a Shiite shrine south of Damascus.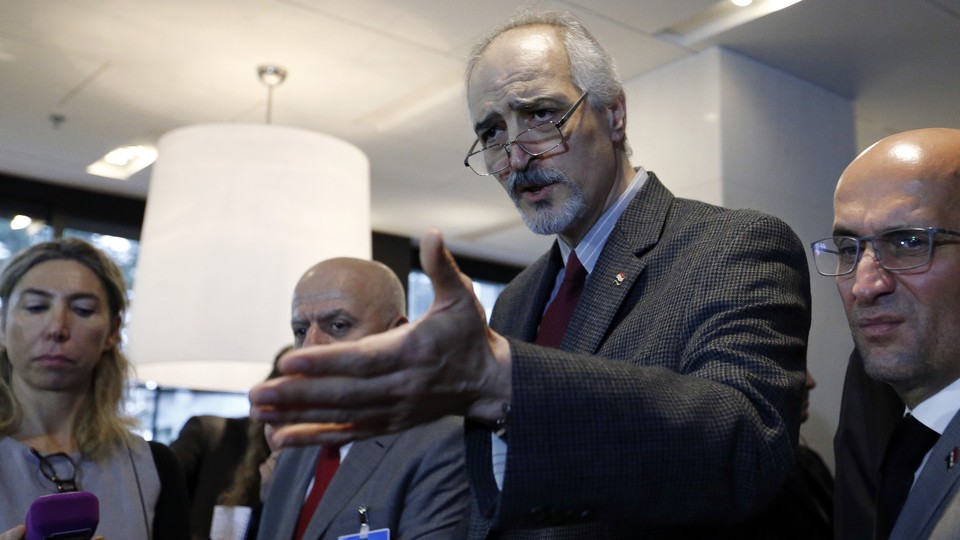 Updated on January 31 at 1:49 p.m. ET
At least 45 people have been killed in three explosions—two suicide attacks and a car bomb—near a Shia shrine south of Damascus, the Syrian government said Sunday. The blasts, which were claimed by the Islamic State, came amid a UN attempt to mediate peace talks between the government of President Bashar al-Assad and opposition groups.
SANA, the state-run Syrian news agency, quoted an Interior Ministry source as saying the explosions hit the Koua Soudan neighborhood near the shrine of Sayyida Zeinab. The car bomb went off at a bus station in the area and, SANA reported, when locals gathered to help victims, two suicide bombers blew themselves up. The agency said at least 110 people were wounded in the attacks.
The shrine of Sayyida Zeinab is said to contain the grave of the Prophet Muhammad's granddaughter. It is revered by Shiites and, despite the fighting in Syria, continues to be a major center of pilgrimage. The shrine, the area around which is controlled by the Syrian government and Hezbollah, was previously targeted in February 2015.
ISIS, as the Islamic State is also known, claimed responsibility for Sunday's attacks, which came as representatives of Syria's government and its opposition began gathering in Geneva for indirect, UN-mediated talks. The future of those talks are uncertain. Two of the groups that will be gathering in Geneva are Ahrar al-Sham and the Army of Islam, which Assad's government views as terrorist organizations.
Staffan de Mistura, the UN special envoy to Syria, met Friday with the Syrian government delegation. The opposition delegation, which is scheduled to meet with him on Sunday, said it won't take part in the talks until its demands are met, the AP reported. Those include lifting the government's siege on rebel-held areas and an end to the bombardment by Russia and Syria of areas the rebels control.
After meeting with members of the opposition on Sunday, De Mistura said they have been "exchanging with me some of their own ideas and they will let you know and let me know when and how they can be part of this exercise."
In Washington, John Kerry, the U.S. Secretary of State, called the conflict a "humanitarian catastrophe unmatched since World War II," and appealed to "both sides to make the most of this moment."
The UN hopes the talks will lead to a cease-fire followed by a political settlement to a civil war that has killed more than 200,000 people, displaced millions from their homes, and created a humanitarian disaster.