New Doubts Over North Korea's Claim of a Hydrogen-Bomb Test
Although there has been no independent confirmation of the test, there is skepticism and condemnation of the claim.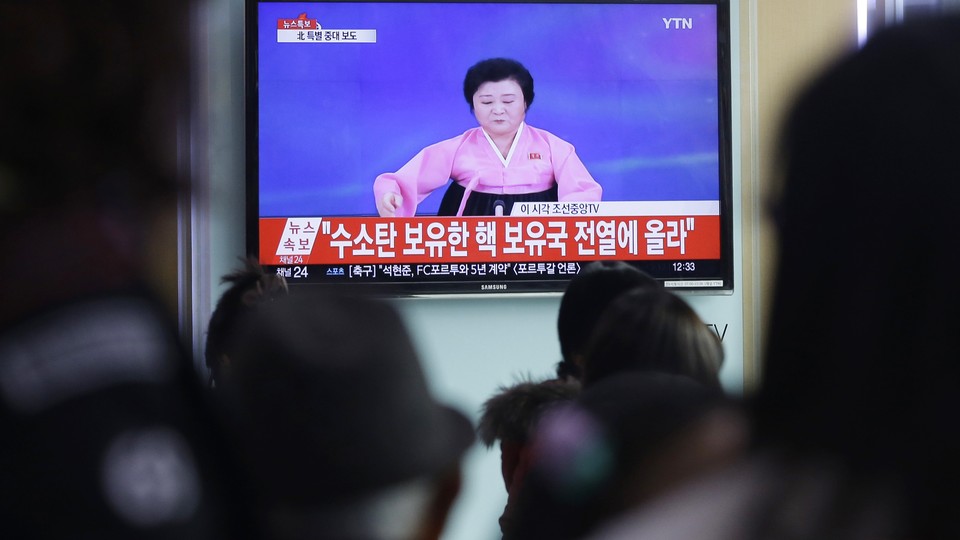 Updated at 2:22 p.m. on January 6
What we know so far:
—North Korea says it successfully detonated its first hydrogen bomb on Wednesday morning at the Punggye-ri Nuclear Test Site. It called the test a "self-defense against the U.S. having numerous and humongous nuclear weapons."
—Although there has been no independent confirmation of the test, condemnation has been nearly unanimous. China, North Korea's main ally, says it did not know anything about the test, adding it "firmly" opposes the move. Similar statements were issued by Russia, the EU, NATO, the White House's National Security Council, and the UN Security Council.
—There is skepticism from experts about North Korea's claim. The White House said "initial analysis … is not consistent with" claims of a successful hydrogen-bomb test.
—Still, if confirmed, this would be North Korea's fourth nuclear test. Pyongyang previously tested at Punggye-ri in 2006; additional detonations followed in 2009 and 2013. The previous tests detonated atomic bombs, which rely on nuclear fission. This test, North Korea says, tested a hydrogen bomb, which relies on both fission and fusion, producing a chain reaction that's far more powerful than an atomic bomb.
---
There's skepticism among nuclear experts and governments about North Korea's claim Wednesday that it has successfully detonated its first hydrogen bomb, with the White House saying its initial analysis was "not consistent" with Pyongyang's announcement.
"The initial analysis that has been conducted of the events that were reported overnight is not consistent with North Korean claims of a successful hydrogen bomb test," Josh Earnest, the White House spokesman, said. "There's nothing that's occurred in the last 24 hours that has caused the United States government to change our assessment of North Korea's technical and military capabilities."
Nuclear and regional experts were also skeptical.
*IF* yield is c. 10 kT, seems unlikely to be true 2-stage thermonuclear bomb. Maybe a small boosted primary? Or a vanilla fission device?

— James Acton (@james_acton32) January 6, 2016
Carl Bildt, the former Swedish prime minister, tweeted:
The Arms Control Association in Washington pointed out that early readings "suggest a relatively low-yield underground nuclear test was conducted." And, it added:
Determining what kind of fissile material was used for the bomb will be a challenge even if the radioactive gases produced by the test are once again detected by remote monitoring systems and airborne detection systems — a process that can take several days or even weeks as noble gases produced by the explosion seep up from the ground into the atmosphere.
The U.S. Geological Survey recorded a 5.1-magnitude seismic event about 11 miles from the North Korean town of Sunjibaegam in the country's northwest. Tremors of a similar magnitude followed each of North Korea's three previous nuclear-weapons tests— in 2006, with which it became the eighth declared nuclear-weapons state; 2009, and 2013— all of which occurred underground at the nearby Punggye-ri Nuclear Test Site. Experts pointed out that the magnitude of the tremors should have been far greater had Wednesday's test been of a hydrogen bomb, which is far more powerful than the atomic bombs North Korea tested on the three previous occasions.
Atomic bombs rely on nuclear fission to achieve their destructive purpose. Like a dropped water balloon hitting a sidewalk, atomic bombs crack open the dense atomic nuclei of large, unwieldy elements like uranium and plutonium to release tremendous amounts of energy.
Hydrogen bombs, by contrast, use nuclear fission only for their initial detonation, igniting a secondary fusion stage by compressing lighter atoms of deuterium and tritium together until they explode, like filling up a water balloon until it bursts. The chain reaction produces a far more powerful explosion than an atomic bomb.
North Korea announced its test on state media on Wednesday morning.
"The first H-bomb test was successfully conducted in the DPRK at 10:00 (0130 GMT) on Wednesday," KCNA, the state-run news agency, reported, using the official name for North Korea.
You can watch the announcement here (in Korean):
Pyongyang dropped hints about a possible nuclear test in the weeks preceding Wednesday's detonation. Over the weekend, South Korea's Yonhap News Agency reported the North could be readying for a nuclear-weapons test. The reclusive communist state also reportedly tested a submarine-based ballistic missile last month.
The first reports that North Korea might have a hydrogen bomb also emerged in the waning days of 2015. On December 10, KCNA quoted Kim Jong-un, the North Korean leader, as describing the country as "a powerful nuclear weapons state ready to detonate a self-reliant A-bomb and H-bomb to reliably defend its sovereignty and the dignity of the nation." Nuclear experts and the White House publicly expressed doubt about Kim's hydrogen-bomb claim at the time.
South Korean officials quickly condemned the test nonetheless, describing it as a violation of multiple United Nations Security Council resolutions and hinting at possible future sanctions. Other regional leaders echoed the sentiment. "North Korea's latest nuclear test is a grave threat against our security and we absolutely cannot allow it," Japanese Prime Minister Shinzo Abe told reporters, according to Asahi Shinbun.
China, North Korea's closest ally, said it was unaware of plans for the test, but said it was "firmly" opposed to the move.
"China is steadfast in its position that the Korean Peninsula should be denuclearized and nuclear proliferation be prevented to maintain peace and stability in Northeast Asia," said Hua Chunying, the Foreign Ministry spokeswoman. Her comments were reported by Xinhua, the state-run news agency.
Federica Mogherini, the EU's foreign-policy chief, said the test, if confirmed, "would represent a grave violation of [North Korea's] international obligations."
Jens Stoltenberg, NATO's secretary-general, said the test "undermines regional and international security, and is in clear breach of UN Security Council resolutions."
In Moscow, Dmitry Peskov, a Kremlin spokesman, said Russia, upon President Vladimir Putin's orders, was investigating North Korea's claims.
"Moscow is extremely concerned over information that has appeared that North Korea has tested a hydrogen bomb," he said.
The test's impact could also be felt in financial markets. Shares fell across Asia, but rallied in China. Markets in the U.S. and Europe were sharply lower, though a 11-year low in oil prices, as well as general worries about the global economy, contributed significantly to those declines.
The UN Security Council said it was considering "significant measures" against the North while Ban Ki-moon, the UN secretary-general, called the claim "deeply troubling."
---
Related Video
An illustration of mankind's creativity when it comes to killing