Boko Haram Strikes Again
An attack by the Islamist group on a village in northeastern Nigeria has killed as many as 86 people.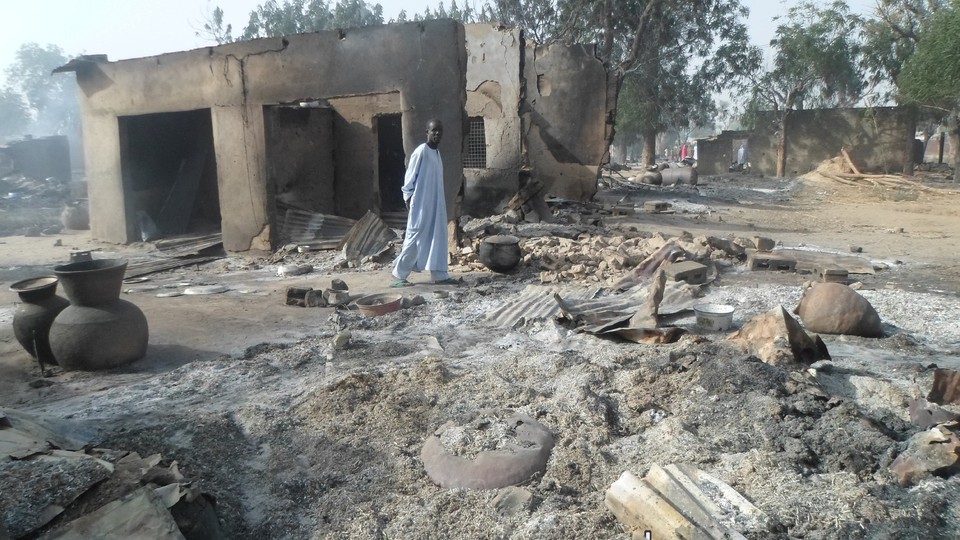 An attack by Boko Haram militants on a village in northeastern Nigeria has killed as many as 86 people.
Survivors described in gruesome detail the attack on Dalori village on Saturday. Alamin Bakura, one of those who survived, told the Associated Press the militants firebombed huts, and that he could hear the screams of children who were burned to death. The AP, citing witnesses and soldiers at the village, put the toll at 86. Other news organizations reported a lower toll: Reuters said at least 65 people were killed and AFP put the number of dead at 50.
The village of Dalori and two nearby camps house about 25,000 refugees, and the area is about 3 miles from Maiduguri, where Boko Haram was born.
Government troops who arrived at the village later on Saturday were unable to push the militants back, but reinforcements, which arrived later, prompted a retreat by Boko Haram, the AP reported.
Reuters adds:
It was the third attack this week suspected to have been carried out by the insurgent group - and the most deadly. Since it started losing control of territory, Boko Haram has reverted to hit-and-run attacks on villages as well as suicide bombings on places of worship or markets.
Borno state, where the attack occurred, is at the heart of Boko Haram's fight to set up an Islamic state. More than 2 million people have been displaced and thousands killed in the uprising.