Madaya: The Face of Syrians' Suffering
UNICEF says its representatives in the besieged Syrian town witnessed a teenager die of malnutrition.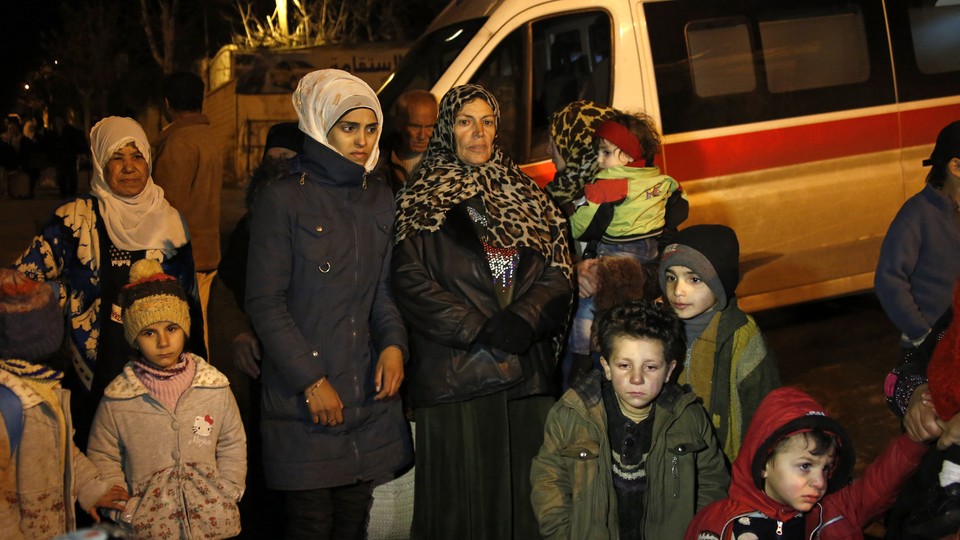 UNICEF says its representatives saw a Syrian teenager die of malnutrition in the besieged town of Madaya, where several cases of severe malnourishment were found among children.
"UNICEF is particularly saddened and shocked to have witnessed the death of Ali, a severely malnourished 16-year-old boy who passed away in the town's clinic in front of our eyes," Hanaa Singer, the UNICEF representative in Syria, said in a statement.
As we reported this week, international agencies—the UN, the Syrian Arab Red Crescent, the International Committee of the Red Cross, and others—were granted access to Madaya, the town of 40,000 people that has become the latest face of suffering in the Syrian civil war. The town is controlled by rebel groups and has been subject to a blockade for months by Syrian government forces and their allies in Hezbollah, the Shia militia group from Lebanon. Madaya's residents last received food and supplies six months ago, and prior to the aid deliveries, Médecins Sans Frontières said 28 people had died because of a lack of food. They received two deliveries this week.
Singer, in the statement, said of 25 children screened at a make-shift hospital in the town, 22 showed signs of moderate to severe malnutrition. They are now being treated with supplies delivered Monday. Singer added:
"The team screened another 10 children aged from 6 to 18. Six of them showed signs of severe malnutrition. A 17-year-old boy is in a life-threatening condition and desperately needs immediate medical evacuation.  A pregnant woman in her ninth month with obstructed labour is also in urgent need of evacuation. …

"The people we met in Madaya were exhausted and extremely frail. Doctors were emotionally distressed and mentally drained, working round the clock with very limited resources to provide treatment to children and people in need. It is simply unacceptable that this is happening in the 21st century.
Abeer Pamuk, a representative of SOS Children's Villages in Syria, who visited Madaya separately pointed out that none of the children he saw looked healthy.
"They all looked pale and skinny. They could barely talk or walk. Their teeth are black, their gums are bleeding, and they have lots of health problems with their skin, hair, nails, teeth," she said in a news release from the group. "They are obviously not getting the food they need to grow normally. Thus, the children looked smaller and younger than their real ages."
The effect is even more pronounced in children born at the beginning of the siege, he said.
"In a normal scenario, in a normal house in Syria, children will be playing and jumping all around and laughing," she said. "Madaya has children, but they do not look like they normally would. They are hungry kids, without any energy to move. The houses are full of children, but hunger has shot their spirits down."
The Syrian civil war pits the government of President Bashar al-Assad, backed by Russia, Iran, and Hezbollah, against a slew of rebel groups, ranging from secular to Islamist. Some of these groups are backed by the West. The nearly five-year-long civil war has created a massive humanitarian disaster, a refugee crisis that has long-term political implications for Syria's neighbors, and a massive influx of migrants to Europe.
Madaya is just one town that has been affected. Singer pointed out that "there are 14 other 'Madayas.'"
"These are locations where different parties to the conflict have been using siege as a tactic of war, depriving children and innocent civilians from accessing lifesaving supplies and services," she said.
Indeed, while aid was delivered to Madaya this week, it was simultaneously sent to Foua and Kefraia, two villages in northern Idlib province that have been encircled by rebels. Approximately 20,000 people are believed to be trapped in the villages since last March.