The Fallen Journalists in Afghanistan
A Taliban bomber struck a bus carrying journalists from Tolo TV in Kabul, months after the group threatened to target the independent news outlet.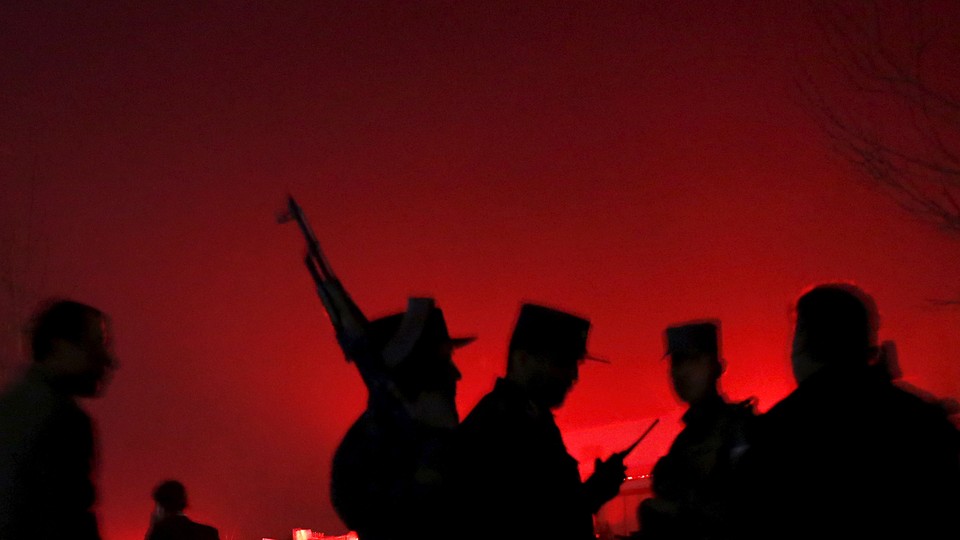 A Taliban suicide bomber struck a van in central Kabul during rush hour Wednesday night, killing seven and wounding dozens of others. The majority of the dead and wounded were members of Tolo TV, an independent television station and one of two outlets the Taliban had previously threatened.
The return of television and music was heralded as one of the triumphs of post-Taliban life in Afghanistan, where entertainment and independent media had previously been banned. Tolo TV, which launched in 2004, has reported critically on such stories as an Afghan court's recent decision to overturn death sentences for four men who killed a woman outside of a shrine after she had been falsely accused of burning a Koran.
In late September of last year, however, the Taliban seized the city of Kunduz in a surprise offensive. Media coverage of the Taliban's exploits immediately angered the group, which threatened to "directly eliminate" employees of two media outlets, including Tolo TV.
"No employee, anchor, office, news team and reporter of these TV channels holds any immunity," the group said in a statement in October.
In an interview with NPR in October, Saad Mohseni, the channel's founder, addressed the threats made after Tolo TV reported on allegations that Taliban troops had raped women in Kunduz:
Yes, I mean, there were a number of allegations of rape committed by Taliban troops. And we reported on these stories like any other media outlet. And of course, Amnesty and others came forward as well condemning what they saw as crimes of war. So I think that's a thing that really upset the Taliban. And they have stated that as being the reason as to why this declaration was made. Well, you know, when you're launching attacks from time to time and the objective is to actually kill and maim, they probably feel that sort of coverage is not negative. But this is the first time that the Taliban had to also win hearts and minds. So they probably felt that they needed to make an impression, and that impression wasn't necessarily the one that they ended up making. This declaration came from the military council, so this is a pretty serious threat.
Following the attack, which drew wide condemnations, the Committee to Protect Journalists issued a statement: "Attacks aimed at crushing independent media organizations in Afghanistan are a direct assault on the very foundation of Afghan democracy-a free and open press."
Wednesday's attack was the fourth in Kabul this month.