The Shadow of Jihadi John
Is martyrdom about the afterlife? Or fame in this life?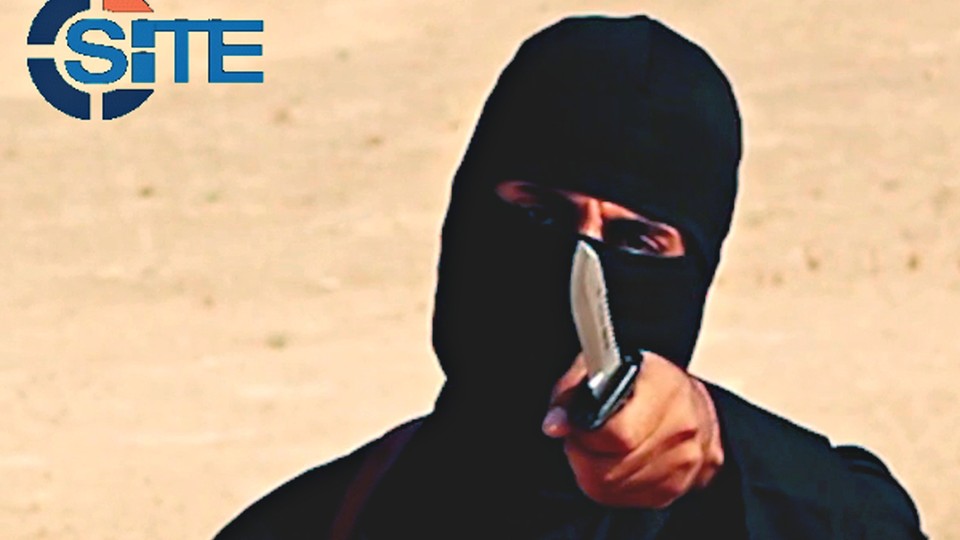 On Tuesday, in issue 13 of its online magazine Dabiq, ISIS confirmed the death of Mohammed Emwazi (a.k.a "Jihad John"), the group's notorious British-accented, ninja-suited, knife-wielding executioner in HD—and poster boy of the jihadist jet set. This isn't exactly news: Emwazi's death was widely reported last November, after the Pentagon announced that it had targeted him in an air strike in Raqqa, Syria on November 12. "It's still a little early, but we are reasonably certain we killed the target that we intended to kill, which is Jihadi John," said Colonel Steve Warren.
In a section of the magazine titled, "The Best Shuhadā [martys]" Emwazi, who is referred to as Abū Muhārib al-Muhājir, is eulogized as an "honorable brother." His exploits on the battlefield, his resourcefulness in escaping the attentions of the "much-overrated MI5 British intelligence agency" and making it to Shām (Syria), his generosity (apparently, after receiving a sabiyyah, or sex slave, as a gift, "he did not hesitate to give her away—likewise as a gift—to an unmarried injured brother"), his fierce piety (it's reported that on one occasion, back in "the lands of Kufr," he nearly decked a "pro-Saudi Salafi" scholar who had spoken ill of the sisters in Palestine), and his "harshness towards the kuffar [non-believers]" are all fulsomely praised.
In publishing this eulogy, ISIS confirmed something else we know but are only now assimilating: Jihadists don't die. They live on. Not in the hereafter, but in the glossy pages of a magazine. Or, as the ISIS expert Charlie Winter has documented, in tweets. Or, in the case of Palestinian suicide bombers, on playing cards and street posters. Or, in the case of the jihadist cleric Anwar al-Awlaki, who was killed in a U.S. drone strike in 2011, on YouTube. They live on in the jihadist subculture, and continue to swagger and strut as "martyrs."
Jihadists and their emulators know this, and are incentivized by it, although it remains an open question just how prominently this most secular of motives—the desire for fame and recognition, indeed immortality—features in their schedule of motives.
Adulation in the here-and-now is certainly more concretely imaginable than the more abstract rewards of paradise in the hereafter, a point that is sharply conveyed in Anne Marie Oliver and Paul F. Steinberg's study of the culture of Palestinian suicide bombing, The Road to Martyrs' Square. "You will never understand anything about the lure of martyrdom," Oliver and Steinberg insist, "until you realize that someone who has decided to take that path as his own sees himself not only as an avenging Ninja, but also as something of a movie star, maybe even a sex symbol—a romantic figure at the very least, larger than life."
It's hard to imagine Emwazi as a sex symbol, but it isn't hard to imagine that he may have seen himself as one—or, at least, as a movie star, which, perversely, for a short period, is what he became: a redoubtable Freddy Krueger of primetime TV news, horrifying his audience with his maniacal charisma.
In the video showing the beheading of the American journalist Steven Sotloff, Emwazi begins by saying, "I'm back Obama." He has been dead for over two months now, and yet here he is, back again.