The Attack in Jakarta
ISIS claimed responsibility for the strike on the capital of Indonesia that killed seven people, including all five attackers.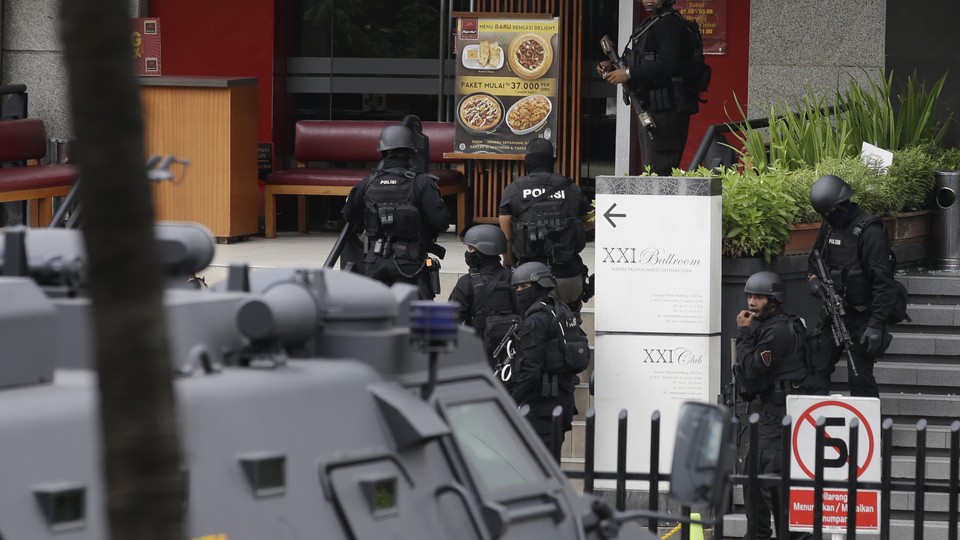 ISIS has claimed responsibility for Thursday's deadly attack on Jakarta—the capital of Indonesia, the world's most populous Muslim state—that killed seven people, including five of the attackers.
In a statement released online, ISIS said the attack, which was centered on Thamrin Street, a major shopping and business district, was carried out by "soldiers of the Caliphate." The target, it said, were "citizens of the Crusader coalition." Tito Karnavian, the Jakarta police chief, had earlier said that Bahrun Naim, an Indonesian national who is with ISIS in Syria, had been "planning this for a while." Up to 200 Indonesians—out of a population of 250 million—are believed to be fighting for ISIS.
Although it's not immediately clear why the group chose to strike the capital of the world's most populous Muslim country, Indonesia is not a stranger to attacks by militant groups professing Islam—in 2002 and 2009 to name but two—and, before that, other ideologies. But Indonesia, where most people practice a moderate form of Islam, cracked down on Islamist groups after the 2009 attacks, and Wednesday's explosions and gun battles on Thamrin Street were the worst since then.
Security forces battled the attackers for hours. All five attackers were killed—two in suicide bombings and three in the gun battles, news reports said. In all seven people were killed, including an Indonesian and a Westerner, officials said. Twenty people were wounded, including five police officers.
Anton Charliyan, the national police spokesman, said the attackers had "imitated" the perpetrators of the deadly Paris attacks last November that killed 130 people.
President Joko Widodo urged his compatriots to stand tall—and, as
NPR points out
, the hashtag #KamiTidakTakut, "We are not afraid," began trending on Twitter.
"This act is clearly aimed at disturbing public order and spreading terror among people," the president said. "The state, nation and people should not be afraid of, and lose to, such terror acts."