The 'Staggering' Civilian Toll of Iraq's Fight Against ISIS
The United Nations estimates that at least 18,000 Iraqis have been killed since the start of 2014, a number it says might be too low.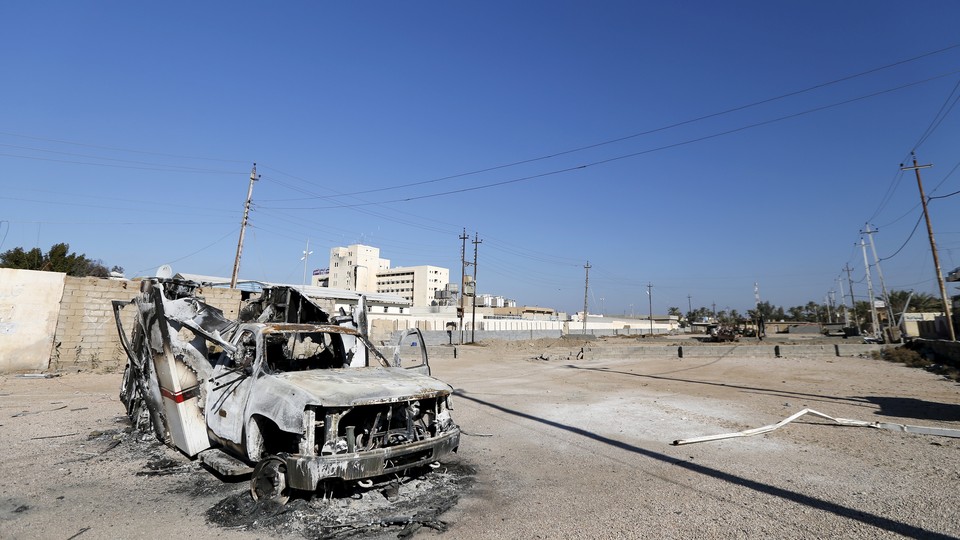 Thousands have been killed, maimed, and displaced over the last two years in what a new United Nations report characterized as the "untold suffering" of Iraqi civilians.
The report, released Tuesday, provides some "staggering" figures related to the horrors of life in Iraq in the time of ISIS. According to the UN, between the start of 2014 and October 31 of last year, 18,802 Iraqis were killed, 36,245 were wounded, 3.2 million were displaced, and 3,500 others, mainly women and children, have been enslaved by Islamic State fighters.
Worst of all, perhaps, the issuers of the report fear that their estimates may be low and that their assessments of the carnage, which were collected by the UN from interviews with survivors and witnesses, may not fully reflect the situation.
The charges of systematic violence mainly focus on Islamic State activity—one grim entry in an attached glossary involves the acronym "SVBIED" for suicide vehicle-borne improvised explosive devices. Stories from the collected testimonies involve abuses including the killing of women who refused to have sex with ISIS fighters, the public bulldozing of a crowd, drownings, decapitations, and the killing and abduction of minorities.
In June, three men, two young men, and a 60-year-old man were reportedly thrown off a building in Mosul for "alleged homosexual acts." Later that month:
On 21 June, in Mosul, Ninewa, it was reported that ISIL had announced a Quran memorization competition in Mosul on the occasion of Ramadan, stating that the first three winners would reportedly receive 'sex slaves' as prizes.
"These acts may, in some instances, amount to war crimes, crimes against humanity, and possibly genocide," the UN report noted. However, the UN also cites acts of violence committed by Iraqi security forces, anti-ISIS militiamen, Kurdish forces.
All told, the figures, however low they may be, show a terrible return to levels of violence not seen in Iraq since the height of Sunni-Shia conflagration in 2006-2007 when more than 50,000 Iraqis died.
The UN report was accompanied by a small piece of good news on Tuesday. Owing to the ongoing international campaign, which has recently liberated the city of Ramadi and targeted the Islamic State capital of Raqqa in Syria, ISIS has reportedly cut the pay of its fighters in half.