The Aftermath of a Muslim Cleric's Execution in Saudi Arabia
Dozens of demonstrators took to the streets this weekend after Saudi Arabia announced the execution of a respected Shiite Muslim figure.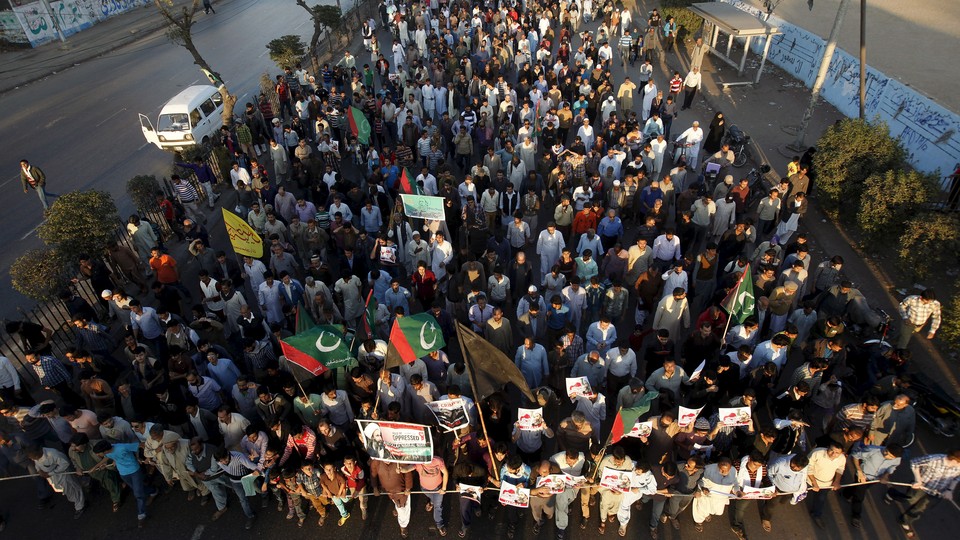 Updated on January 3 at 4:12 p.m. EST
Saudi Arabia has severed diplomatic ties with Iran following Iran's condemnation of Saudi Arabia's execution of a respected Shiite Muslim cleric.
Saudi Foreign Minister Adel al-Jubeir said Sunday his country is cutting ties with Iran, and has ordered Iranian diplomatic personnel to leave the country within 48 hours and told Saudi officials in Iran to return home.
Saudi Arabia announced Saturday that it had executed 47 men on what the government called terrorism charges. Among them was Sheikh Nimr al-Nimr, who was sentenced to death in October 2014 after he was convicted of sedition and other charges. Al-Nimr regularly criticized the monarchy in Saudi Arabia, whose population is predominantly Sunni Muslim, and had led protests in the eastern part of the country.
Iranian President Hassan Rouhani and other government officials on Sunday condemned Saudi Arabia's mass execution. Demonstrators in Iran, Pakistan, Bahrain, and elsewhere took to the streets to protest the killings, chanting and carrying signs and photos of the cleric.
In Iran, protesters swarmed and set fire to the Saudi embassy in Tehran late Saturday night and early Sunday morning. In Pakistan, Shiite Muslims participated in rallies Sunday in the city of Karachi. In Bahrain, dozens of people, some holding photos of al-Nimr, marched in the capital city of Manama. The cleric had been a critic of Sunni-led monarchy in Bahrain.
In London, protesters gathered outside the Saudi embassy. One woman held a sign that read "Justice for Sheikh Nimr," wire-service photos showed.
A prominent Iraqi Shiite cleric, Muqtada al-Sadr, called for Iraq to shut down the Saudi embassy, and urged people in Gulf countries to protest al-Nimr's execution.
Al-Nimr's death, which al-Nimr's brother told the Associated Press came as a surprise to even their own family, was seen by some as a warning to individuals, particularly Shiites, against seeking political reforms. Religious leaders and political figures in Iran, Yemen, and Lebanon warned that al-Nimr's killing would prompt widespread anger and worsen sectarian tensions in the Middle East, according to The Guardian.