Iran's Two-Deal Day
The UN confirmed its nuclear compliance as the U.S. and EU lift sanctions; Tehran and Washington also swap prisoners, including Washington Post reporter Jason Rezaian.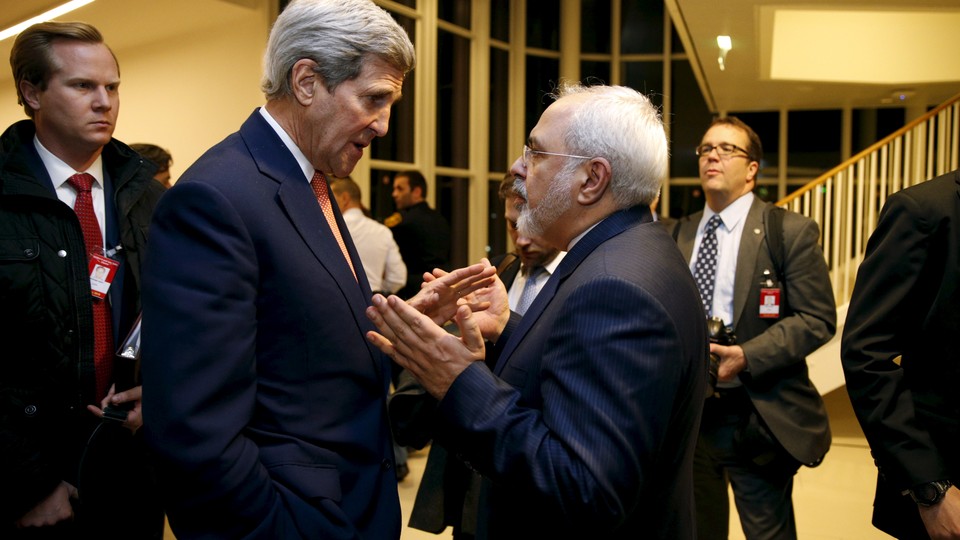 Updated on January 16 at 7:27 p.m. ET
The United States and the European Union lifted a broad swath of economic sanctions against Iran on Saturday as the International Atomic Energy Agency certified it had dismantled most of its nuclear program, opening a new, cautious chapter in relations between Tehran and the West.
"Today marks the first day of a safer world, one we hope will remain safer for many years to come," Secretary of State John Kerry told reporters at a press conference in Vienna.
Diplomats gathered Saturday in the Austrian capital for the implementation of last year's historic nuclear agreement between Iran and six world powers—the United States, Russia, China, France, Germany, and the United Kingdom. IAEA inspectors formally certified that Iran had taken concrete steps to scale back its nuclear infrastructure over the past three months—literally, in one case, when the country poured cement into the nuclear reactor core at Arak.
Iran also shipped 98 percent of its nuclear fuel to Russia and dismantled two-thirds of the centrifuges it used to enrich uranium. If the Iranian government renounced the deal and reactivated its program, Kerry estimated that it would take more than a year for the country to race towards a nuclear bomb.
After the certification, President Obama issued executive orders lifting international economic sanctions. Their end marks a major victory for Iranian President Hassan Rouhani and his allies, who swept into power in the 2013 elections on a platform of reinvigorating the country's ailing economy and thawing its relations with the West. The timing is also politically fortuitous as Iranian voters go to the polls on February 26 for the country's legislative elections.
We're getting to #ImplementationDay. Nothing serious. Diplomacy requires patience, but we all know that it sure beats the alternatives.

— Javad Zarif (@JZarif) January 16, 2016
In an effort to force Iran to abandon its nuclear program, the United States, the European Union, and other countries constructed the most complex regime of international economic sanctions in modern history, effectively severing Tehran from most of the world's major financial institutions and isolating its markets from global commerce. Iran's economy withered, with the Iranian rial losing over two-thirds of its value and the price of basic goods rising precipitously.
A broad array of direct U.S. sanctions on Iran remain in force, so economic ties between the two countries will be minimal for the foreseeable future. But European and Asian businesses are expected to forge trade relationships with the once-isolated country almost immediately. Iranian Transport Minister Abbas Akhoundi said his country planned to purchase 114 aircraft from Airbus as soon as the sanctions lift to replace Iran's aging civil-aviation fleet.
Hours before the announcement in Vienna, Iranian news outlets reported that Washington Post journalist Jason Rezaian had been released from Iranian custody on Saturday morning after 543 days in captivity, along with three other American prisoners as part of a prisoner swap with the United States, Iran's semi-official Fars News Agency reported.
Also freed on Saturday were Amir Hekmati, a former U.S. Marine sentenced to death for espionage in 2012; Saeed Abedini, a Christian pastor held by Iran since 2012; and Nosratollah Khosrawi.
As part of the swap, President Obama granted clemency to seven Iranians convicted of or awaiting trial for violating the U.S. sanctions regime against Iran. The U.S. also dropped its cases against 14 other Iranians it sought to extradite from other countries.
Iran also released a fifth American, Matthew Trevithick, on Saturday; CNN reported that U.S. officials claimed his release was not part of the prisoner swap. Trevithick is a student and researcher specializing in the Middle East who was detained while studying at a foreign-language center in Tehran, according to a statement from his family. His 40-day captivity was not publicly known prior to Saturday's announcement.
Iranian officials arrested Rezaian on July 22, 2014, and charged him with espionage nine months later. An Iranian court found him guilty on October 15 last year and sentenced him to prison for an indeterminate length of time. Marty Baron, the Post's executive editor, strongly condemned his sentence and treatment.
"The contemptible end to this 'judicial process' leaves Iran's senior leaders with an obligation to right this grievous wrong," Baron wrote. "Jason is a victim — arrested without cause, held for months in isolation, without access to a lawyer, subjected to physical mistreatment and psychological abuse, and now convicted without basis."
This is a developing story and we'll have more information as it becomes available.