What Led American Ships Into Iranian Waters?
The U.S. military has released more details of last week's detainment of Navy vessels in foreign territory.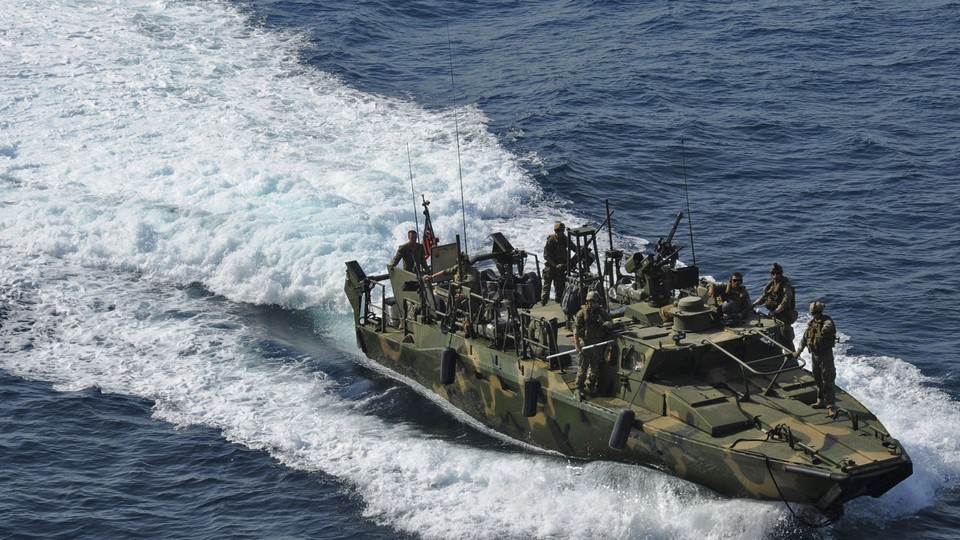 The U.S. military has released its first official account of Iran's capture and release of 10 American sailors whose vessels entered Iranian waters in the Persian Gulf last week.
U.S. Central Command, or CENTCOM, on Monday provided a timeline of the events, but did not say how the two U.S. Navy boats ended up in foreign waters on their journey from Kuwait to Bahrain in a routine exercise. The sailors are currently in "good health," CENTCOM said.
CENTCOM said the small boats stopped in the Gulf because of a "mechanical issue in a diesel engine" in one of the vessels. "This stop occurred in Iranian territorial waters, although it's not clear the crew was aware of their exact location," the statement said.
The two riverine command boats departed Kuwait at 9:23 a.m. GMT on January 12, the statement said. They were scheduled to stop and refuel alongside the U.S. Coast Guard Cutter Monomoy at about 2 p.m. But at approximately 2:10 p.m., Navy command received a report that the sailors were being questioned by Iranians. By 2:45 p.m., the military lost all communication with the boats.  
Navy command launched search-and-rescue operations soon after, deploying aircraft from USS Harry S. Truman and nearby Navy vessels. The Navy tried to contact Iranian military units operating near the Gulf's Farsi Island over marine radio and telephoned Iranian coast-guard units. At 6:15 p.m., U.S. Navy cruiser USS Anzio got word from the Iranians that the sailors were in Iranian custody and were "safe and healthy."
CENTCOM said armed Iranian personnel boarded the U.S. boats and led the sailors at gunpoint to a port facility on Farsi Island. The Americans were held for about 15 hours and were not physically harmed. They were released at 8:43 a.m. GMT the next day to the Navy, and another group of U.S. sailors took over their vessels.
All weapons, ammunition, and communication gear on the boats were untouched, but two SIM cards appeared to have been removed from two handheld satellite phones, CENTCOM said.
The Navy has launched an investigation into the incident, which was seen as a test case for newly improved U.S.-Iranian relations. U.S. and Iranian officials were quick to hail the diplomacy that resulted in the release of the sailors. President Obama said Sunday that increased cooperation between the two nations prevented the capture from escalating into "a major international incident."
"Some folks here in Washington rushed to declare that it was the start of another hostage crisis," Obama said. "Instead we worked directly with the Iranian government and secured the release of our sailors in less than 24 hours."
The incident preceded a couple of breakthroughs in U.S.-Iran relations. Days later, international inspectors formally certified that Tehran had dismantled most of its nuclear program in accordance with the historic deal brokered last year between Iran and six world powers. In exchange, the Obama administration lifted a swatch of economic sanctions that have crippled Iran's economy for years. The two nations also agreed to a prisoner swap that would release four Americans, including a Washington Post reporter, held prisoner in Iran for months or years. A fifth American was also released, but not as part of the exchange.