Shutting France Down Over Uber
Widespread protests over ride-sharing services in French cities have been marked by burning tires, multiple arrests, and impenetrable traffic.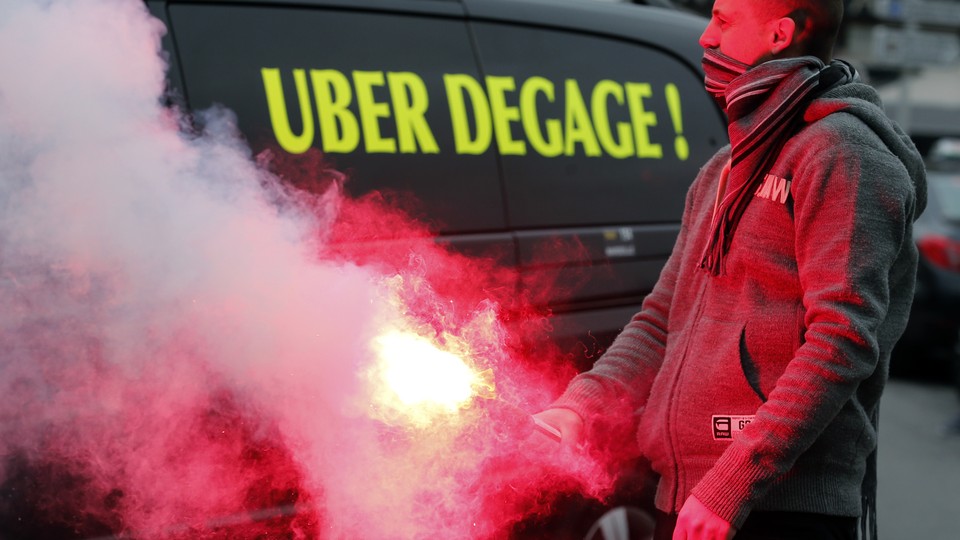 Traffic in a number of French cities slowed to a crawl Tuesday as taxi drivers across the country protested against Uber and other "non-traditional" car services.
Dispatches from around France included reports of burning tires, the setting of roadblocks on major thoroughfares, and a campaign for cab drivers to "drive slow."
Citing Paris police, The New York Times reported that 1,500 taxis "had blocked or delayed traffic around Charles de Gaulle and Orly airports, as well as Porte Maillot, a major intersection in western Paris, and near the Ministry of Economy and Finance."
French police responded by firing tear gas to keep protesters from blocking some roads and made multiple arrests of demonstrators who were said to have been violent with police. Similar protests in Toulouse, Marseille, and Bordeaux caused major delays.
Demonstrators claim that drivers for Uber, the American company that recently reached 1 billion rides, and their ilk are breaking rules that prohibit them from cruising the streets for fares and also hold an unfair advantage against taxi drivers who must pay for costly licenses. In what one might characterize as the French flair for the dramatique, signs were spotted that proclaimed "Je Suis Taxi" or otherwise accused Heetch, another maligned ride-sharing app, Uber, and Economy Minister Emmanuel Macron, who has publicly supported Uber, of "economic terrorism."
Following an emergency meeting with taxi and transportation officials, French Prime Minister Manuel Valls issued a statement in which he promised to "put an end to unfair behavior and guarantee the conditions of loyal competition."
The scene was similar to previous anti-Uber protests that swept across France in June of last year. (Last year alone, protests against the company took place on six different continents.) This time, however, the chaos was magnified by hundreds of other public-sector demonstrations happening in France on Tuesday, including a strike by air-traffic controllers.
The website for Paris's airports posted a warning noting that roughly 20 percent of flights had been canceled as a result of the strikes. Acknowledging the other protests, the notice issued this instruction: "Favor train transportation."