What's Next for El Chapo?
Mexico considers extraditing the notorious drug lord to the United States for trial.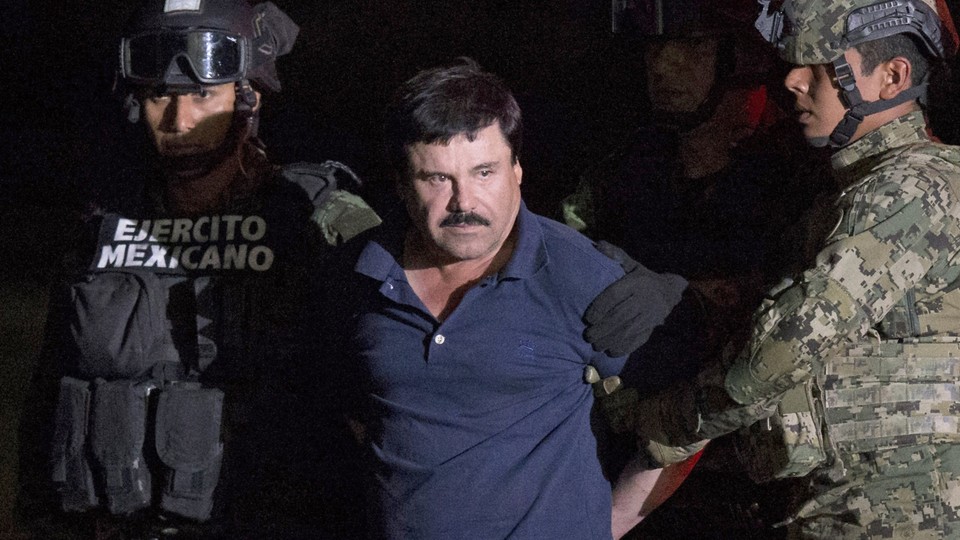 The Mexican government is reportedly willing to extradite Joaquín Guzmán, the powerful Sinaloa drug-cartel boss known as 'El Chapo,' to the United States for trial, Mexican officials told news outlets on Saturday.
Mexican officials previously captured Guzmán in February 2014 in a major victory against the cartels for recently elected President Enrique Peña Nieto. That victory turned into humiliation in July when Guzmán escaped from Mexico's highest-security prison via a sophisticated mile-long tunnel built by his associates. Mexican marines re-captured him on Friday in Los Mochis after one of the largest manhunts in the country's history.
U.S. officials had filed a formal extradition request for Guzmán only three weeks before his escape, but the Mexican government previously resisted U.S. pressure to send him north, according to The New York Times.
When Enrique Peña Nieto became the president in 2012, his government initially adopted more of an arms-length approach to the United States on security cooperation than his predecessor had. That often meant taking a more assertive stance in matters of sovereignty, including a reluctance to turn over prisoners to the United States.

[...]

Almost exactly one year ago, Jesús Murillo Karam, the Mexican attorney general at the time, said: "I can accept extradition, but when I say so. El Chapo has to stay here and do his time, then I'll extradite him. Some 300, 400 years later. That's a lot of time."
This time, however, officials seem to fear that Guzmán could use his considerable resources to free himself again. In 2001, Guzmán escaped from custody by bribing officials and hiding in a laundry basket as it was wheeled out of the prison.
If turned over to U.S. authorities, Guzmán would face indictments in seven different U.S. federal courts for drug trafficking and murder. The maximum sentence he would likely face if convicted is life imprisonment without parole. Mexico formally abolished capital punishment in 2005 and is one of many countries that refuses to extradite defendants to the United States unless prosecutors promise not to seek the death penalty.
Guzmán's lawyers are expected to strongly contest any extradition attempt, and the full legal process could take months in the courts. In the meantime, Guzmán is being held at the prison from which he broke out last year—albeit in a different cell.