Another Ebola Case in Sierra Leone
Officials confirmed the case a day after WHO declared all of West Africa free of the deadly virus.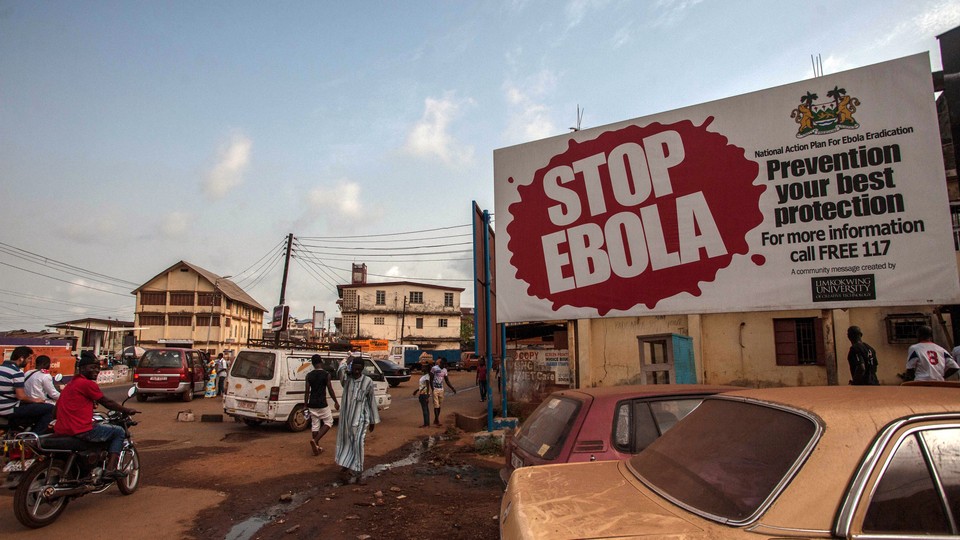 Officials in Sierra Leone have confirmed a death from Ebola, a day after the WHO declared West Africa free of the virus.
Francis Langoba Kellie, a spokesman for the Office of National Security, told a local radio program that tests on a 22-year-old woman who died earlier this month in the north of the country were positive for the virus. His comments were reported by the Associated Press.
The woman, who was from the Northern Kambia District, went to the Northern Tonkolili District for medical treatment, he said, according to the AP. Her contacts are being traced and certain areas will be quarantined, he said. Sky News reported that health workers had identified 27 people who had contact with the woman.
On Thursday, the World Health Organization said the Ebola outbreak in neighboring Liberia was over, and declared all of West Africa free of the deadly virus. But, WHO warned, "more flare-ups are expected and ... strong surveillance and response systems will be critical in the months to come."
On Friday, responding to the case in Sierra Leone, the agency said WHO and its partners "are investigating the origin of the case, identifying contacts and initiating control measures to prevent further transmission."
Thursday marked the first time since the Ebola outbreak began two years ago that Guinea (declared free of Ebola on December 29, 2015), Liberia (on Thursday), and Sierra Leone (on November 7, 2015)—the three worst-hit countries—reported no cases for at least 42 days.
The WHO says a country is declared free of Ebola transmission 42 days—or after two 21-day incubation cycles of the virus—after the last confirmed patient tests negative for the disease twice.
Sierra Leone was still in a 90-day period of enhanced surveillance after it was declared to be Ebola-free.
Ebola has killed more than 11,300 people, mostly in West Africa, including more than 4,000 in Sierra Leone.
---
Related Video