Angela Merkel's Response to the New Year's Eve Assaults
Government officials proposed Tuesday legislative changes that would make it easier to deport asylum-seekers who commit crimes in the country.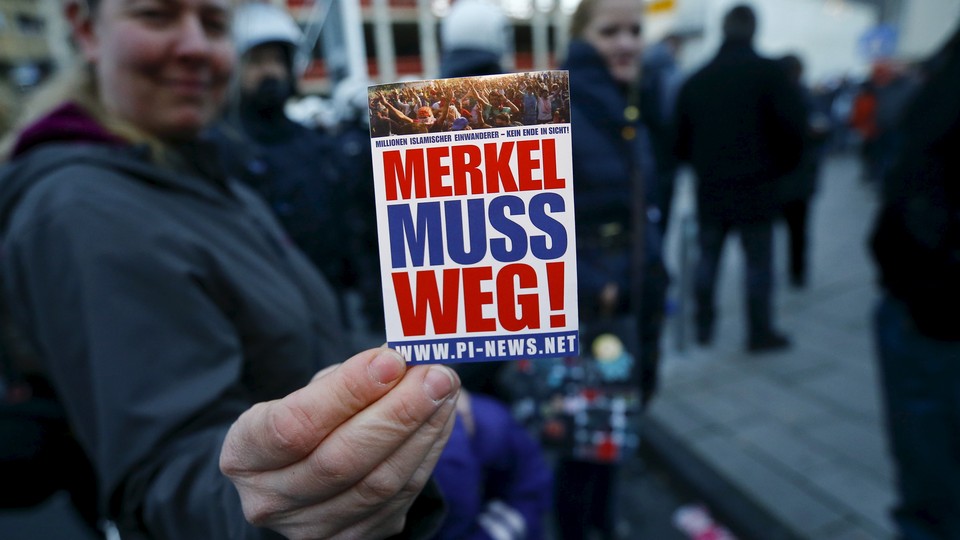 For months, Angela Merkel has remained resolute in her position that Germany must remain open to people seeking refuge from war and civil strife. But now, after men of mostly immigrant backgrounds allegedly sexually assaulted women in Cologne and other German cities on New Year's Eve, the German chancellor says something has to change.
"The events of New Year's Eve have dramatically exposed the challenge we're facing, revealing a new facet that we haven't yet seen," Merkel recently told reporters.
Her government responded to that challenge Tuesday with a proposal that would make it easier to deport asylum-seekers convicted of committing crimes in Germany, including sexual assault and violent theft. According to the Associated Press, many refugees who commit crimes in Germany do not face deportation because the danger they face in their home countries is perceived as greater than the reason to deport them.
German Justice Minister Heiko Maas told reporters Tuesday that "we owe this to the victims of these serious crimes."
"We shouldn't place migrants under general suspicion. That's why we must make a clear distinction," Maas said in a statement published on the justice ministry's website. "We have to protect the many law-abiding refugees that have sought safety and refuge with us. But against foreign criminals we have to be very determined."
The proposal requires Cabinet and parliamentary approval. Merkel said she wants the changes signed into law "as quickly as possible."
On the night of December 31, dozens of women reported being robbed and sexually assaulted—two said they were raped—in Cologne, Hamburg, and Stuttgart. In Cologne, as many as 1,000 men described to be of Arab and North African origin formed rings around women, who tried to fight their way out. Police say more than 500 criminal complaints have been filed in connection with the assaults, with about 45 percent involving allegations of sexual offenses, the AP reports. Most of the 55 suspects who have been detained are foreign nationals.
The assaults stunned media, law enforcement, and government officials, and have generated debates in Germany about police response and sexual-assault prevention, and across Europe about refugee policies.
On January 1, Cologne police issued a news release that reported most New Year celebrations had gone "peacefully" in the city. A week later, after news broke that at least 90 women had filed complaints stemming from those celebrations, police retracted the statement, and Cologne's police chief was fired. A leaked police report published by German publications last week said officers on the ground that night were overwhelmed by "all of the events, attacks and crimes—there were simply too many at the same time." A report from the interior ministry of the North Rhine-Westphalia region, where Cologne is located, faulted police for its slowness in informing the public about what happened.
Cologne Mayor Henriette Reker said police failed to inform her of the severity of the incidents on New Year's Eve. Reker drew criticism herself for suggesting a code of conduct for women fearful of attacks that called for keeping "an arm's length" from strangers.
Maas, the justice minister, on Tuesday criticized what Germany legally considers "rape," saying the crime is "too narrowly defined."
"We must nonetheless protect women better from sexualized violence," he said in a statement. "On the question of how much resistance a women must give for an attack to be considered rape, the law in question does not always give a clear answer."
German officials have repeatedly warned against making a connection between the suspects in the alleged New Year's Eve assaults and asylum-seekers. But some immigration opponents in Germany have blamed the crimes on the 1.1 million migrants and refugees that entered the country last year—and the open-door policy that helped facilitate the influx. Thousands of members of the Patriotic Europeans Against the Islamization of the West (PEGIDA), a German anti-immigration movement, have participated in rallies in Cologne and Leipzig in recent days.
Some demonstrations have turned violent, with protesters smashing windows of buildings, setting cars on fire, and throwing rocks at police officers. Police have responded with tear gas and water cannons. More than 200 protesters were arrested Monday in Leipzig, the BBC reported. Immigration supporters held counterprotests against PEGIDA, and some vandalized a bus that was being used by the group.