The Fallout From the Reports of Sexual Assaults in Cologne
The mayor's suggestion that women keep an "arm's length" from men they don't know is prompting mockery and criticism.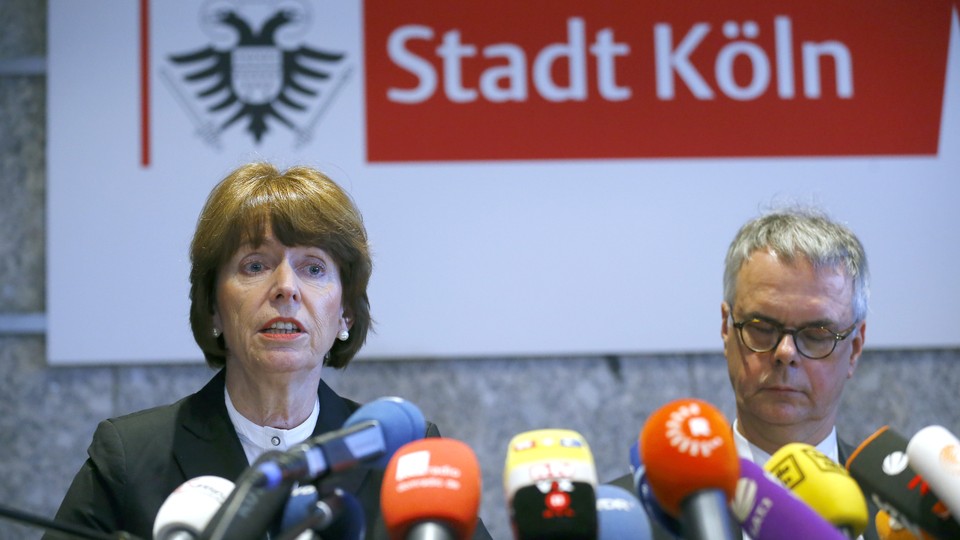 In October, Henriette Reker, who was running for mayor of Cologne, became the face of Germany's welcoming attitude toward the refugees and migrants who entered the country in 2015.
A German man, angered by Reker's liberal views on migration, stabbed her in the neck, a day before Cologne, one of Germany's most diverse cities, voted in mayoral elections. Reker, an independent candidate supported by Chancellor Angela Merkel's CDU party, triumphed—highlighting, among other things, how welcoming Germany has been of people fleeing civil war in Syria and unrest elsewhere.
Indeed, the country's Interior Ministry announced Wednesday that 1,091,894 people were registered as asylum seekers in 2015. Syrians were the biggest group (428,468 ), followed by Afghans (154,046), and Iraqis (121,662).
What a difference two months make: Germans are divided over whether the country can handle the influx of migrants and about the government's position on refugees. And they are mocking Reker's comment following criminal complaints by more than 100 women who say they were sexually assaulted—two say they were raped—on New Year's Eve in Cologne by men of "Arab or North African" background. It's worth pointing out here that German officials are not directly linking the two issues, though opponents of immigration most certainly are.
Authorities say as many as 1,000 men were involved in the alleged attacks in Cologne and that the assaults were coordinated. The incidents have sparked outrage and protests in Germany, and condemnation from officials, including Merkel, as well as criticism of how the police in Cologne handled the matter.
At a news conference on Tuesday, the first time she publicly addressed the issue, Reker was asked how women could protect themselves in such situations. Here's her reply, courtesy of The Guardian:
There's always the possibility of keeping a certain distance of more than an arm's length—that is to say to make sure yourself you don't look to be too close to people who are not known to you, and to whom you don't have a trusting relationship.
The comments prompted mocking on social media with #einarmlaenge (arm's length) trending on Twitter. Much of the outrage and mockery is in German, but here are two remarks in English:
It is not women's responsibility to keep men from assaulting them. It is men's responsibility not to assault. #einarmlaenge

— Jeff Fecke (@jkfecke) January 6, 2016
The reported assaults in Cologne have prompted questions of how the city would prevent a recurrence during the upcoming Carnival season. Reker's comments at Tuesday's news conference:
We will explain our Carnival much better to people who come from other cultures, so there won't be any confusion about what constitutes celebratory behavior in Cologne, which has nothing to do with a sexual frankness.
German officials, including Merkel, Reker, and others, have been quick to dismiss any attempt to link the alleged attacks to the influx of migrants to the country—though anti-immigrant groups and figures have done just that. But German officials have also said the law will punish the guilty—irrespective of their background.
Also coming under fire is the way the police handled the incidents in Cologne.
The attacks—and robberies—allegedly occurred in the city's historic square, which lies between the main train station and the cathedral. About 1,000 men, whom witnesses described to police as Arab or North African, had gathered outside the station and were letting off fireworks. Some were drunk and aggressive, news reports say. Police cleared the square because they feared injuries from the fireworks. But the men soon returned and carried out the attacks with reportedly little to no response from the local police.
Thomas de Maiziere, the German interior minister, the BBC reports, said it shouldn't be the case the area was first cleared "and then later these events take place and they wait for complaints. The police shouldn't work like this."
Ralf Jaeger, the interior minister of North Rhine-Westphalia, the region where Cologne is located, said Wednesday three suspects had been identified, but no arrests had been made.
Also under scrutiny is how long it took for the media to report on the claims of sexual assault. Although the alleged assaults occurred on New Year's Eve, it wasn't until Monday that the German media first reported on them. Elmar Thevessen, the deputy chief editor of ZDF, the German public broadcaster, apologized on Facebook for the delay.
"The news situation was clear enough," he said. "It was a mistake … not to at least report the incidents."