Will the Cologne Assaults Lead to Deportations?
German officials say that's a possibility if those found responsible for the New Year's Eve assaults were migrants.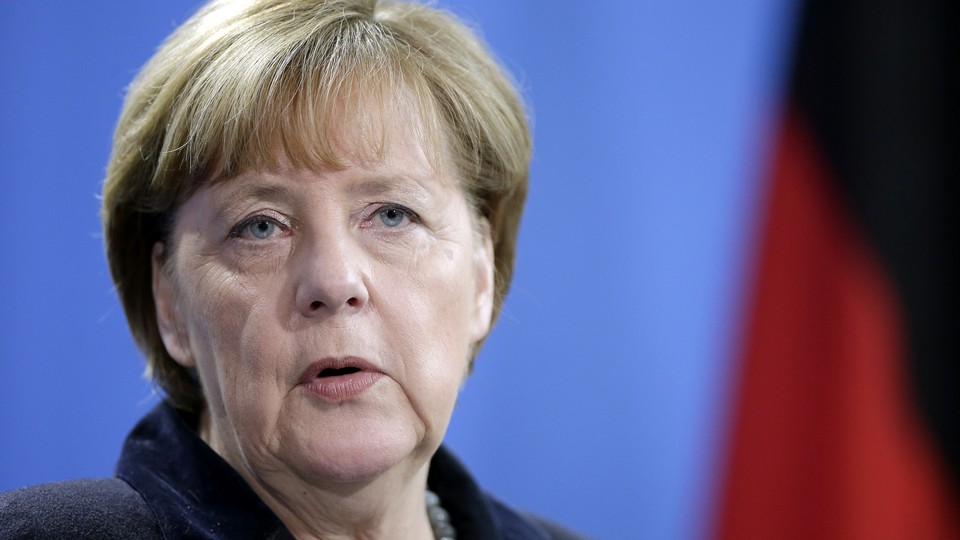 Chancellor Angela Merkel said Thursday that Germany would give a "clear sign" to those not willing to follow the law, amid growing controversy over the response to the assaults on women in Cologne on New Year's Eve reportedly by Arab or North African men.
"We must examine again and again whether we have already done what is necessary in terms of ... deportations from Germany in order to send clear signals to those who are not prepared to abide by our legal order," she said in Berlin, according to the Associated Press.
Heiko Maas, the German justice minister, told the Funke media group on Thursday, "Anyone who believes they can breach law and order must be punished—no matter where they come from." And, he said, "deportations would certainly be conceivable" for those sentenced to a year or more in prison.
The remarks are an apparent attempt by Merkel and other German officials to respond to the public outrage following the alleged assaults on New Year's Eve. The alleged crimes sparked a multitude of reactions: Cologne's mayor was mocked for suggesting that women keep strangers at an arm's length to prevent similar incidents, the police were sharply criticized for doing little to nothing to stop what was going on, and the media was condemned for failing to report on the events until this week.
"Of course, some very serious questions arise from what has happened, which go beyond Cologne," Merkel said, according to The Wall Street Journal. "Questions arise whether there have been connections, joined behavioral patterns and also whether some groups are subscribing to misogyny. We must confront this resolutely. I don't believe these have been only isolated cases."
As we have reported, the attacks—and robberies—allegedly occurred in the Cologne's historic square, which lies between the main train station and the cathedral. About 1,000 men, whom witnesses described to police as Arab or North African, had gathered outside the station and were setting off fireworks. Some were drunk and aggressive, news reports say. Police cleared the square because they feared injuries from the fireworks. But the men soon returned and carried out the assaults with reportedly little to no response from the local police. On Thursday, police said there were 121 criminal complaints that alleged sexual assault—including two complaints of rape— and robbery during the night.
Bild, the German daily, published Thursday a leaked police report on the incidents that said officers were overwhelmed. Here's an excerpt from a senior police official who wrote it (courtesy of The Guardian):
The officers on the ground couldn't gain control of all of the events, attacks and crimes—there were simply too many at the same time for that to be possible. On the square outside were several thousand mostly male people of a migrant background who were firing all kinds of fireworks and throwing bottles into the crowd at random.
The AP has another excerpt: "In the course of the operation numerous crying and shocked women/girls approached officers and told them of sexual assaults by male migrants/groups. Unfortunately it wasn't possible to identify them any more."
Outrage over the incident has dovetailed with fears that the perpetrators may have been among the more than 1 million asylum-seekers who entered Germany in 2015. German officials have been quick to dispute a link between the alleged crimes in Cologne and the influx of people fleeing civil war in Syria and unrest elsewhere, but many politicians and groups opposed to Merkel's welcoming position on refugees and migrants have been quick to make the connection.
But Merkel and others, in their statements, made it clear the law would punish whomever was responsible—regardless of their national origin.
That could be easier said than done. Days after the alleged assaults, no arrests have been made despite video evidence. Investigators says 16 young men have been identified.
Indeed, Nikolaos Gazeas, a Cologne-based criminal lawyer, told Deutsche Welle, "The chances of convicting even one of the perpetrators are slight."
Here's why, according to him:
One would have to prove that this person committed a concrete act, for instance robbing and/or sexually assaulting, say, Mrs Miller. If the defendant doesn't confess, you need other evidence to convict the person. That would be video footage and, above all, witnesses, in particular the woman in question, but perhaps also other people who saw what happened. The witnesses would have to testify that it was precisely this defendant - and not someone else. One must also consider that not only the perpetrators were apparently very drunk on New Year's Eve, and thus quite uninhibited, but that some of the victims and potential witnesses had had a drink, too. So the chances of people clearly remembering a certain person are reduced.
"If, once the gathering of evidence is closed, the judge is of the opinion that it's impossible to say with enough certainty that the defendant is the perpetrator, the principle 'in dubio pro reo' applies in our constitutional state," he said. "The defendant must be acquitted."