The Growing Fallout From the Cologne Attacks
A New Year's Eve crime spree has put the German city at the center of the debate over migrants and refugees.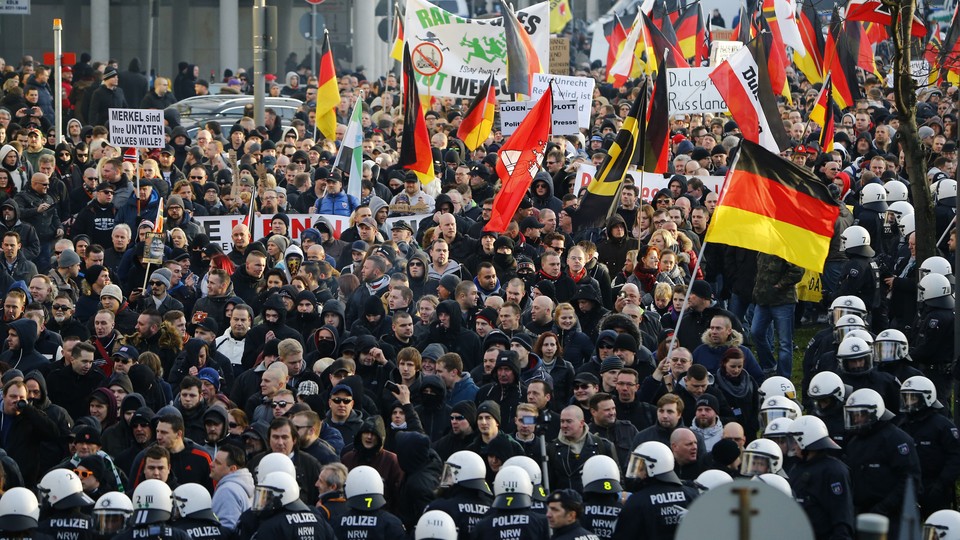 Nearly two weeks after an unprecedented wave of crime on the streets of Cologne, the city has become the center of the debate over Germany's policy on asylum-seekers: A report released Sunday found the suspects in the New Year's Eve assaults were "almost exclusively" migrants.
The alleged sexual assault of dozens of women on New Year's Eve in the heart of the city by hundreds of young men of Arab and North African origin has increased criticism of Germany's open-door policy, which welcomed more than 1 million refugees and migrants in 2015.
The public response to the alleged assaults turned violent in Cologne this weekend. During a peaceful protest of the incidents on Saturday, about 500 supporters of Pegida, an organization that opposes immigration of Muslims, threw beer bottles, fireworks, and rocks at police officers, who responded with tear gas and water cannons, CNN reported. On Sunday, a mob of 20 people attacked six Pakistanis, two of whom had to receive medical treatment, according to Agence France-Presse. Five other people attacked a Syrian, who was slightly injured. The BBC reported that another Syrian was attacked in a separate incident, as were three Guineans in a fourth attack.
German officials warned against violence in response to the alleged attacks on New Year's Eve.
"As abominable as the crimes in Cologne and other cities were, one thing remains clear: there is no justification for blanket agitation against foreigners," said German Justice Minister Heiko Maas, referring to similar assaults reported in Hamburg and Stuttgart on the night of December 31. Maas said some people "appear just to have been waiting for the events of Cologne."
A report released Sunday by the interior ministry of North Rhine Westphania, the region where Cologne is located
,
found the suspects in the New Year's Eve assaults were "almost exclusively" from a migrant background, the BBC
reported
. Police are investigating 19 men in connection with the crimes, 14 of whom are from Morocco and Algeria. Ten suspects are asylum-seekers, nine of whom arrived in Germany after September of last year. The remaining nine are
believed to be
in Germany illegally.
Cologne police have received 516 criminal complaints related to the alleged New Year's Eve assaults. About 40 percent involve reports of sexual offenses.
The city's police has been heavily criticized for its response to the crimes, which were carried out by as many as 1,000 men. A leaked police report
published
by Germany daily
Bild
said "officers on the ground couldn't gain control of all of the events, attacks and crimes—there were simply too many at the same time for that to be possible." The German interior ministry's report
cited
"serious mistakes" in the police's handling of the assaults, and faulted the department for its slowness in informing the public about what happened. Cologne's police chief was
fired
last week.
The Cologne mayor, Henriette Reker's response to the assaults also drew backlash. Reker, who was stabbed last October for her pro-immigration views a day before she was elected,
was criticized
for seemingly putting the onus on women to prevent sexual harassment or assault by suggesting they keep "an arm's length" from strangers.
German officials have vowed to find and prosecute the perpetrators of the New Year's Eve assaults. Chancellor Angela Merkel, for many the face of Europe's open-door policy on refugees and migrants, hinted at potential deportations. "We must examine again and again whether we have already done what is necessary in terms of ... deportations from Germany in order to send clear signals to those who are not prepared to abide by our legal order," she said, according to the Associated Press.
In 2015, 1.1 million people entered Germany seeking asylum. Germany's deputy interior minister said last week the country has not seen a decrease in the number of asylum-seekers coming to its borders. About 3,200 refugees and migrants arrive every day.