Exit, Cologne's Police Chief
Wolfgang Albers was provisionally suspended following outrage over his department's handling of the sexual assaults of women on New Year's Eve reportedly by as many as 1,000 Arab or North African men.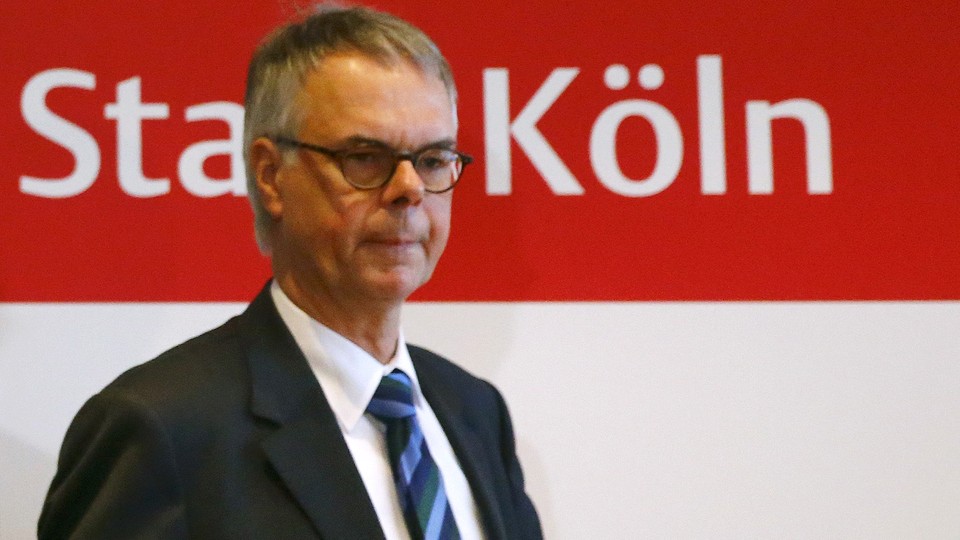 Cologne's police chief has been provisionally suspended following outrage over his department's handling of the sexual assaults of women on New Year's Eve reportedly by as many as 1,000 Arab or North African men.
"This step is important so that public trust and the Cologne police's ability to act can be restored," Ralf Jäger, the North Rhine Westphalia region's interior minister, said in a statement, quoted by Deutsche Welle, the German broadcaster.
News about Wolfgang Albers's provisional suspension came after German authorities said they had identified 18 asylum-seekers among the 31 suspects linked to the New Year's Eve assaults in Cologne, one of Germany's most diverse cities. They included nine Algerians, eight Moroccans, four Syrians, five Iranians, two Germans, and one each from Iraq, Serbia, and the U.S., an Interior Ministry spokesman said.
Police officials said there were more than 170 complaints that alleged sexual assault—including two complaints of rape—and robbery during the night. German news reports said two people, one aged 16 and another 23, were arrested overnight in connection with the attacks. Both are reportedly of North African origin. They were later released due to lack of evidence.
As we reported Thursday:
Outrage over the incident has dovetailed with fears that the perpetrators may have been among the more than 1 million asylum-seekers who entered Germany in 2015. German officials have been quick to dispute a link between the alleged crimes in Cologne and the influx of people fleeing civil war in Syria and unrest elsewhere, but many politicians and groups opposed to Merkel's welcoming position on refugees and migrants have been quick to make the connection.
Still, German officials, in the face of mounting criticism, have said those who don't follow the law will be punished.
"We must examine again and again whether we have already done what is necessary in terms of ... deportations from Germany in order to send clear signals to those who are not prepared to abide by our legal order," Chancellor Angela Merkel said Thursday.
Heiko Maas, the German justice minister, said "deportations would certainly be conceivable" for those sentenced to a year or more in prison.
Those remarks, and other similar ones by other government officials, were in sharp contrast from the initial responses. Cologne's mayor was mocked for suggesting that women keep strangers at an arm's length to prevent similar incidents; the police were sharply criticized for doing little to nothing to stop what was going on; and the media was condemned for failing to report on the events until this week.
"People want to know, and rightly so, what happened on New Year's Eve, who the offenders were and how these incidents can be prevented," Jäger, the regional interior minister, said Friday.
The attacks allegedly occurred in the Cologne's historic square, which lies between the main train station and the cathedral. About 1,000 men had gathered outside the station and were setting off fireworks. Some were drunk and aggressive, news reports say. Police cleared the square because they feared injuries from the fireworks. But the men soon returned and carried out the assaults with reportedly little to no response from the local police. Bild, the German daily, published a leaked police report on the incidents that said officers were overwhelmed by the events.
Similar assaults were reported in Hamburg and Stuttgart, as well as in Helsinki, the Finnish capital, and Zurich, Switzerland, though the latter assaults became known only after the outrage over the Cologne attacks.