China's Widening Crackdown on Lawyers
Four human-rights lawyers were charged with subverting state power and a Swedish legal-aid activist was arrested.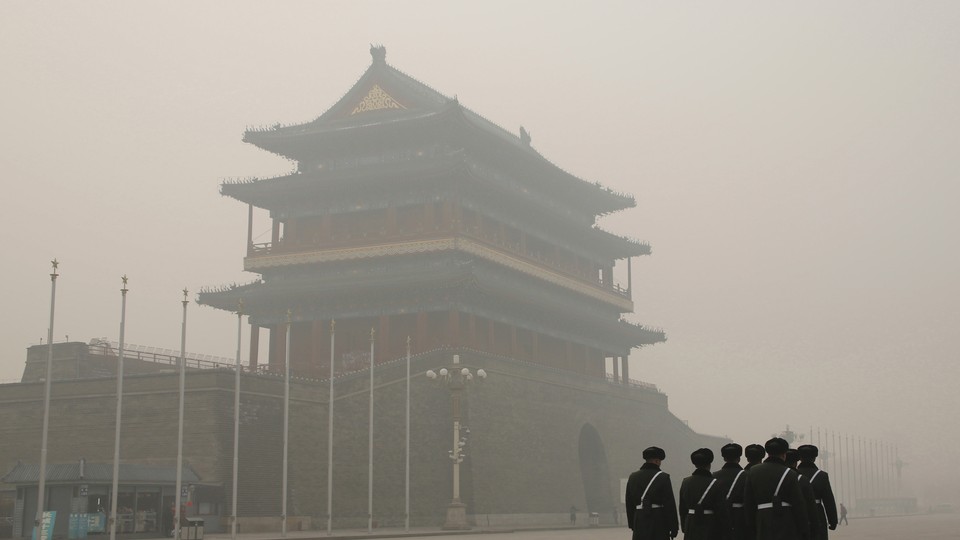 The Chinese government escalated its crackdown on the country's burgeoning community of human-rights lawyers this week, filing subversion charges against some of its most prominent members Tuesday and arresting a Swedish legal-aid activist on Wednesday.
Among those formally arrested were Zhou Shifeng, the director of Beijing's Fengrui Law Firm, as well as Wang  Quanzhang, a lawyer with the firm, and Li Shuyun, an intern, The New York Times reported. They were charged with "subverting the state order," a serious crime in the Chinese criminal-justice system that can potentially carry a life sentence.
The full scope of the crackdown is hard to ascertain. Amnesty International estimates that 248 "rights-defense" lawyers and activists have been arrested since the crackdown began July 9. Twenty-three of them are still in custody as of Thursday; nine have been formally charged. China's opaque criminal-justice system makes verification difficult.
Foremost among the crackdown's targets are attorneys and employees of the Fengrui Law Firm, one of China's most well-known rights-defense organizations. The firm rose to prominence by representing high-profile dissidents in court, including artist Ai Weiwei during his 2011 tax-evasion case, and Chen Guancheng, the blind legal activist who fled to the U.S. Embassy in Beijing in 2012.
Those still detained include Wang Yu, China's most prominent female human-rights lawyer, as well as her husband and their son. Wang previously defended Ilham Tohti, a top Uighur academic in China's western Xinjiang province who was accused of inciting separatism, as well as women's rights advocates.
Chinese state-media outlets accused the rights-defense lawyers of undermining the social order by organizing protests outside courthouses.
"Lawyers should safeguard justice in the courtroom with the application of their knowledge, morality and skill, not undermine the law by rabble-rousing in the streets," an editorial in Xinhua, the state-run news agency, declared last July.
Lawyers beyond the Fengrui Law Firm have also been targeted in the crackdown. In December, a Beijing court found rights-defense lawyer Pu Zhiqiang guilty of "inciting ethnic hatred" and "picking quarrels and provoking troubles" and handed him a three-year suspended sentence. Pu, who also previously represented clients like Ai, lost his ability to practice law as a result of the conviction.
Chinese officials also confirmed Wednesday they had arrested Swedish human-rights activist Peter Dahlin earlier this month. He is believed to be the first foreigner swept up in the crackdown. Dahlin, who cofounded the legal-aid organization Chinese Urgent Action Working Group, disappeared January 3 en route to Beijing International Airport where he was set to travel to Thailand. Chinese officials said he was being detained "on suspicion of endangering state security," his organization told The New York Times.
Relations between Beijing and the country's small but dedicated corps of rights-defense lawyers, while never friendly, worsened significantly after President Xi Jinping assumed power in 2013. Xi, one of China's most powerful leaders in decades, launched major anti-corruption campaigns within the Communist Party, the army, the middle and upper echelons of the bureaucracy, and the country's state-run enterprises. His administration also imposed stricter censorship measures and tighter controls on Chinese Internet users who criticize the government, including arrests and detention.
"The assault on lawyers reflects the broader trend under President Xi of repressing various elements of civil society across China," Human Rights Watch wrote earlier this month when it called for the lawyers' release. "The government has also severely tightened control over freedom of expression, including on the Internet, in the media, and within academia."
The crackdown comes as China's leaders try to bolster public and foreign confidence in the country's legal system. Last January, the party condemned the use of arrest and conviction quotas by police, prosecutors, and judges in an attempt to rein in false convictions. Statistics from the Supreme People's Court, China's highest judicial body, reported that only 825 people were found not guilty in the 1.16 million criminal trials that occurred in 2013.