Will Talks on the Yemeni Conflict End the Fighting?
Representatives of the government and Houthi rebels are meeting in Switzerland after a cease-fire took effect.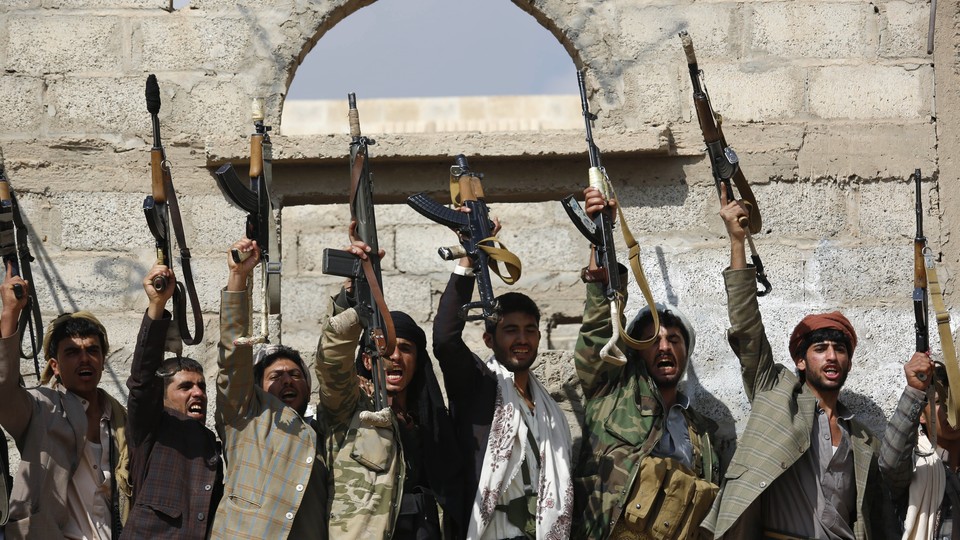 The nine-month-long conflict in Yemen, which has killed nearly 6,000 people, pits the government against Houthi rebels, and serves as a microcosm of the wider regional conflict between Saudi Arabia, which backs the government, and Iran, which supports the rebels. But on Tuesday, the government and Houthis began talks in Switzerland after a seven-day cease-fire took effect.
The UN-backed talks near the town of Biel are aimed at finding a lasting settlement to the conflict, establishing a permanent cease-fire, improving the humanitarian situation, and returning to a peaceful political transition in the poorest country in the Arab world. The talks bring together representatives of Abdrabbuh Mansour Hadi, the president, former President Ali Abdullah Saleh's General People's Congress party, and the Houthis. The BBC reported the talks are expected to last all week.
Troops loyal to Saleh and the Houthis are fighting the government's forces, which are supported by a Saudi-led military coalition and backed by the United States. The conflict is complicated by the presence of al-Qaeda and the Islamic State group.
"The cessation of hostilities which was called today should mark the end of military violence in Yemen and the transition to progress based on negotiations dialogue and consensus," Ismail Ould Cheikh Ahmed, the UN special envoy of the secretary-general for Yemen, said in a statement. "Making peace is a fundamental requirement to rebuild Yemen, rehabilitate the basic infrastructure, address the consequences of the war, provide the necessary environment to normalize life in all governorates, and resume economic activity."
The New York Times adds:
To try to avoid distractions that could derail the process, the United Nations has not disclosed the location of the talks, arranged any news media access, or released details about who is attending the talks.
There were pockets of violence Tuesday despite the announced cease-fire. Shelling by rebels, as well as clashes on the ground, continued in Taiz province, in the country's southeast. Separately, two military officers from Saudi Arabia and the United Arab Emirates, both of which are supporting the Yemeni government, were killed in fighting on Monday.