An Opposition Victory in Venezuela
The coalition has won control of the National Assembly, wresting it from the Socialists who have held it for almost two decades.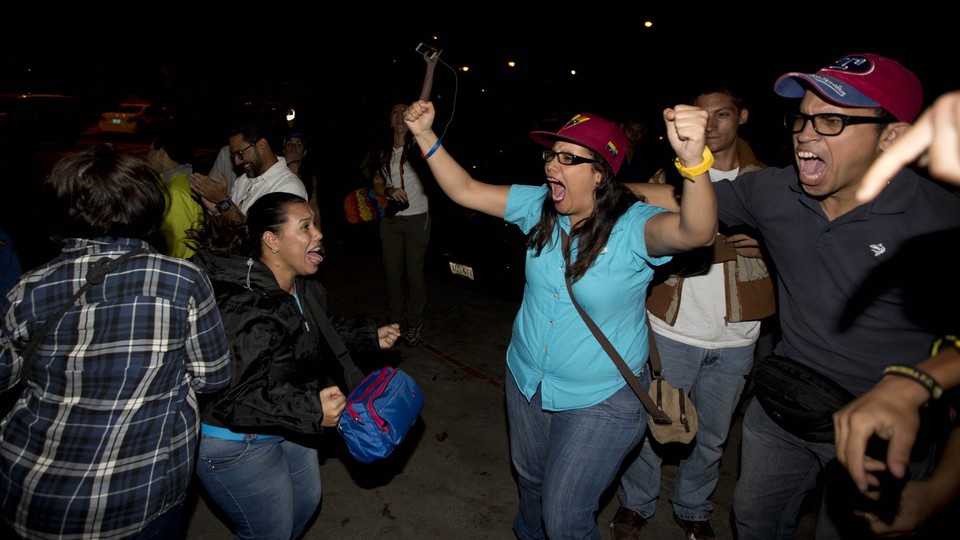 Venezuela's opposition has won a stunning victory in the National Assembly, delivering a blow to the ruling Socialists who have controlled the chamber for almost two decades.
Tibisay Lucena, the head of the electoral commission, announced early Monday that Democratic Unity, the opposition coalition, had won 99 seats in the National Assembly. The United Socialist Party won 46; 22 seats were still to be declared, she said.
"We have come with our morality and our ethics to recognize these adverse results, to accept them and to tell our Venezuela, 'The Constitution and democracy have triumphed,' " President Nicolas Maduro said on television, shortly after the results were announced.
Jesús Torrealba, the head of the opposition coalition, said: "Change has started today in Venezuela."
The opposition's victory comes 17 years after Hugo Chavez began the Bolivarian Revolution, a series of economic measures that led to what he saw as equitable distribution of Venezuela's wealth. But the policies had disastrous economic results, including, in recent years, high prices and food shortages. PDVSA, the state-run oil company that was once the pride of Latin America, is now a shell of its former self, and oil production, the country's main earner, has been in decline for years, and the global decline in oil prices have not helped.
"I always used to support the government, but not anymore," Gabriela León, 37, told The New York Times after voting in a slum long known as a pro-government bastion. "I feel let down."
Chavez, who died in 2013, and his handpicked successor, Maduro, blamed outside forces for the country's economic troubles—a claim the president repeated on Monday.
"In Venezuela the opposition has not won," he said. "For now, a counterrevolution that is at our doorstep has won."
The opposition's victory also marks the continued decline of left-wing parties and candidates in Latin America, who were elected in droves in the early aughts. In last month's presidential election, Argentines elected Mauricio Macri over a candidate handpicked by Cristina Fernandez, the outgoing president who was a close ally of Chavez. In Brazil, President Dilma Rousseff is facing impeachment over a growing corruption scandal that threatens the left-leaning Workers' Party.
Some hardliners are vowing to seek a recall referendum to cut short Maduro's term before it ends in 2019. But reining in Maduro, who became president after Chavez died in 2013, would require new laws needing at least a three-fifths majority, or 101 seats – two more than now held by the socialists. Maduro's near-complete grip on other branches of government like the Supreme Court mean he can easily outflank a hostile congress.

The opposition, with little cash and little access to broadcast media, has struggled to compete in far-flung rural districts against the government's campaign machine. In 2010, voting nationwide was almost evenly split yet the government ended up seating 33 more lawmakers due to Venezuela's complicated electoral system.