A Foiled New Year's Eve Terrorist Plot in Turkey
Officials said Wednesday they have detained two suspected Islamic State militants who had planned attacks on New Year celebrations.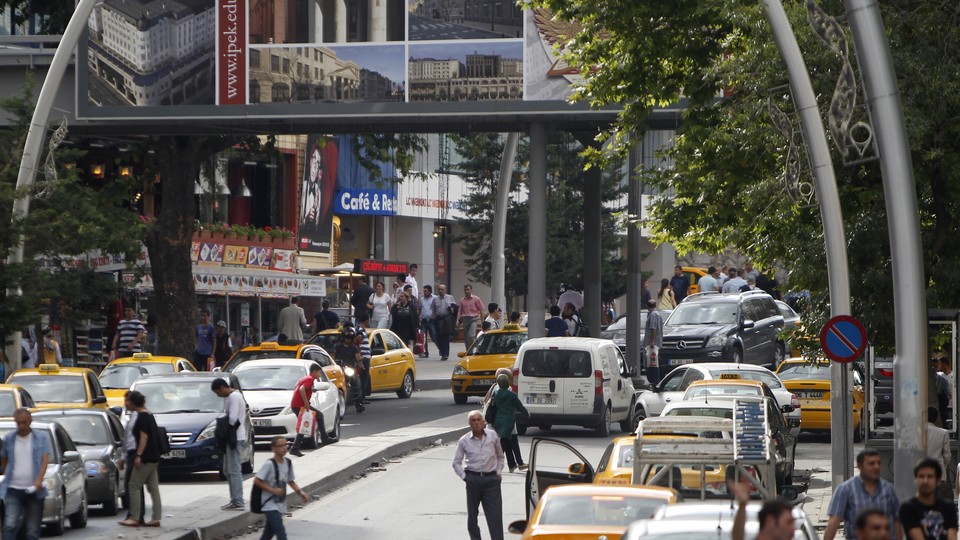 Police in Turkey said Wednesday they had foiled a potential New Year's Eve attack by suspected Islamic State militants on the country's capital.
The Ankara prosecutor's office said police detained two men who were believed to be planning suicide attacks in Ankara during New Year celebrations. The men were apprehended in a raid on a house in the Mamak neighborhood of the capital.
Police seized several weapons from the location: "a suicide vest armed with a bomb, an explosive device that was fortified with ball bearings, and metal sticks  placed inside a back-pack as well as bomb-making equipment," according to the Associated Press.
The suspected militants, both Turkish nationals, are being questioned by police. The office said the men, identified by their initials M.C. and A.Y., had planned to attack the Ankara's main square, where people are expected to gather to celebrate the New Year on Thursday, according to Turkey's state-run news agency, Anadolu Agency. Officials said the pair targeted two locations near Kizilay, a shopping and restaurant district in the center of Ankara.
Reuters quoted a senior government official as saying that the men entered Turkey from Syria.
In October, suicide bombers killed more than 100 people and wounded hundreds of others participating in a peace rally outside of Ankara's main train station. Turkish authorities said the attacks were likely carried out by the Islamic State.
A day ago, police in Belgium arrested two people in connection with a plot to stage attacks during New Year celebrations in Brussels.