Canada Returns to Airlifting Refugees
Prime Minister Justin Trudeau welcomed the first planeload of Syrians—continuing his country's record of flying beleaguered people to Canada in times of crisis.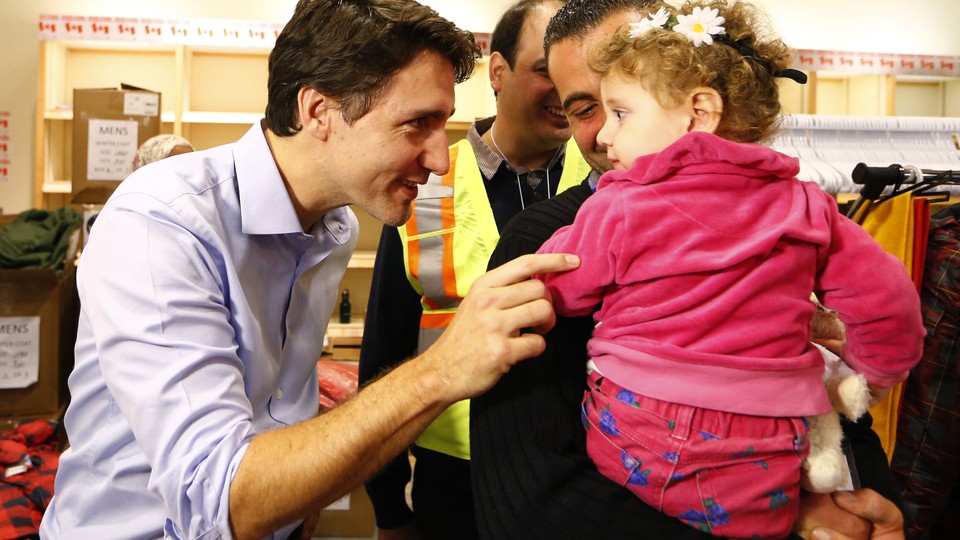 The first planeload of Syrian refugees arrived late Thursday in Toronto where they were welcomed by Justin Trudeau, the Canadian prime minister, and members of his Cabinet.
"We really would like to thank you for all this hospitality and the warm welcome and all the staff—we felt ourselves at home and we felt ourselves highly respected," said Kevork Jamkossian, who was among the first to emerge from the plane with his wife and their daughter, Madeleine.
Trudeau replied: "You are home. Welcome home."
Jamkossian, a blacksmith, his wife, a sales clerk, and their daughter spent eight months in Lebanon before their arrival on Thursday.
"We suffered a lot," Jamkossian said. "Now, we feel as if we got out of hell and we came to paradise."
There are
several videos
of the interactions Trudeau had with the new arrivals. Here is one:
The more than 160 Syrians who arrived from Beirut, the Lebanese capital, are part of the 25,000 refugees Trudeau's government has pledged to accept by the end of February. Another planeload of refugees is expected to arrive Saturday. The Canadian airlifts are being carried out from Beirut and Amman, the Jordanian capital, the two cities where the Canadian government has set up refugee-processing centers for Syrian fleeing their civil war.
The airlifts are a return to a Canadian tradition of flying to safety large numbers of beleaguered people from around the world. In the 1990s, Canada took in 5,000 people from Kosovo; in 1972, it flew 5,000 people from Uganda; 60,000 Vietnamese were airlifted in 1979-80.
The previous Canadian government, led by Stephen Harper, had tightened the rules for refugee settlement—though it had resettled more than 2,000 Syrian refugees from January 2014 until Trudeau's election in October. Those refugees were mostly sponsored by private Canadian citizens and groups and flown in on passenger aircrafts. Harper's government insisted Syrian refugees needed to be carefully vetted in case they posed a security threat.
But that policy was sharply criticized after the death of a 3-year-old Syrian boy, whose body on a Turkish beach became the defining image of the refugee crisis. The scale of the Syrian refugee crisis only added to the criticism.
Indeed, Trudeau's efforts to distinguish his government from Harper's go beyond Syrian refugees. He has appointed the most diverse Cabinet in the country's history, with an equal number of women and men; allowed scientists to discuss their findings without government approval; and has vowed government transparency—all moves that address key criticisms of his predecessor.
Of course, we're still only two months into the new government, and policies—and, indeed public opinion—can quickly change. But at Toronto airport on Thursday night, Trudeau noted that the refugees enter Canada as permanent residents "with social insurance numbers, with health cards and with an opportunity to become full Canadians.
"This is something that we are able to do in this country because we define a Canadian not by a skin color or a language or a religion or a background," he said, "but by a shared set of values, aspirations, hopes and dreams that not just Canadians but people around the world share."