Don't Insult a King's Dog
As Thailand's junta gets aggressive with critics, one man is facing up to 37 years in jail for insulting King Bhumibol Adulyadej's dog and "liking" a slanderous Facebook page about the king.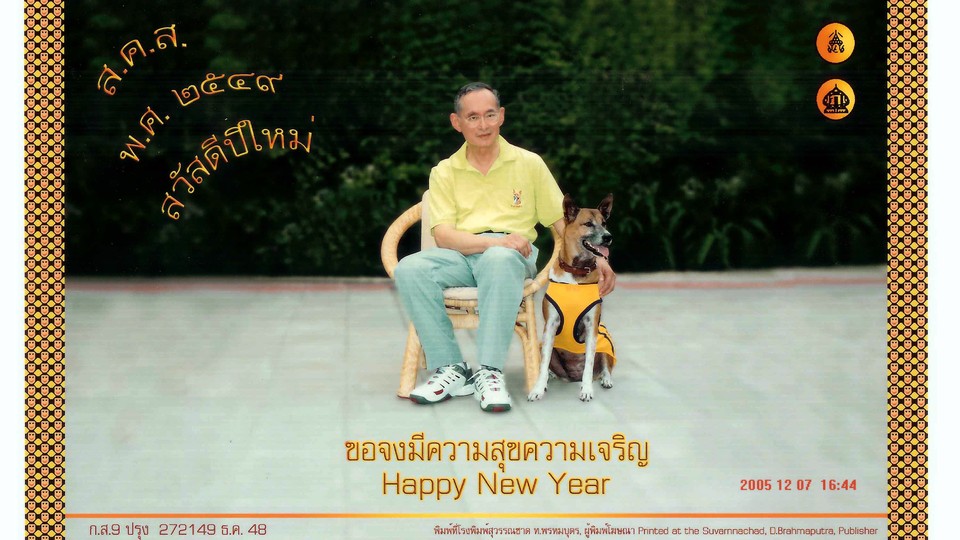 One of the perks of American life is the freedom to comment or speculate wildly about the pets of the head of state. Like The Daily Show, which first suggested Bo Obama's sexual preference or the many outlets that raised alarm when Barney Bush bit a Reuters reporter.
In Thailand, where The New York Times has recently been blocked and where protesters have been detained for channeling The Hunger Games salute, disparaging the king's dog is not a right. The military won't divulge what Thanakorn Siripaiboon, a factory worker, said about the dog that Thai King Bhumibol Adulyadej adopted years ago, but the "sarcastic" post appears to have landed Siripaiboon in serious trouble.
According to the AP, he is charged with sedition, in addition to "two counts of lèse-majesté, or insulting the monarchy, for posting an apparently inappropriate photo of royal dog Tongdaeng and for clicking 'Like' on a Facebook page with a derogatory photo of King Bhumibol Adulyadej." He could face up to 37 years in jail.
"I never imagined they would use the law for the royal dog," Siripaiboon's lawyer told the Times. "It's nonsense."
The enforcement of lèse-majesté laws has expanded in Thailand in recent years, particularly as the health of the 88-year-old king has raised the possibility of a succession crisis in a country that has suffered 19 separate coups since the 1930s. Last year, an 82-year-old Thai scholar faced a charge for reportedly defaming Naresuan the Great, a king who died in 1605.
On Tuesday, a woman, described as a "single mother," was sentenced to seven years in jail by a military court for defaming the monarchy.