The Death of a Syrian Rebel Leader
Zahran Allouch, the head of the Army of Islam, was killed in an airstrike.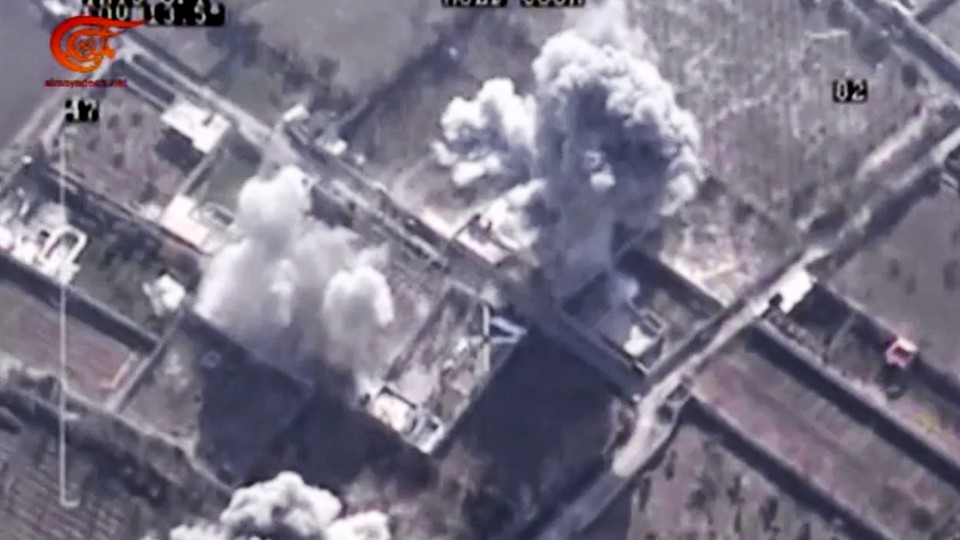 Updated on December 26 at 12:41 p.m. ET
The Army of Islam, one of the main rebel groups fighting Syrian President Bashar al-Assad, has a new leader, a day after its chief was killed in an airstrike near Damascus, dealing a major blow to the groups that are fighting the Syrian military.
The group appointed Essam al-Buwaydhani, a field commander known as Abu Hammam, as its new leader, the Associated Press reports. He replaces Zahran Allouch, who was killed in Friday's airstrike that was claimed by the Syrian government. Two other senior rebels, one from Ahrar al-Sham and the other from  Faylaq al-Rahman, were also killed in the operation against the headquarters of the Army of Syria.
The deaths are a setback to the rebels groups that are fighting both Assad and the Islamic State group. Earlier this month, the Saudi-backed Army of Syria participated in a meeting of Syrian opposition groups in an attempt to choose a delegation to negotiate with the government's representatives. Assad's government regards the rebels as terrorists and had said it would not negotiate with them, though on Thursday it appeared to soften that stand. It's unclear how Allouch's death will affect either position.
Allouch, a former prisoner, was released by Assad in 2011 as part of a general amnesty. He joined the Syrian opposition and established the Army of Islam, which fast became one of the best organized groups. It controls large parts of eastern Ghouta and Douma, near Damascus, and is fighting both Assad as well as the Islamic State.
Allouch's death is a boost to Assad, who, bolstered by Russian airstrikes and ground support from Iran and Hezbollah, the Shiite militia group from Lebanon, has slowly clawed back territory from the rebels. The nearly five-year-long Syrian civil war pits Assad against a range of rebel groups, ranging in their ideologies from secular, moderate Islamist to ultraconservative Islamist. Allouch, who was believed to be in his mid-40s, was no moderate. The AP points out:
Critics accused him of sectarian politics and brutal tactics similar to that of the Islamic State group.

He is blamed by other opposition groups for the December 2013 disappearance of four prominent activists including human rights activist and lawyer Razan Zaytouni. He denies holding them although they were kidnapped from an area under Army of Islam control.

Earlier this year, after government airstrikes on the suburbs of Damascus killed dozens, Allouch placed some Alawites that his group was holding in cages in public areas and markets, using them as human shields to try to prevent further airstrikes. Men and women were put in large metal cages on pick-up trucks that drove around Damascus suburbs.
The Army of Islam, like some other groups fighting Assad, is backed by Saudi Arabia and Turkey, both key allies of the West. The Syrian conflict, which has spawned a massive humanitarian disaster, is complicated by the presence of the Islamic State group. Both Assad's government and some rebels groups are fighting it, while simultaneously fighting one another. The group, which is alternately known as ISIS, ISIL, and Daesh, controls large parts of territory across Syria and Iraq.
The Russian military presence in Syria began ostensibly as an operation against the Islamic State, but it became quickly apparent that Moscow was targeting other groups allied against Assad, including those backed by the West and its partners. Indeed, while Syria claimed responsibility for Friday's airstrike that killed Allouch, many rebel groups said it was a Russian operation that killed him.
"The martyrdom of Sheikh Zahran Allouch should be a turning point in the history of the revolution and rebel groups should realize they are facing a war of extermination by (Russian President Vladimir) Putin's regime," said Labib Nahhas, a senior member of Ahrar al-Sham, was quoted as saying by the AP.
The AP adds:
His death may have contributed — at least partially — to a delay in an agreed-on pullout of thousands of militants and their families from neighborhoods on the southern edge of Damascus.

The pullout, supposed to start on Saturday, was to involve mainly militants from the Islamic State group who earlier this year overran the Yarmouk area, which is home to a Palestinian refugee camp and has been hotly contested and fought-over in the war, and two adjacent neighborhoods.

A Palestinian official in Damascus, Anwar Abdulhadi, told The Associated Press that the withdrawal is being delayed for "logistical reasons." But Lebanon's Hezbollah-run TV station Al Manar said that Allouch was a key figure in arranging the rare deal, and that his assassination has delayed its implementation. The report could not be immediately confirmed by the AP.