Walmart, Whole Foods, and Slave-Labor Shrimp
Companies and food purveyors implicated in a damning investigation of Thailand's seafood industry respond to the charges. To what end?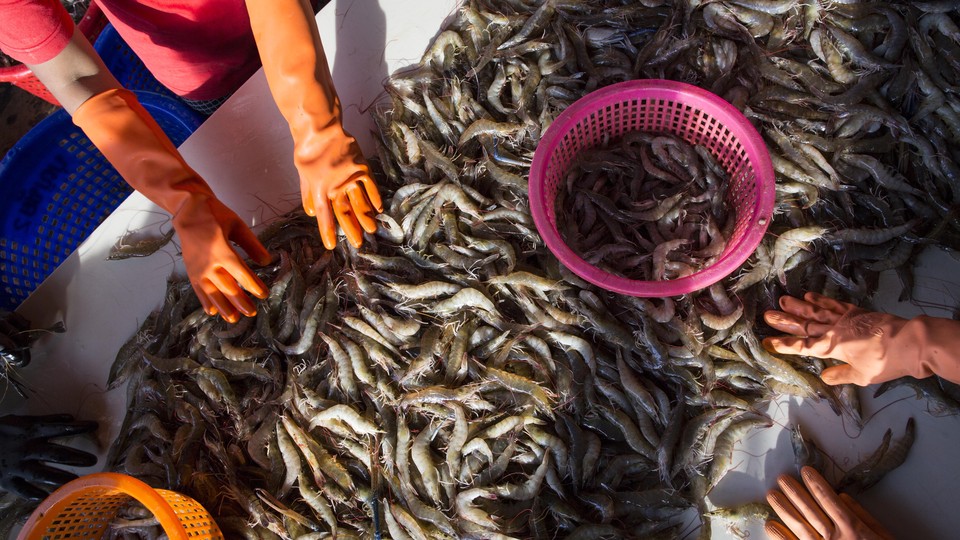 On Monday, a major AP investigation shook the seafood-loving public when it implicated several major American food purveyors with selling shrimp that had been peeled using slave labor in Thailand.
The list of the companies involved, as well as the scope of the labor abuses, which involved children, is staggering. For now, here's the former:
U.S. customs records show the shrimp made its way into the supply chains of major U.S. food stores and retailers such as Wal-Mart, Kroger, Whole Foods, Dollar General and Petco, along with restaurants such as Red Lobster and Olive Garden.

It also entered the supply chains of some of America's best-known seafood brands and pet foods, including Chicken of the Sea and Fancy Feast, which are sold in grocery stores from Safeway and Schnucks to Piggly Wiggly and Albertsons. AP reporters went to supermarkets in all 50 states and found shrimp products from supply chains tainted with forced labor.
As Roberto Ferdman of The Washington Post points out, this is neither the first nor the second time in recent years a spotlight has been shone on shrimping practices in Thailand. He adds that this latest report "holds that such abuses are still rampant in the Thai shrimp industry" and chastised major markets for not "keeping shrimp peeled by modern-day slaves out of their food system." As the AP reports, shrimp remains a key part of Thailand's $7-billion seafood-export business.
On Tuesday, Red Lobster, which has a popular annual promotion called "Endless Shrimp," became one of the few companies to deny buying shrimp from illicit processors. "We are confident based on our findings and assurances from Thai Union that our seafood supply was not associated with the abusive pre-processing facilities," the company said in a statement.
In a vague tweet, Whole Foods also denied selling shrimp that is peeled using slave labor.
After thorough investigation, we're confident Thai Union shrimp at our stores did not come from illicit processing facility…

— Whole Foods Market (@WholeFoods) December 15, 2015
The company later clarified that it does not sell the kind of shrimp specified in the AP report. "All our shrimp is either raw with the shell on, or cooked in the shell and then peeled in approved production facilities," CNN reported.
Nevertheless, Whole Foods isn't severing its relationship with Thai Union. The company said it would support a Thai Union pledge to bring all of its shrimp-processing operations in-house by the end of 2015.
Walmart, on the hand, did not deny that its supply chain may have involved forced labor.
We are aware of the Associated Press story, and we were horrified by the conditions and treatment of workers the reporters uncovered. The ethical recruitment and treatment of workers in the industry as a whole is extremely important to us, which is why we are working hard to form coalitions and partnerships that will help lead to sustainable improvements in the industry.
But, after so many exposés, it's getting increasingly easy to ask if anything will really change. In a Reddit Ask-Me-Anything, Martha Mendoza, one of the four AP reporters who worked on the six-month investigation, concluded this: "There is more oversight in seafood to protect dolphins than there is to protect humans."