Metrojet Crash: Egypt's Preliminary Assessment
It says there's no evidence yet of terrorism, though Russia and others say a bomb brought down Metrojet Flight 9268 in October.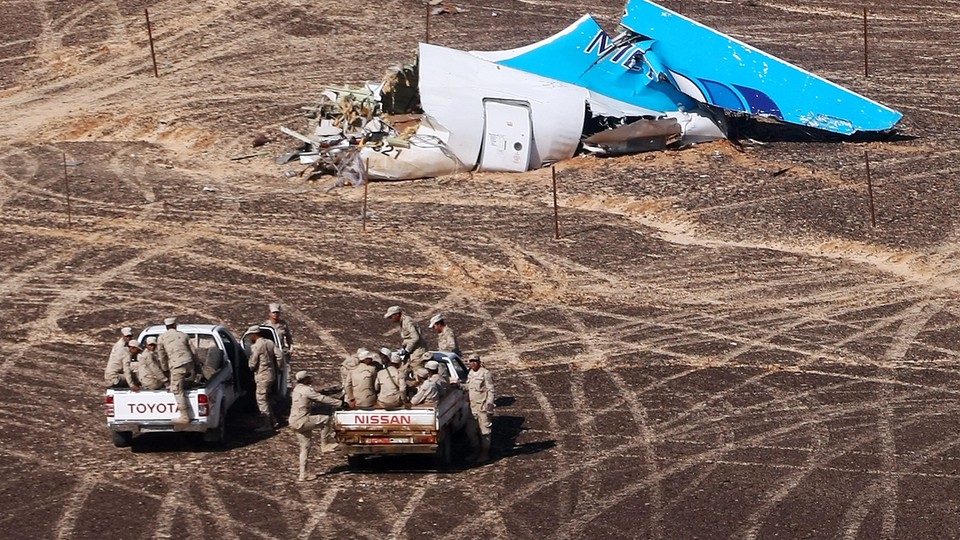 Egyptian authorities say a preliminary investigation into the Russian passenger plane that crashed in the Sinai in October indicates terrorism was not responsible—a direct contradiction of Russia's assertion, backed by the U.S. and the U.K., that a bomb brought down Metrojet Flight 9268.
"The technical investigative committee has so far not found any evidence indicating criminal or terrorist activity in the downing of the plane," Ayman El-Muqqadam, the chief investigator, said, according to Arham Online, the English-language website of Egypt's most widely read newspaper.
Metrojet Flight 9268 was carrying 224 people when it crashed on October 31 shortly after takeoff from Sharm el-Sheikh, the Red Sea resort that is popular with tourists. The plane was headed to St. Petersburg, Russia. Most of those on board were Russian; all were killed.
Egyptian and Russian authorities initially dismissed terrorism as a possible cause of the crash—though the local branch of the Islamic State had claimed responsibility. The U.K. and the U.S. said the plane was probably brought down by terrorism, and Britain even began flying its citizens home from Egypt after the crash.
Then, on November 6, a week after the crash, Vladimir Putin, the Russian president, agreed to suspend all flights to Egypt upon the recommendation of Aleksandr Bortnikov, the head of the FSB, Russia's internal-security service. On November 17, Moscow announced that the plane was brought down by a bomb, and Putin vowed Russia would pursue those behind the attacks "without any statute of limitations." Since then, other countries have also suspended flights to Egypt because of concerns over terrorism.
On Monday, El-Muqqadam, the Egyptian investigator, said the investigating committee was "continuing its work."
Concerns over terrorism are hurting Egypt's troubled economy. Tourism, especially in Sharm el-Sheikh, had been a bright spot, but the downing of the plane, and other security-related issues in the region, is keeping tourists away.