The Ground Offensive in Ramadi
Iraqi troops and local fighters continued their assault Wednesday on the Islamic State-held city.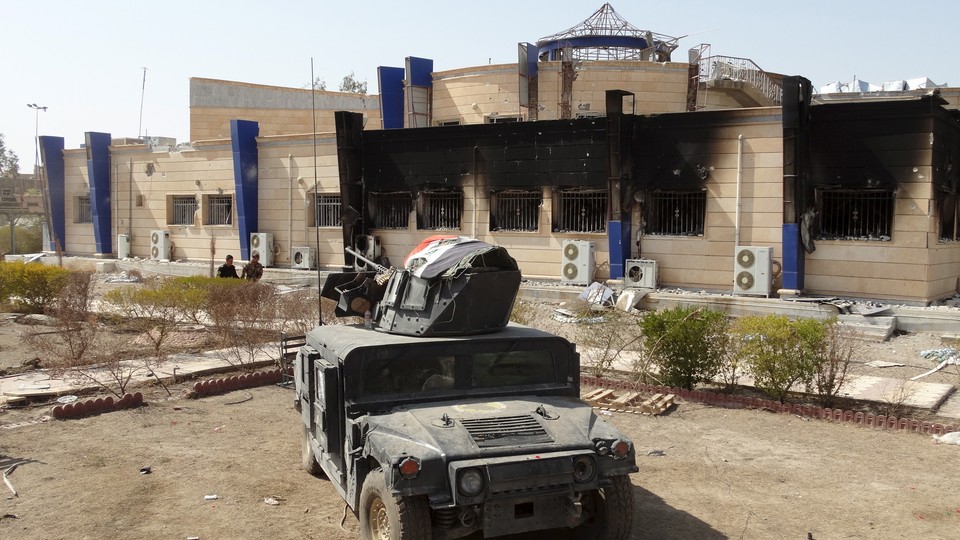 Iraqi government forces and local fighters on Wednesday entered the second day of a ground offensive against Islamic State militants in the city of Ramadi.
Troops attempted to move further into the center of the city, which fell to the Islamic State this spring, toward the terrorist group's main government complex, the BBC
reported
Wednesday.
Backed by U.S. airstrikes, ground forces on Tuesday
stormed
Ramadi, the largest city in the Anbar province. The offensive began Monday night on the edges of the city, and by midday Tuesday, troops had reached its center, according to news reports from journalists on the ground.
The troops, which numbered up to 10,000 men, included Iraqi government troops and U.S.-trained counterterrorism forces, according to The Wall Street Journal, and Sunni tribal fighters, according to The New York Times. Officials estimate that only several hundred Islamic State militants remain in Ramadi, down from about 600 to 1,000 fighters.
A local network on Wednesday quoted an Iraqi army general as saying that government troops hoped to restore control over Ramadi in a matter of days, according to Reuters. But a spokesman for the U.S.-led coalition against the Islamic State told CNN Wednesday that troops still have a long way to go until the city can be liberated from the group's control.
Ramadi's capture in May drew criticism from some in the U.S. of the Iraqi government's ability to fight the militant group. The Obama administration has deployed several hundred military advisers and special-operations forces to Iraq to aid in the mission.
Ramadi is a mostly Sunni city west of Baghdad and south of Mosul, which the Islamic State captured in June 2014. The civilian population is estimated to be between 4,000 and 10,000, according to The Guardian. On Sunday, Iraqi military planes dropped leaflets over Ramadi on Sunday that warned residents to leave the city within 72 hours.
President Obama said last week that the Islamic State has lost 40 percent of the territory it once controlled in Iraq this year.
Earlier this month, Iraqi forces retook Tamim, a large neighborhood on the southwestern outskirts of Ramadi. In November, Kurdish and Yadizi forces pushed militants out of Sinjar, which had been under Islamic State control since August 2014.