Putin's Wide-Ranging News Conference
The Russian leader sounded off on, among other things, Donald Trump (he likes him); Turkey (not so much); and his country's economy.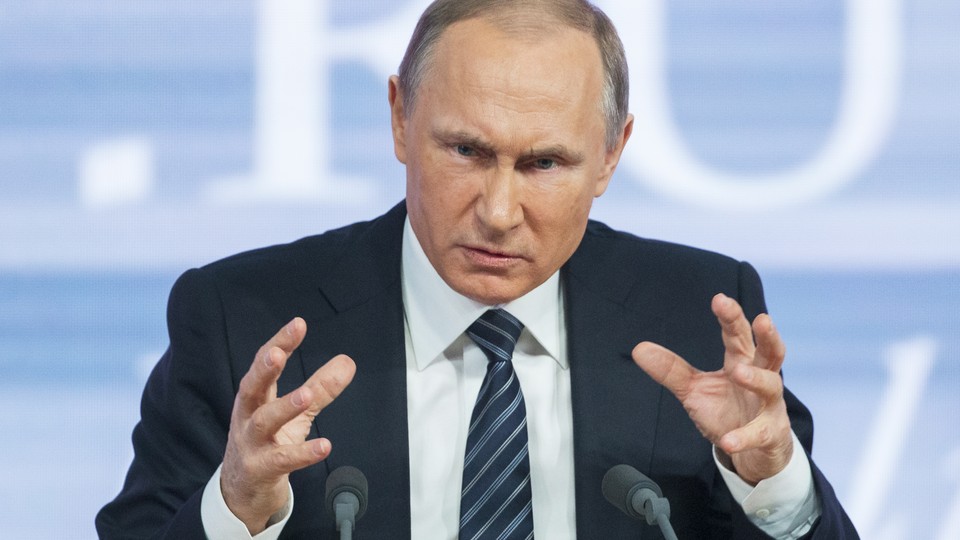 Russian President Vladimir Putin held his annual news conference Thursday, a wide-ranging event that lasted more than three hours.
Putin didn't mince his words when discussing his country's military intervention in Syria, its relations with Turkey after the shooting down of a Russian warplane, and its presence in Ukraine. But he also touched on topics as diverse as the Russian economy, the U.S. presidential elections, his daughters, and Sepp Blatter, the embattled head of FIFA.
Here are some of the more interesting excerpts from the news conference that was conducted before a live studio audience and included both Russian and Western journalists:
Turkey
Relations between the once-close allies were strained even before Turkey shot down a Russian warplane last month, resulting in the death of the plane's pilot. The two countries are on opposite sides of the Syrian civil war. Russian aircraft are targeting the Islamic State and other rebel groups, including those backed by the West and Turkey, on behalf of Syrian President Bashar al-Assad. Turkey and others, including the U.S., want Assad to step down as part of the political process to end the Syrian civil war.
Putin described Turkey's actions as "an act of hostility," saying the Turkish government was hiding behind its membership in NATO.
And, he added: "The Turks decided to lick the Americans in a certain place." It's unclear what "place" the Russian leader was referring to.
Putin added that relations with Turkey were unlikely to improve under that country's present leadership.
American Presidential Elections
Putin was asked about Donald Trump, the Republican presidential front-runner, and he said he found the mogul to be "tremendous."
"He is a very bright person, talented without any doubt," he said after the news conference. "It is not our business to assess his worthiness, but he is the absolute leader of the presidential race. He says he wants to move to a different level of relations—a fuller, deeper [level]—with Russia, how can we not welcome this? Of course we welcome this."
Last month, Trump said during the Republican presidential debate that he got to know the Russian president "very well, because we were both on 60 Minutes, we were stablemates and we did very well that night."
But as others have pointed out, the Republican presidential candidate and the Russian president appeared in separate, taped segments for the CBS show. Trump was interviewed in New York; Putin in Russia.
At a previous Republican debate, in September, Trump said he would "get along" with Putin.
"I believe—and I may be wrong, in which case I'd probably have to take a different path—but I would get along with a lot of the world leaders that this country is not getting along with," he said.
Ukraine
Putin also addressed his country's role in Ukraine's civil war, where Russia supports separatists in the Donetsk region. He acknowledged there were Russians in Ukraine, but denied they were military personnel.
"We never said we don't have people in Ukraine solving military issues there," he said. "But that doesn't mean we have deployed regular troops there."
The Russian Economy
The Russian president also discussed his country's economy, which has been battered by record-low oil prices that have resulted in a 3.7-percent loss in Russian gross domestic product and a 12.3-percent rise in inflation over the past year.
"Statistics show that the Russian economy all in all has passed the crisis," he said. "The peak of the crisis, in any case."
​He said investors "are beginning to show interest in working here," and said Russia was "witnessing a net inflow of capital."
Still, the price of oil must heavily weigh on the minds of Russian policymakers. Last year's budget was predicated on oil costing $100 per barrel. But oil prices have been sliding, on the back of a glut in the market. Russia, one of the world's top oil producers, had based this year's budget on oil being priced at about $50 per barrel. They now stand at below $37.
"We counted the budget for next year using this figure, this is an optimistic mark for today—$50 per barrel,"
Putin said
. "But now … it is already 38. Therefore we will have to correct something here too."
Other Issues
Putin rejected the idea that Russia pressured FIFA, soccer's governing body, to grant Russia the World Cup in 2018, and he defended his ally, Sepp Blatter, the embattled head of the organization who has been suspended by FIFA's ethics panel over a corruption scandal. Putin called Blatter a "respected man," who has done a lot for the development of soccer worldwide.
"You know, his contribution in the humanitarian sphere in the world is enormous," he said. "He always used or tried using football not just as a sport, but as an element of cooperation between countries and peoples. This is who should be given the Nobel Peace Prize."
The Russian leader also discussed his daughters, about whom little is known or reported. He said they were educated and living in Russia.
"I've seen different reports about my daughters—the media were saying they are getting an education abroad and are living abroad," he said. "Now, thank God, this isn't the case. It's true: My daughters are living in Russia; they do not have any other permanent residence. They've only been studying at Russian universities."
He added that his daughters speak three European languages fluently, and "one or two oriental languages," and use them "daily at work."