Mother Teresa's Path to Sainthood
Pope Francis authorized the Congregation for the Causes of Saints to recognize a second miracle attributed to her, paving the way for her canonization.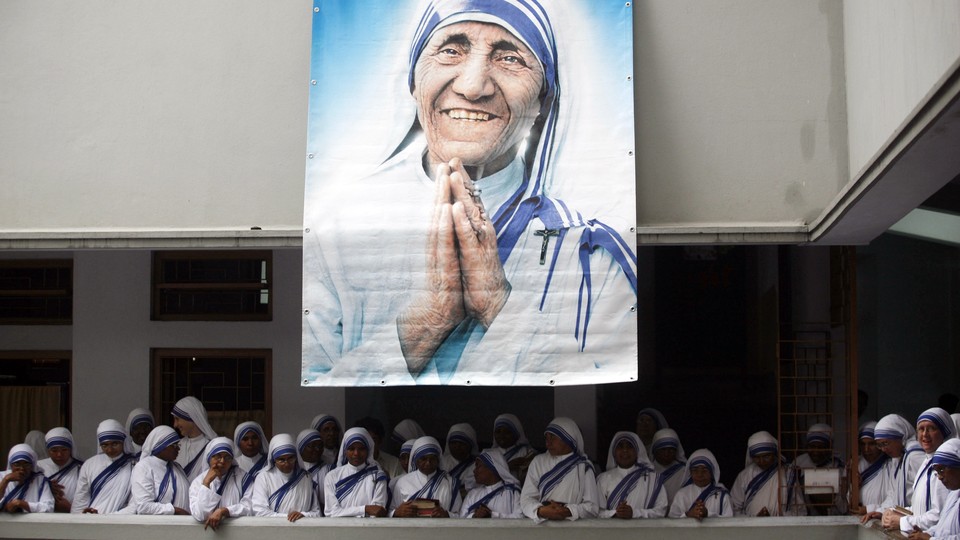 Pope Francis has authorized the Congregation for the Causes of Saints to recognize a second miracle attributed to Mother Teresa, the Vatican announced Friday, paving the way for her sainthood.
Avvenire, the newspaper of the Italian bishops' conference, reported that a ceremony to canonize Mother Teresa will likely take place on September 4, 2016, a day before the 19th anniversary of her death. She was beatified in 2003 by Pope John Paul II, who fast-tracked the process by waiving the normal five-year period after a person's death to begin the process of sainthood.
The miracle, Avvenire reported, concerns the healing of a Brazilian man with multiple brain tumors. America magazine, a Catholic publication, has more:
[T]he miraculous cure took place in the diocese of Santos in Brazil and concerns a local man, then 35, whom doctors concluded was at the death's door due to "multiple cerebral abscesses with hydrocephalous obstruction."  The man had already "undergone a kidney transplant and was in therapy with immune- suppressors."   The diagnosis left little hope for the man's life.  

The man (whose identity has been withheld) is an engineer and he had only recently got married when soon after his health problems began and by the end of 2008 he was diagnosed with eight abscesses.  His condition seriously worsened with the emergence of hydrocephalous and he fell into a coma on Dec 9 and was taken for surgery.  At the pleading of his young wife, many people started praying to Mother Teresa for him to intercede with God for his cure, and they did so especially on this day.

That day the operation had to be postponed for a short time due to technical reasons, and when the doctor came back to carry out the surgery 30 minutes later, he found the man  sitting up and asking what he was doing there in the operating theatre.  The doctor was stunned, and then examined him only to discover that he was without any sign of his major health problems. At that very hour, the man's wife and other people were praying together with a priest to Mother Teresa in the hospital chapel. No one had any doubt, the miraculous cure was attributed to Mother Teresa of Calcutta …
Mother Teresa, who was born Agnes Gonxha Bojaxhiu to Albanian parents in Spokje, the capital of modern Macedonia, in 1910, founded the Congregation of the Missionaries of Charity and the Missionaries of Charity. She spent much of her life working among the poor in Kolkata, India, and was awarded the Nobel Prize for Peace in 1979, but was also criticized for her ties to some of the world's most brutal dictators.
The National Catholic Reporter adds that Francis recalled meeting her at the 1994 Synod of Bishops in Rome during his 2014 visit to Albania. The publication quoted Francis as saying: "I admired her strength, the decisiveness of her interventions. She said what she wanted to say."