Exit, 'Pharma Bro'
Turing Pharmaceuticals announced that Martin Shkreli, who was arrested Thursday, has resigned as CEO of the company.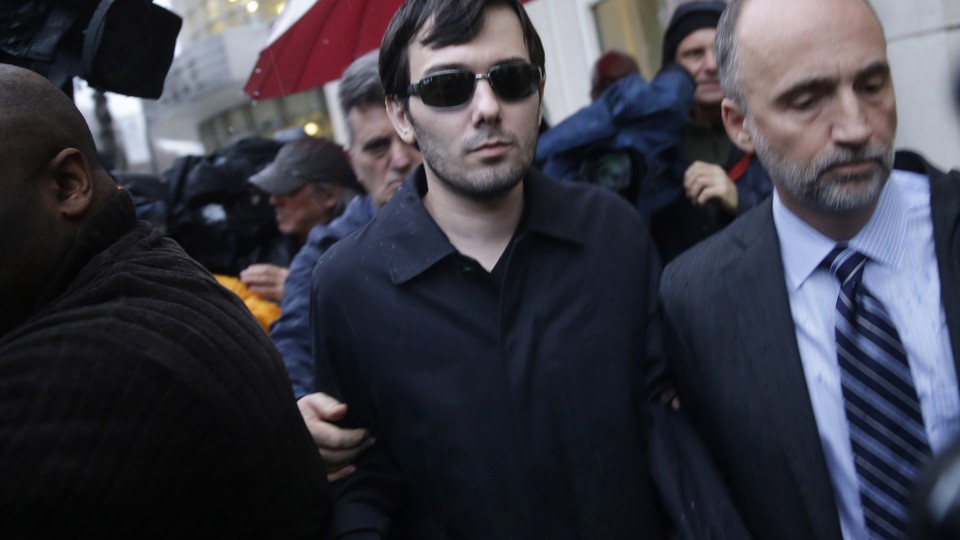 Martin Shkreli, the infamous "Pharma bro" who was arrested Thursday and charged with securities fraud, has resigned as CEO of Turing Pharmaceuticals, the company announced.
Turing said Ron Tiles, the chairman of the board of directors, will serve as interim CEO.
"We wish to thank Martin for helping us build Turing Pharmaceuticals into the dynamic research focused company it is today, and wish him the best in his future endeavors," Tiles said in the statement.
As we reported Thursday, Shkreli and Evan Greebel, an associate, who was also arrested Thursday, were charged with two counts of securities fraud, three counts of conspiracy to commit securities fraud, and two counts of conspiracy to commit wire fraud. You can read the indictment against them here.
The charges against Shkreli are unrelated to his work at Turing, but it's his actions at the company that brought him into the public consciousness in September. Turing bought the drug Daraprim, which is used to treat people with weakened immune systems, as in AIDS and during chemotherapy, and raised its price by 5,000 percent—from $13.50 to $750. In the backlash that followed, Shkreli was called "a spoiled brat," and "the most hated man in America."
At first, Shkreli appeared unapologetic about the backlash, but as it grew, he appeared to relent, only to backtrack.
"It's a business," he said at a health-care conference this month, "we're supposed to make as much money as possible."
In the Turing statement, Tiles said the company was "committed to ensuring that all patients have ready and affordable access" to Daraprim and other drugs. But it's unclear what that actually means.