Oscar Pistorius Convicted
A South African appeals court overturned a lesser sentence against the Olympian and found him guilty of murdering his girlfriend.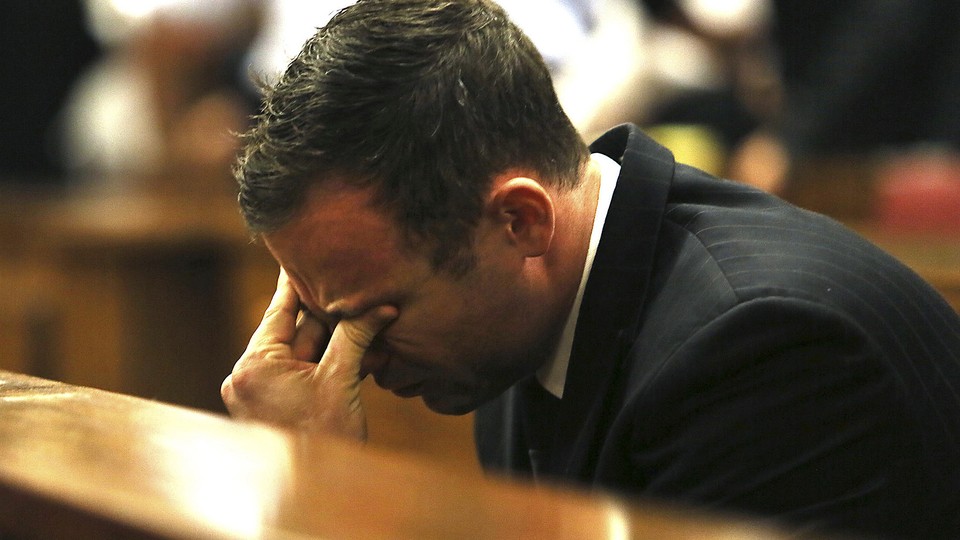 Olympian Oscar Pistorius has been convicted of murdering his girlfriend after a South African court overturned an earlier manslaughter conviction, saying the lower court had misinterpreted the law.
A court found Pistorius guilty last year of shooting his girlfriend, Reeva Steenkamp, dead through a locked toilet door on February 14, 2013. Pistorius argued that he thought she was an intruder.  The court convicted him of manslaughter, the equivalent of culpable homicide, and sentenced him to five years in prison. But he was released a year into his sentence, and allowed to spend the rest of his term under house arrest—until Thursday.
The court ruled that the lower court had incorrectly applied the principle of dolus eventualis—or whether a perpetrator, in this case Pistorius, foresees indirect consequences, Steenkamp's death, as a possibility of actions.
The ruling by the appeals court means Pistorius will have to reappear in court and be resentenced. He faces at least 15 years in prison, but judges can apply some discretion, the BBC reported.
In a statement, Pistorius's family said they were examining their options on next steps. The BBC adds that he can appeal "only if his lawyers are convinced that the appeal judges violated his constitutional rights. So it's a high threshold, and hard to meet."
Pistorius, 29, is a double-amputee track star who was dubbed Bladerunner. He has run in both the Olympics and the Paralympics.