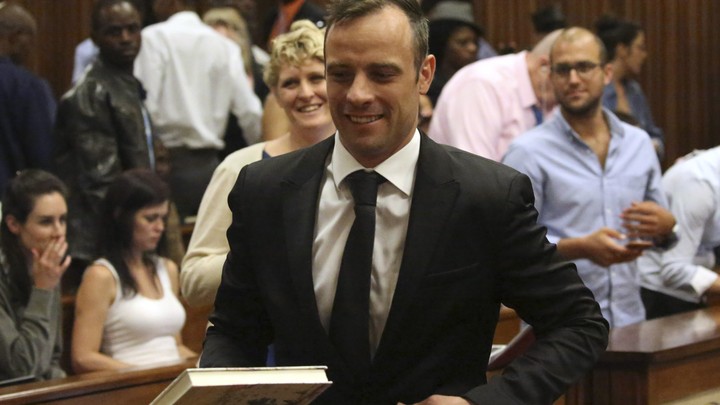 The Olympian Oscar Pistorius has been granted bail as he awaits sentencing in his murder conviction for killing his girlfriend, Reeva Steenkamp, two years ago.
Last week, a South African court overturned Pistorius's earlier manslaughter conviction in the case. The double amputee, who has competed in both the Olympics and the Paralympics, had served one year of a five-year sentence for the killing, and was serving out the rest under house arrest in his uncle's home in Pretoria.  
Under Tuesday's ruling, Pistorius will continue to remain under house arrest until he is sentenced on April 18, 2016. He faces up to 15 years in prison.
But Pistorius's lawyer said he would appeal against the conviction to the Constitutional Court, the country's highest, a move that could delay the case for months.
In Tuesday's hearing, Judge Audrey Ledwaba set bail at about $700. Under the conditions of the bail, Pistorius will be electronically tagged, but be able to move within a 12-mile radius of his uncle's home each day between 7 a.m. and noon. He will also have to hand over his passport.  
Pistorius, who was present in court, was dressed in a dark suit and tie. He looked composed during the hearing, and, the BBC reports, occasionally exchanged jokes with his legal team.
Pistorius shot and killed Steenkamp through a locked toilet door on February 14, 2013. He argued that he thought she was an intruder. In 2014, a court convicted him of manslaughter, the equivalent of culpable homicide, and sentenced him to five years in prison. But he was released a year into his sentence, and allowed to spend the rest of his term under house arrest—until last week's reversal.
We want to hear what you think about this article. Submit a letter to the editor or write to letters@theatlantic.com.