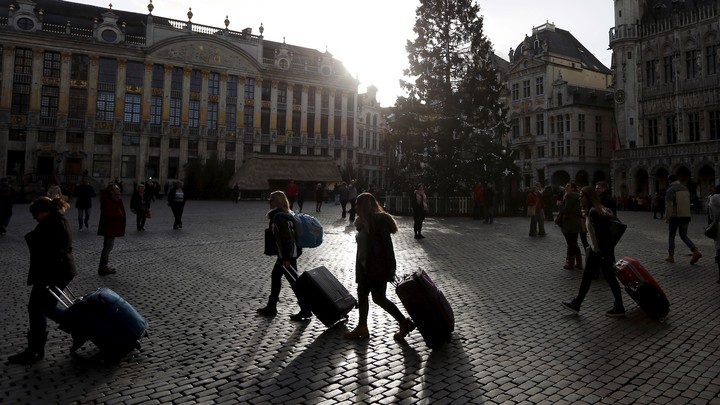 As people around the world prepare to ring in the new year, their governments and police forces have increased security measures at celebrations and gatherings or canceled them altogether amid fears of terrorist attacks.
The heightened holiday security comes after deadly assaults in Paris and San Bernardino in recent months, and after authorities in Belgium, Turkey, and the United States this week arrested people who were believed to be planning to carry out attacks during New Year celebrations in highly populated areas.
In Paris, the site of terrorist attacks claimed by the Islamic State that killed 130 people in November, officials called off an annual fireworks display on the Champs-Élysées, according to The Guardian. About 11,000 police, soldiers, and firefighters will patrol Paris, part of a total of 60,000 law-enforcement officers dispatched throughout the country Thursday night.
In Brussels, Belgian officials decided to cancel New Year fireworks and festivities, which drew about 100,000 people last year, "given information we have received," said Belgian Prime Minister Charles Michel Wednesday. The capital spent several days at the country's highest terror alert level in November as police scoured neighborhoods for potential suspects in the Paris attacks.
In London, Scotland Yard dispatched about 3,000 officers to patrol the city as it rings in the New Year. In Moscow, Red Square, where revelers traditionally gather before midnight, was shut down. In New York City, about 6,000 police officers will be deployed—between 600 and 800 more than usual for New Year festivities—according to the police commissioner.
In Berlin, police presence is at its largest for New Year celebrations, according to Deutsche Welle. In Madrid, officials have for the first time imposed limits on the number of people allowed to attend celebrations on Puerta del Sol square, where thousands of people usually gather, and police will be patting down attendees and searching bags, according to El País. In Dhaka, the capital of Bangladesh, police banned outdoor parties after 8 p.m. Thursday night.
Vienna police said Saturday that it had received a warning from an unnamed, "friendly" intelligence service that terrorist attacks were possible in the days between Christmas and New Year's Eve in multiple European cities, but did not name which had been mentioned. Police said they will conduct more thorough security checks in the Austrian capital, but celebrations will go on as planned.
On Thursday, New York police arrested an alleged supporter of the Islamic State who was believed to be planning to attack a bar in Rochester Thursday night.
The Ankara prosecutor's office said Wednesday police detained two men, both Turkish nationals, who had allegedly planned to strike at the Ankara's main square, where people are expected to gather to celebrate the New Year, and two locations near Kizilay, a shopping and restaurant district in the city's center.
Earlier this week, Belgian police detained six people in raids that were believed to be plotting attacks on "symbolic places" during New Year celebrations in Brussels.
We want to hear what you think about this article. Submit a letter to the editor or write to letters@theatlantic.com.