An Unexpected Stop in Pakistan
The visit by Narendra Modi is the first by an Indian prime minister since 2004.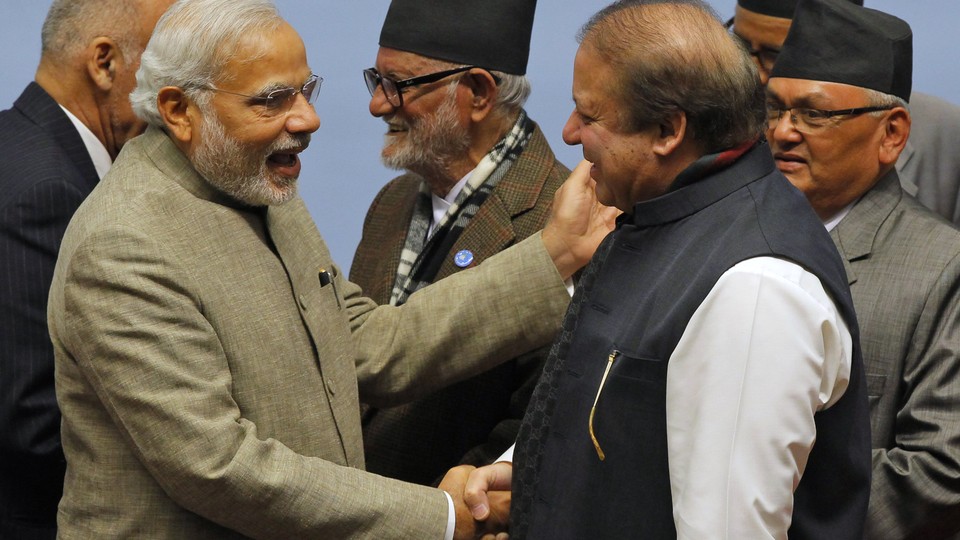 Indian Prime Minister Narendra Modi has made a surprise visit to Pakistan to meet with his counterpart, Nawaz Sharif—the latest step in an often-fragile process of rapprochement between the two neighbors.
Modi, who was returning home to India after a visit to Kabul, stopped in Lahore to meet with Sharif, ostensibly to offer the Pakistani leader wishes on his birthday.
Spoke to PM Nawaz Sharif & wished him on his birthday.

— Narendra Modi (@narendramodi) December 25, 2015
Looking forward to meeting PM Nawaz Sharif in Lahore today afternoon, where I will drop by on my way back to Delhi.

— Narendra Modi (@narendramodi) December 25, 2015
Dawn, the Pakistani newspaper, reported that Sharif and Shahbaz Sharif, the prime minister's brother who governs Punjab province, Pakistan's largest, received Modi at Lahore's Allama Iqbal International Airport. The two leaders then flew by helicopter to Nawaz Sharif's private residence in Raiwind, Dawn reported.
The visit is the first by an Indian leader to Pakistan since 2004, but this meeting capped months of diplomacy between the two neighbors, whose relations since near-simultaneous independence in August 1947 have mostly been tense. They have fought three wars, engaged in countless skirmishes, and hurled claims and counterclaims over support for terrorist groups and border violations. Diplomacy between the two countries is often the victim of politics and public mood, but ties have been on a relative upswing since Modi was elected in 2014.
Sharif, and other regional leaders, attended the ceremony at which Modi was sworn in, and diplomacy has continued despite regular finger-pointing. Modi and Sharif met briefly last month on sidelines of the climate-change conference in Paris, and, earlier this month, Sushma Swaraj, India's external-affairs minister, visited Pakistan for talks with her counterparts. Modi's visit to Pakistan caps those efforts, but it's unclear what the long-term implications of such a visit are besides the initial groundswell of optimism for better relations. Pakistan's military, which often holds the trump card in the country's political process, was silent about the visit.
Manish Tiwari, the spokesman for the centrists' Congress Party, which headed the previous government, called it a "misadventure."
PM's misadventure to Lahore is worst manifestation of Spectecalisation of Diplomacy Last time Vajpayee went to Lahore Kargil!this time what?

— Manish Tewari (@ManishTewari) December 25, 2015
The reference is to a previous visit by Prime Minister Atal Bihari Vajpayee, who also belonged to Modi's Hindu nationalist Bharatiya Janata Party, to Pakistan in 1999. That meeting, also with Sharif, who was prime minister at the time, was met with great optimism both countries, but later saw them come close to a fourth war in Kargil.
Others in India were more optimistic.
Omar Abdullah, who heads the National Conference in India's Jammu and Kashmir state, tweeted:
The re-engagement with Pakistan is a good step & a very welcome development. However more than grand gestures we need consistency.

— Omar Abdullah (@abdullah_omar) December 25, 2015
Indo-Pak relations have been plagued by knee-jerk reactions & a lack of consistency. Looking towards two PMs to correct this this time.

— Omar Abdullah (@abdullah_omar) December 25, 2015
Dawn, the Pakistani newspaper, added:
Meanwhile, Prime Minister's Adviser on Foreign Affairs Sartaj Aziz told the National Assembly that the foreign secretaries of Pakistan and India will meet soon to discuss modalities regarding the bilateral dialogue which will include matters related to peace and security, Jammu and Kashmir, Siachen, Sir Creek, Wullar Barrage, Tulbul Navigation Project, economic and commercial cooperation, counter-terrorism, narcotics control and humanitarian issues, people to people exchanges and religious tourism.