Le Pen Will Be Mightier
Her far-right, xenophobic Front National Party was shut out of winning any regions in French elections this weekend, but its support is only growing.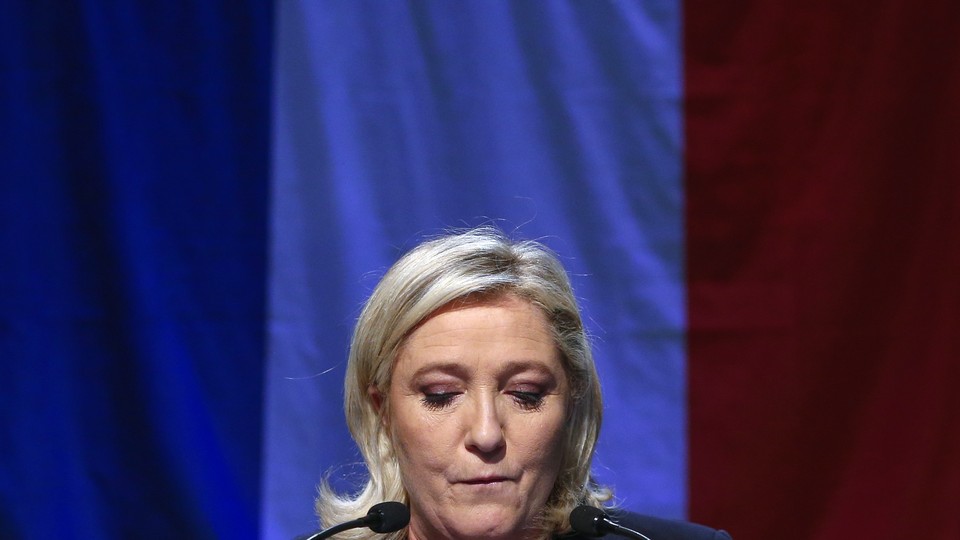 Over the weekend, Marine Le Pen's far-right National Front Party did not win control of any of France's 13 metropolitan regions in the second round of voting in local elections.
But that's not because the party isn't growing in popularity or because French voters are rejecting its xenophobic campaign messages. Were it not for some tactical maneuvering on the part of her Socialist opponents, who withdrew candidates from three regions, Le Pen, who aspires to be elected France's president in 2017, and her niece, Marion Maréchal-Le Pen, would have almost certainly won at least two regional presidencies.
In the first round of voting last week, National Front led in six of the 13 regions. Despite not capturing any regions after the second round, it did garner more than 6 millions votes, a sign of the party's ascendency into the French mainstream and a distressing signal for the political establishment in France.
"Nothing can stop us," Le Pen crowed on Sunday. "Thank you for having defied the orders issued from the palaces of the Republic."
The National Front was leading in the polls ahead of the elections because of France's anemic economy and record unemployment. And in the wake of last month's attacks in Paris, the party, which is heavily nationalist, historically anti-Semitic, and runs an anti-immigrant platform, tripled its presence on regional councils.
There was little joy this weekend, even for former President Nicolas Sarkozy's opposition center-right party, Les Républicains, which captured seven of the 13 regions. According to The New York Times, "The former Prime Minister François Fillon, another contender for the presidency in 2017, noted that 'the rise of the F.N. has deprived the opposition of a clear victory.'"
On Sunday, Manuel Valls, the French prime minister and a leader in the country's ruling Socialist Party, thanked voters for blocking Front National, but hardly sounded happy about the outcome. "[T]here is no relief, no triumphalism, no message of victory. The danger of the extreme right is not averted. I do not forget the results of the first round and of past elections."
Over at The Daily Beast, Christopher Dickey allowed for a limited comparison between Le Pen and Donald Trump and the climates in their respective countries.
Indeed, traditional politicians here regard Le Pen with something like the same horror that the American mainstream regards Donald Trump, and for some of the same reasons. Seen as sly, anti-immigrant, implicitly racist populists, both are portrayed in the political language of Europe as "fascists."
Le Pen herself has rejected that comparison: "Seriously, have you ever heard me say something like that?" she asked last week in a television interview. "I defend all the French people in France, regardless of their origin, regardless of their religion."
Irrespective of what she believes, the National Front, despite Sunday's loss, has, in Dickey's words, "become not just a third party in the multi-party French system, it has become the third party."