A Knife Attack in the London Tube
A man injured two people at a metro station Saturday in what police are calling a "terrorist incident."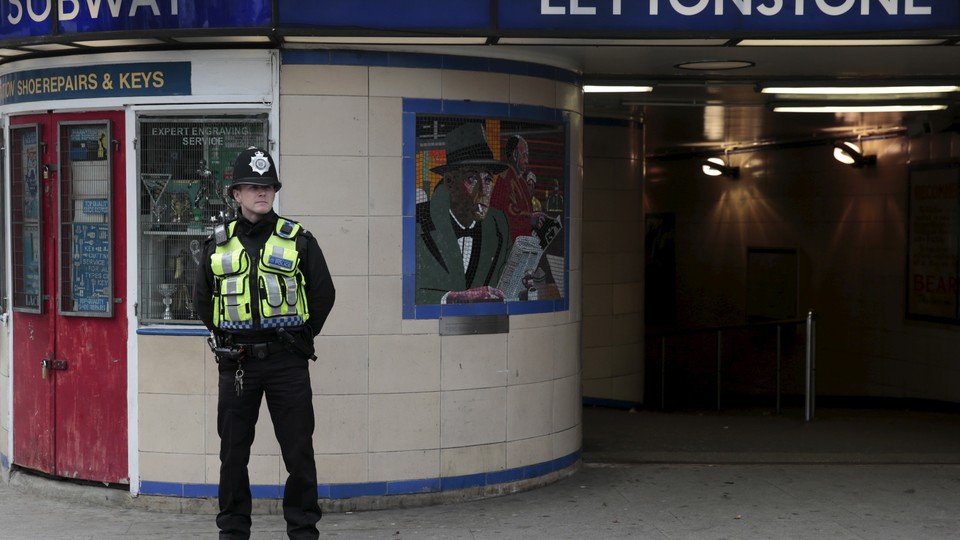 A man wielding a knife injured two people in a London Underground station on Saturday night in what police are describing as a "terrorist incident."
At about 7 p.m. local time, police responded to reports of a stabbing attack at Leytonstone. Video footage of the scene posted to social media shows people running away as the man threatens them. The man reportedly shouted "this is for Syria."
The footage shows officers approach the man and use a Taser gun to subdue him. As the man is handcuffed on the ground, an officer can be seen kicking something away on the floor. A pool of blood is visible in one shot. A bystander can be heard saying, "You ain't no Muslim, bruv," in apparent mocking of the attacker.
A 56-year-old man was seriously wounded, but his injuries are not life-threatening. One person sustained minor injuries and did not require medical assistance, according to The Guardian.
Scotland Yard's counter-terrorism command is investigating the attack.
"As a result of information received at the time from people who were at the scene and subsequent investigations, I am treating this as a terrorist incident," said Commander Richard Walton, who leads the agency.
Here's one witness account, from the BBC:
Witness Michael Garcia, 24, a financial analyst from Leytonstone, said he was walking along an underground passage that runs through the station when he saw people running outside.

"I realised it wasn't a fight but something more sinister," he said.

He then saw "a guy, an adult, lying on the floor with a guy standing next to him brandishing a knife of about three inches... maybe a hobby knife".

"It had a thin blade, but looked fairly long," Mr Garcia said.

"He was screaming 'go on, then, run' to everyone else. He was pacing back and forth next to the guy on the floor. He came up to the barriers."
The stabbing attacks comes days after Britain's Parliament voted to authorize the military to conduct airstrikes against the Islamic State in Syria in response to the Paris attacks. The United Kingdom has bombed the terrorist group in Iraq as part of a U.S.-led coalition since September 2014.
The current United Kingdom threat level remains at "severe," which means an attack is highly likely.