A Meeting on Syria's Civil War
U.S. Secretary of State John Kerry is in Moscow where he is hoping to narrow differences with Russia on ways to end the conflict.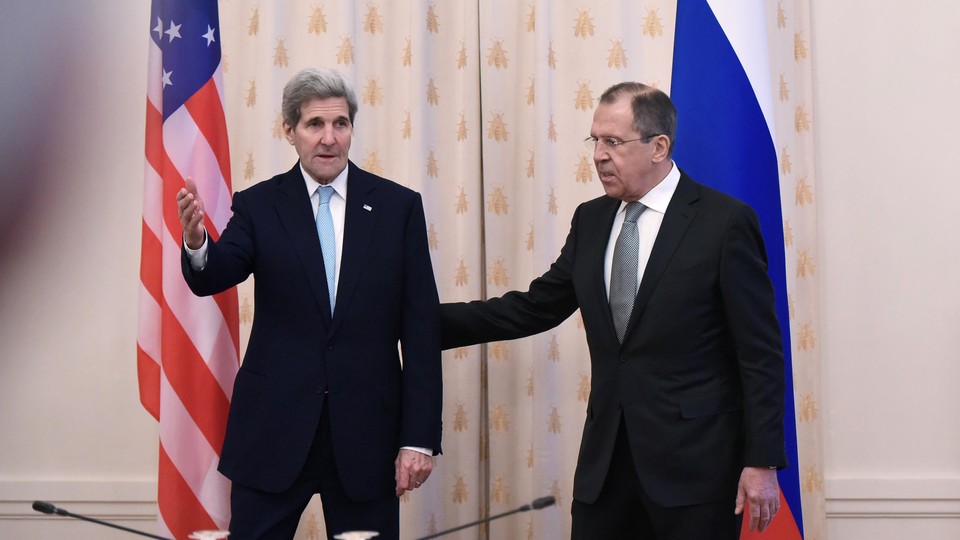 U.S. Secretary of State John Kerry is in Moscow for meetings he hopes will bridge the differences between the United States and Russia on ways to end the Syrian civil war.
"What is important to note is that even when there have been differences between us, we have been able to work effectively on specific issues," Kerry said alongside Sergei Lavrov, the Russian foreign minister, ahead of their meeting.
Kerry is expected to meet with President Vladimir Putin later Tuesday.
Lavrov was quoted by the Itar-Tass news agency as saying: "The issue of combating terrorism is broader than the Syrian crisis. I've returned from the conference on Libya, where terrorism sprouts up as well. IS operates in Iraq, there are manifestations in Yemen and Afghanistan."
Still, it is Syria that is likely to dominate the conversation, given the two countries' differing approaches in the civil war. The U.S., its Western allies, and some Arab countries are opposed to Syrian President Bashar Assad, are backing some rebel groups opposed to him, and conducting airstrikes against the Islamic State group. Russia, along with Iran, supports Assad. Russian warplanes are carrying out airstrikes against the Islamic State, but they are also targeting other rebel organizations, including some backed by the West.  Tensions have been high since Turkey, a NATO member and key American ally, shot down a Russian warplane that it said crossed into Turkish airspace. The plane's pilot was killed and a Russian military raid resulted in the rescue of the copilot. In retaliation, Russia has announced measures, including economic steps, against Turkey, imperiling the already fragile Syrian peace process.
Kerry appeared to allude to those differences between the two sides in his comments Tuesday.
"I think the world benefits when powerful nations with a long history … have the ability to be able to find common ground," he said, "and today I hope we can find some common ground."
Kerry's meeting with the Russian leadership follows several meetings President Obama has had this year with Putin. The two met on the sidelines of the UN General Assembly in New York on September 28, as well as at the meeting of the Group of 20 nations in Turkey in mid-November, and the Paris climate-change conference on November 30. Those meetings haven't produced any public breakthrough.
Kerry's diplomatic effort in Moscow comes a day after Obama, on a visit to the Pentagon, said the fighting against the Islamic State, which is also known as ISIL, ISIS, and Daesh, "continues to be a difficult fight."
"We are hitting ISIL harder than ever," he said, adding the U.S. must be relentless and smart, "targeting ISIL surgically, with precision."
In response, Russian Foreign Ministry spokeswoman Maria Zakharova said: "Obama said it was necessary to carry out 'surgical strikes' against IS., the main thing is that they, as seen by Washington, should not result in the plastic surgery that, instead of solving the problem, only changes its appearance."
Separately, Saudi Arabia announced the creation of a 34-nation Islamic coalition to fight terrorism.
Mohammed bin Salman, the deputy crown prince, said the bloc would tackle the Islamic State and other militant groups. The coalition includes Pakistan, Egypt, Nigeria, as well as Turkey, the alliance's only NATO member. But it does not include Iran, Saudi Arabia's major rival for regional influence.