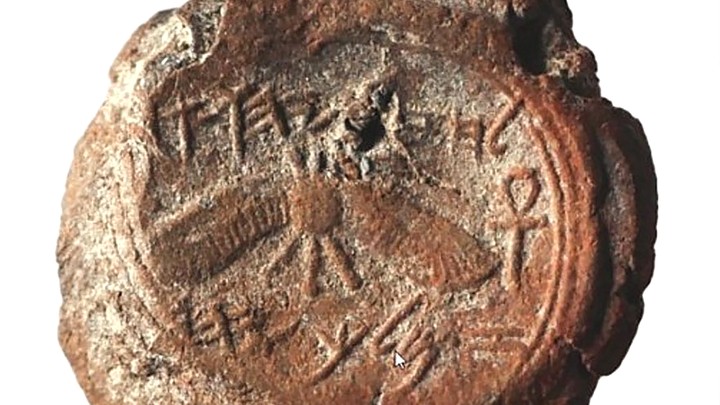 On Wednesday, archaeologists in Jerusalem announced the discovery of a rare biblical-era seal. The mark of the seal is said to belong to King Hezekiah, who ruled in the Levant in the eighth-century B.C. and got a glowing review in the Book of Kings.
Hezekiah trusted in the Lord, the God of Israel. There was no one like him among all the kings of Judah, either before him or after him. He held fast to the Lord and did not stop following him; he kept the commands the Lord had given Moses. And the Lord was with him; he was successful in whatever he undertook. He rebelled against the king of Assyria and did not serve him.
According to Hebrew University, the inscription reads: "Belonging to Hezekiah [son of] Ahaz king of Judah." It also bears a "two-winged sun, with wings turned downward, flanked by two ankh symbols symbolizing life."
As Reuters reports, excavators believe Hezekiah may have made the seal himself and that "the back side of the clay imprint of the seal had markings of thin cords that were used to tie a papyrus document."
The seal is said to be the first mark from an Israelite or Judean king ever found during a scientific excavation, which is noteworthy because it links the artifact to the location.
"It's always a question, what are the real facts behind the biblical stories," said Dr. Eilat Mazar, who led the excavation. "Here we have a chance to get as close as possible to the person himself, to the king himself."
The discovery was made at an ancient refuse dump in the shadow of the Temple Mount, the holiest site in Judaism, the third-holiest site in Islam, and a central point of focus in the recent violence between Israelis and Palestinians. As The Times of Israel notes, "Excavations at the site are contentious for taking place in East Jerusalem."
We want to hear what you think about this article. Submit a letter to the editor or write to letters@theatlantic.com.
Adam Chandler
is a former staff writer at
The Atlantic
. He is the author of
Drive-Thru Dreams: A Journey Through the Heart of America's Fast-Food Kingdom
.