Japan Says Sorry for Its Crimes Against Wartime 'Comfort Women'
The government will also pay about $8.3 million as compensation for forcing the women to work in Japanese brothels during World War II.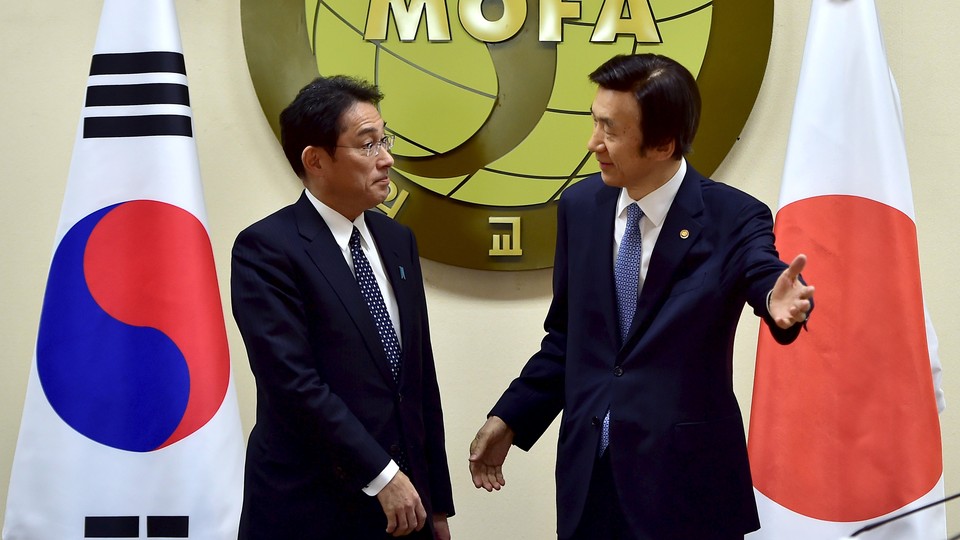 Japan has apologized to South Korea and will pay about $8.3 million as compensation for its use of Korean "comfort women" who were forced to work in Japanese brothels during World War II.
The deal—which was announced after a meeting in Seoul on Monday between Fumio Kishida, the Japanese foreign minister, and Yun Byung-se, his South Korean counterpart—could go a long way toward improving relations between the two countries that have been strained for decades over Japan's wartime occupation of the Korean Peninsula. After the meeting, and a formal apology from Kishida, Japanese Prime Minister Shinzo Abe telephoned Park Geun-hye, the South Korean president, to repeat the apology.
"Japan and South Korea are now entering a new era," Abe said later. "We should not drag this problem into the next generation."
It's unclear how many women served as sex slaves for the Japanese during the war, but estimates range from 20,000 to 200,000. What is clear, however, is that many of the women are now very old.
Park, the South Korean president, said Monday that nine had died this year alone. Forty-six are still alive in South Korea.
"I hope the mental pains of the elderly comfort women will be eased," she said after the agreement was announced.
The reason why it has taken so long for the issue to be discussed is differing accounts of whether Japan had properly atoned for its wartime actions. Tokyo had long maintained that its payment of $800 million in grants or loans to South Korea in 1965 settled the issue; South Korea disagreed.
On Monday, Kishida, the Japanese foreign minister, said the $8.3 million payment was a project to restore the "dignity" of the women—a position some former "comfort women" criticized.
"I wonder whether the talks took place with the victims really in mind," Lee Yong-soo, 88, told the BBC. "We're not after the money. If the Japanese committed their sins, they should offer direct official government compensation."
The BBC adds: "The dozens of surviving women have asked for a formal apology specifically addressed to themselves and direct compensation. They say past expressions of regret have been only halfway and insincere."
Indeed, as the Korea Herald notes, the two sides are divided over whether, under Monday's agreement, Japan took legal responsibility for its actions, and about whether South Korea would move the statue representing the women from near the Japanese Embassy in Seoul.