2015: The Best Year in History for the Average Human Being
Violence dominated the headlines this year. But by many measures, humanity is in better shape than it's ever been.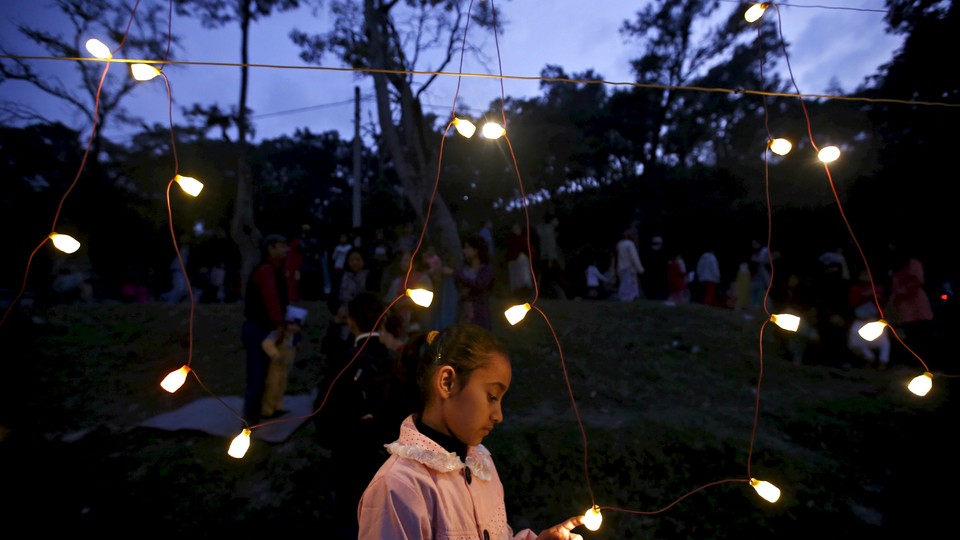 From Paris to Syria through San Bernardino to Afghanistan, the world witnessed obscene and unsufferable tragedy in 2015. That was on top of the ongoing misery of hundreds of millions who are literally stunted by poverty, living lives shortened by preventable disease and malnutrition. But for all of that, 2015 also saw continued progress toward better quality of life for the considerable majority of the planet, alongside technological breakthroughs and political agreements that suggest the good news might continue next year and beyond. Tragedy and misery are rarer than they were before 2015—and there is every reason to hope they will be even less prevalent in 2016.
To start with acts of violence in America, despite its epidemic of mass-shooting events, the country is still far safer than it was in the past. The latest FBI statistics, reported this September, suggested that the trend toward lower rates of violent crime in the United States that began in the early 1990s continued at least through 2014: There were nearly 3,000 fewer violent crimes that year than the year before and more than 600,000 fewer than in 1995—that's a 35 percent decline over the period. The latest data from the UN suggests that this is part of a global trend—to take one category of violent crime, homicide rates have dropped by an estimated 6 percent in the countries for which data was available between 2000 and 2012.
The same is sadly not true of terrorism and war worldwide, both of which, according to the most recent available data, took more victims in 2013 and 2014 than in the few years immediately before. Beginning in 2011, Syria helped reverse longer-term progress toward ever-fewer global battle deaths—while 2015 may be marginally better than 2014 in terms of Syrian deaths reported by the Syrian Observatory for Human Rights, that still suggests more global battle deaths this year than in 2010. But the Iran nuclear deal struck this summer provided some evidence that progress toward peaceful settlement of disputes was possible, both in the region and worldwide. And, across the globe, the numbers of ongoing wars and battle deaths are still far below their levels of the 1970s and 1980s.
Furthermore, terrorism, war, and murder together remain a minor cause of death worldwide. The World Health Organization estimates that 119,463 people died in incidents of "collective violence and legal intervention," such as civil war, and 504,587 died from episodes of "interpersonal violence," such as homicide, in 2012, the most recent year for which data is available. In the same year, according to the Global Terrorism Index, 11,133 people died in terrorist attacks—suggesting terrorism accounted for about 1.8 percent of violent deaths worldwide. And for all that terrorism deaths have increased since 2012, they remain responsible for perhaps three hundredths of one percent of global mortality. All collective and interpersonal violence together accounted for around 1.1 percent of total deaths in 2012. Rabies was responsible for three times as many deaths as terrorism that year. Stomach cancer killed more people than murder, manslaughter, and wars combined. And the good news about many of the more important causes of global mortality is that the world continued making progress against them in 2015.
Take two fellow horsemen of the apocalypse alongside war: famine and pestilence. Both were on the defensive in 2015. There were fears of drought across the Sahel causing a famine this year—especially in conflict zones such as South Sudan. While the risk of major food shortages in 2016 is high, the fear hasn't materialized yet, at least. Famine deaths are increasingly rare and increasingly limited to the few areas of the world suffering complete state collapse. Related to that, the proportion of the world's population that is undernourished has slipped from 19 percent to 11 percent between 1990 and today.
Or look at disease: Through the course of November 2015, only four cases of Ebola were confirmed in the three West African countries at the epicenter of the 2014-2015 outbreak. Roughly 11,315 people were either known or believed to have died in that epidemic worldwide, but compared to a 2014 Center for Disease Control forecast that, absent intervention, there might be as many as 1.4 million Ebola cases in Liberia and Sierra Leone alone by mid-January 2015, the world got off lightly, with total cases resulting from the outbreak standing at around 29,000 today. An Ebola vaccine that underwent trials in Guinea this spring proved 100 percent effective, suggesting future outbreaks of the disease should be far less deadly. The world has also seen progress toward a partially effective malaria vaccine this year.
The rollout of older vaccines over the past several years has also saved more lives than ever before this year, since vaccination protects for life, or at least multiple years. In August came news that there had not been a single case of polio detected in Africa in over 12 months, meaning the disease is now known to exist only in Pakistan and Afghanistan. What used to be a global killer, with 350,000 cases as recently as 1988, is on the verge of extinction. And just since 2000, worldwide cases of measles have dropped by more than two-thirds, saving more than 17 million lives—largely thanks to increased vaccination rates.
Meanwhile, the UN reported this year that global child mortality from all causes has more than halved since 1990. That means 6.7 million fewer kids under the age of five are dying each year compared to 1990. Nearly 7 million families avoided the pain of burying their child in 2015 who would have gone through it if the world hadn't seen two and a half decades of historically unprecedented progress against childhood illness. 2015 also saw the lowest-ever proportion of kids out of primary school according to the UN—less than one in 10. The number of kids out of school has fallen from 100 million in 2000 to a projected 57 million in 2015.
Civil and political rights also continued their stuttering spread. While 2015 saw rights on the retreat in countries including Turkey and Thailand, the number of electoral democracies worldwide remains at a historic high according to Freedom House—at 125, up from just 69 countries in 1989 (though less than half of these are considered fully "free;" there is still a lot of progress to be made). This year, there were peaceful and democratic transitions of power in settings as diverse as Burkina Faso, Tanzania, Myanmar, and Argentina. And Saudi Arabia held local elections where, for the first time ever, women were allowed to stand as candidates and vote.
In the United States, this was the year that gay marriage became the law of the land. And once again events in America reflect a broad trend worldwide, this time toward greater acceptance. Mozambique decriminalized same-sex relationships in June, and gay marriage became legal in Ireland in November. In 2006, the International Lesbian, Gay, Bisexual, Trans and Intersex Association reported there were 92 countries with laws prohibiting sexual acts between consenting same-sex adults. This year, the number dropped to 75. Added to the trend of growing sexual and reproductive freedom worldwide, China finally abandoned its one-child policy in 2015.
So the world is better-educated, better-fed, healthier, freer, and more tolerant—and it looks set to get richer, too. In October, the IMF forecast 4.0 percent growth for emerging and developing countries for 2015—slower than the 7-8 percent that they managed through much of the last 15 years but nonetheless considerably ahead of population growth. The World Bank declared in September that, for the first time ever, less than 10 percent of the global population lived in extreme poverty, on less than $1.90 per day. That is down from 37 percent as recently as 1990. There are a lot of reasons to think the poverty measures the World Bank creates are flawed. That said, the decline certainly reflects an underlying reality: Many of the poorest countries in the world, and many of the poorest people in them, have seen dramatic income gains over the last few years.
Developing countries and the industrialized world alike also saw improved prospects thanks to continued support for globalization. The agreement on the Trans-Pacific Partnership, for all of its myriad drawbacks, demonstrated that some of the world's largest economies remain committed to open trade. And despite the nativist backlash across Europe provoked by the Paris attacks, German Chancellor Angela Merkel held to her country's policy of enlightened self-interest toward migration flows. At the end of November, she tried to convince seven European countries to resettle as many as 400,000 refugees as part of her efforts to see the European Union admit at least 300,000 refugees from the conflict each year. Similarly, French President Francois Hollande reiterated a pledge to take in 30,000 refugees after the Paris attacks, stating that the French should remain "true to our values."
And at the Paris climate conference in December, countries demonstrated renewed resolve to tackle global climate change together. Absent any policies enacted to slow climate change since 2010, the world might have been more than 4 degrees Celsius hotter in 2100 than pre-industrial temperatures. Existing policies to cut emissions reduced that forecast to 3.6 degrees, and the additional pledges in Paris brought it to 2.7 degrees Celsius. In addition, the countries that spend the most on research and development of renewable-energy technology like solar power agreed to double R&D budgets for renewables by 2020. A private-sector "Breakthrough Energy Coalition" whose members have $350 billion in collective holdings pledged concurrently to invest more in energy innovations to reduce the cost of renewable power. Because electricity is so central to economic development, investments like these are the only way to avert dramatic climate change without slowing global progress against poverty.
Even before Paris, world leaders were coming together this year, despite their often-dangerous differences, to work toward common goals. In New York in September they agreed to a set of "sustainable development goals" to try to hit by 2030. The targets suggested that the world could wipe out extreme poverty, reduce deaths of those under the age of five by millions each year, and guarantee all children go to school and learn while they are there. Achieving all that would require historically unprecedented policy changes that haven't even begun. Still, the goals point in the right direction: They build on the immense progress the world has achieved over the last 15 years and suggest that, working together, humanity can do even better over the next 15. The combination of that progress with that potential is why 2015 was the best year in history for the average human being to be alive—and why 2016 will almost certainly be even better.