FIFA in Double Trouble
Swiss police and U.S. prosecutors launch a second wave of arrests and indictments at soccer's international governing body.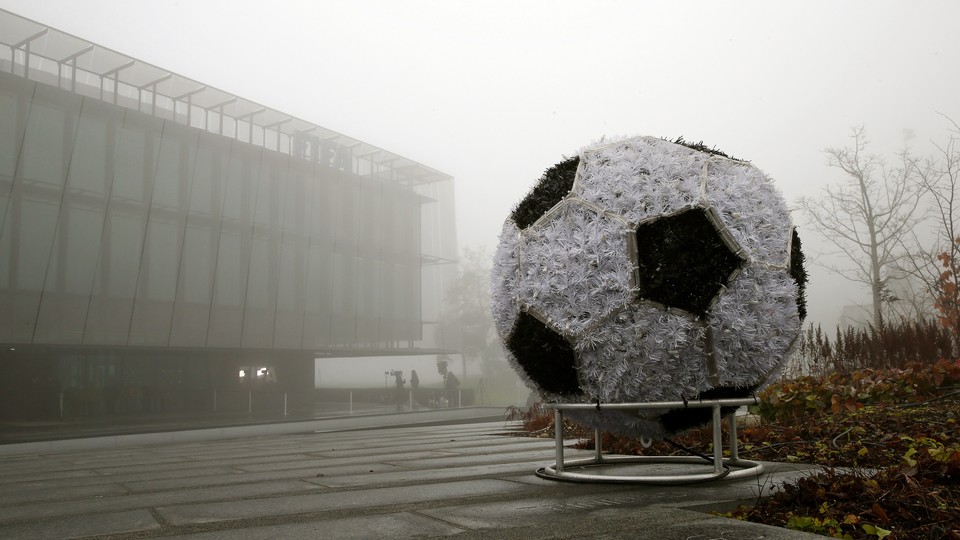 The corruption investigation into international soccer widened on Thursday as U.S. prosecutors unsealed a sprawling, 236-page indictment of 16 high-ranking FIFA officials. This came just hours after Swiss police launched a pre-dawn raid at a Zurich hotel where top current and former members of soccer's world governing body were staying.
The second wave of indictments doubled the number of defendants and largely targeted officials from the South and Central American national federations and soccer conferences, according to The New York Times.
"The betrayal of trust set forth here is outrageous," U.S. Attorney General Loretta Lynch told reporters at a Thursday press conference. "The scale of corruption alleged herein is unconscionable."
Among those indicted are Alfredo Hawit, the president of CONCACAF, soccer's regional governing body for North and Central America and the Caribbean, and Juan Angel Napout, the president of CONMEBOL, the regional governing body for South America. Ironically, Hawit and Napout both took office after U.S. prosecutors indicted Jeffrey Webb and Eugenio Figueredo, their respective predecessors, in May.
The U.S. Justice Department also announced indictments against current presidents of national soccer federations in Brazil, Ecuador, and Guatemala as well as current and former CONCACAF and CONMEBOL officials. The defendants also include Rafael Callejas, a former president of Honduras who serves on FIFA's television and marketing committee, and Hector Trujillo, a judge on the Constitutional Court of Guatemala and current general secretary of the Guatemalan national soccer federation.
In their unsealed filings on Thursday, the Justice Department described a vast, three-decade-long conspiracy at the heart of international soccer.
[The indictment] alleges that, between 1991 and the present, the defendants and their co-conspirators corrupted the enterprise by engaging in various criminal activities, including fraud, bribery and money laundering.  Two generations of soccer officials abused their positions of trust for personal gain, frequently through an alliance with unscrupulous sports marketing executives who shut out competitors and kept highly lucrative contracts for themselves through the systematic payment of bribes and kickbacks.  All told, the soccer officials are charged with conspiring to solicit and receive more than $200 million in bribes and kickbacks in exchange for their official support of the sports marketing executives who agreed to make the unlawful payments.
Hours before U.S. prosecutors unsealed the indictment, Swiss police raided a hotel near Lake Zurich where FIFA members had gathered ahead of an executive meeting. Those present could have been forgiven for a sense of deja vu. The scene at Baur au Lac, a luxurious alpine hotel outside Zurich, in the early hours of Thursday morning resembled a similar raid by Swiss police there in May ahead of the 65th FIFA Congress. That raid nabbed some of FIFA's highest executives as U.S. investigators unveiled a massive investigation into widespread corruption and bribery in international soccer's upper ranks.
The May raid roiled FIFA's upper echelons and sparked a crisis of leadership within the organization. Long-time FIFA President Sepp Blatter, a Swiss septuagenarian who ruled international soccer for almost two decades through lucrative patronage and electoral guile, won re-election at the FIFA Congress immediately after the raid. A few days later, Blatter said he would resign upon the election of his successor.
Although Blatter has not been indicted by U.S. prosecutors, the Swiss attorney general's office announced a criminal investigation of him and his inner circle in September over bribery allegations. FIFA suspended Blatter and other top officials for 90 days in October; members will elect his successor in February.