A Reduced Prison Sentence for Ehud Olmert
The former Israeli prime minister, who was convicted in a bribery scandal, will spend 18 months—instead of six years—in prison.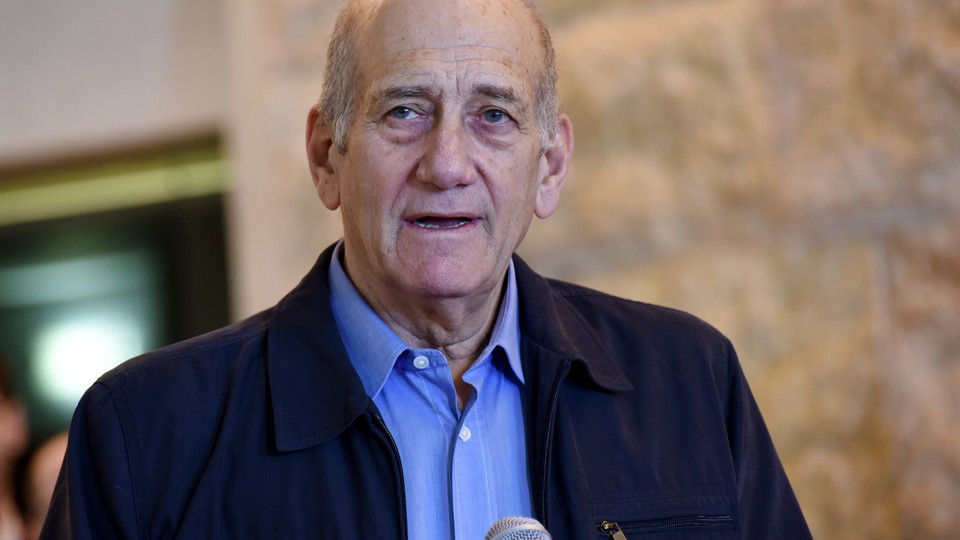 Israel's Supreme Court reduced former Prime Minister Ehud Olmert's prison sentence from six years to 18 months after overturning the main bribery charge against him. The ruling is a partial victory for Olmert though he will still be the first former Israeli leader to go to prison.
Olmert, who was prime minister from 2006 to 2009, was convicted in 2014, on corruption charges involving a real-estate deal. He was accused of taking about $150,000 in bribes from the developers of a large housing complex in Jerusalem, while he was mayor of the city in the 1990s. He has always denied the charges.
The scandal forced his resignation as prime minister in 2009 at a time when Israel and the Palestinians were engaged in talks over the creation of a Palestinian state. It also cleared the way for Benjamin Netanyahu, Israel's present leader, to win the post.
On Tuesday, the Supreme Court overturned the main bribery charge against Olmert, 70, which said the $130,000 bribe was earmarked for his brother. Four of the five justices ruled that assertion could not be proven beyond a reasonable doubt. The court did, however, uphold a lesser charge related to Olmert taking a bribe of about $15,000.
Olmert said he was "satisfied" with Tuesday's decision, but called it a "hard day."
"A stone has been lifted from my heart," he said. "I said in the past, I was never offered and I never took a bribe. And I say that again today."
The conviction all but ends Olmert's prospects of a return to Israeli politics. He is expected to begin serving his sentence on February 15.
Olmert is also appealing a separate conviction from earlier this year when he was sentenced to eight months in prison for unlawfully accepting money from an American supporter.