A Massive Hotel Fire in Dubai
Flames tore through a 63-story skyscraper as revelers gathered for New Year's Eve celebrations.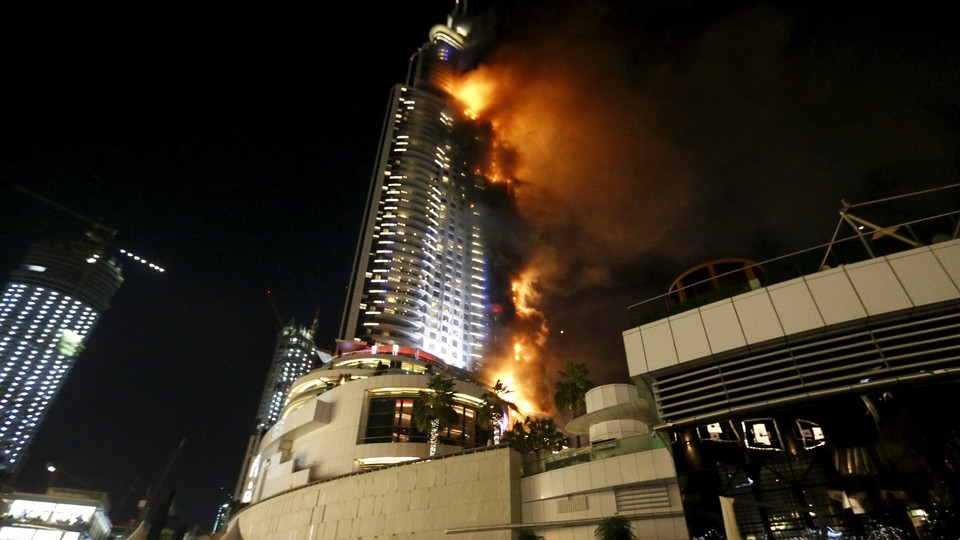 Updated on January 1 at 3:05 a.m.
A massive fire engulfed the Address Hotel, a skyscraper in downtown Dubai, on Thursday as the city prepared to ring in the new year. The cause of the blaze, which broke out near the site of planned New Year's Eve fireworks, was not immediately clear.
Social media reports show flames and smoke billowing from the side of the building facing the Burj Khalifa, the world's largest building.
Dubai's police chief told Agence France-Presse that all of the residents from the hotel had been evacuated. On Twitter, local officials reported 14 minor injuries and one heart attack.
The fire began on the 20th floor and worked its way up the structure, fanned by the high winds. Video footage showed small amounts of debris falling from the building onto the streets and crowds below, although no injuries were reported. Occasional explosions caused by fires reaching combustible materials within the structure could also be seen and heard. Officials did not cite terrorism as a possible cause.
In a somewhat surreal move, the city's midnight firework celebrations went on as planned at the nearby Burj Khalifa tower even as the Address continued to burn.