He'll Take the Low Road: Trump's Tortured History With Scotland
Though he's now on the outs with the government and people, the mogul spent years trying to win over his mother's homeland.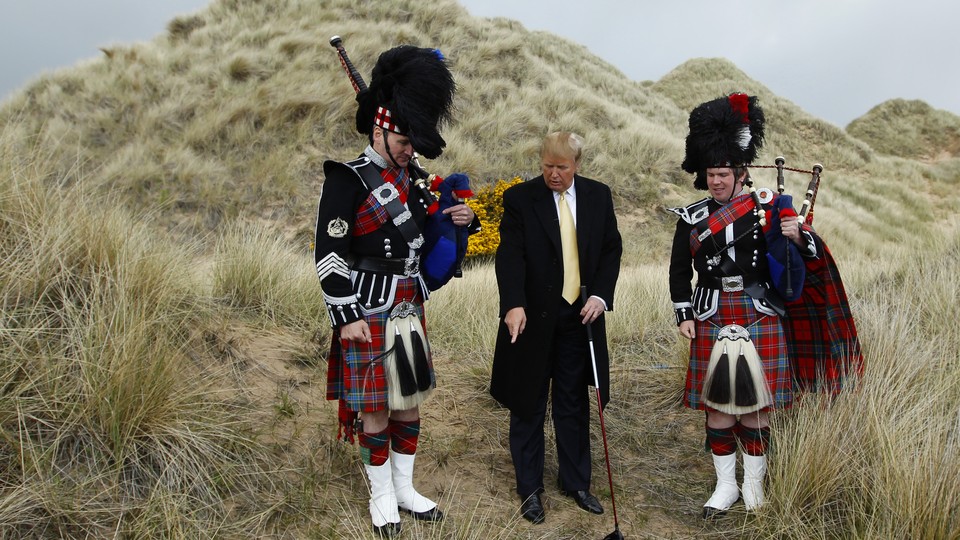 Donald Trump is a man without a country. The Queens neighborhood where he grew up has changed radically, and is now home to some of the Muslims he disparages. In New York, a left-leaning city and state, his presidential run is met with derision and embarrassment.
And then there's Scotland. Trump has long sought Alban affection, only to be met—in large part—with a Caledonian cold shoulder. From the Borders to the Hebrides, Trump has sought to emphasize his ties with Scotland; in return, he's earned loathing in Midlothian and antipathy in Ayrshire. The latest blow came this week, when the U.K. Supreme Court rejected his efforts to block the installation of wind turbines off the coast of Aberdeen, which Trump argued would sully Scotland's pristine beauty—and the view from his golf development.
It's the latest in a series of recent slights, including losing his status as an honorary ambassador for Scottish business and being stripped of an honorary degree from Robert Gordon University in Aberdeen. Trump lashed out at the decision, accusing the Scottish government of a "foolish, small-minded, and parochial mentality." But he hasn't always felt that way, and has long courted Scots. The tale begins with Trump's mother.
Mary Anne MacLeod was born in Tong, a tiny village (2001 population: 527) on the Isle of Lewis in the Outer Hebrides, off Scotland's West Coast. Her parents spoke Gaelic; the remote town offered a hardscrabble life. In 1930, she left for New York, where she met and married Fred Trump, a successful real-estate developer. In 2008, Donald Trump visited Lewis for the first time in decades, stopping by the cottage where his mother was born (for 97 seconds, according to The Guardian's count).
"I feel very comfortable here," he said. "It's interesting when your mother, who was such a terrific woman, comes from a specific location, you tend to like that location. I think I do feel Scottish."
Trump had an ulterior motive for these warm words. He was en route to Aberdeen, on the east coast, where he was seeking approval to develop a huge golf course. "I think this land is special, I think Scotland is special, and I wanted to do something special for my mother," he said.
Trump had bought a portion of the Menie Estate in Aberdeenshire two years earlier with the intention of building a golf course and resort there. But the area included sand dunes that were a protected site. He was eventually able to win approval—over the reservations of local residents and government—and construct the course. Ultimately, Scottish officials decided the economic benefit outweighed the environmental degradation. That didn't stop Trump from whining throughout the process that the government was going hard on him despite his plans to invest vast amounts of money in the country. "If somebody else had applied, they would have gotten it a lot easier than me," he said. "The celebrity and all of this media and craziness is probably a liability for me. But it's an asset for the area and for Scotland. Everybody is talking about this course all over the world."
The course opened in 2012; it is, according to its website, "the world's greatest golf course." But Trump's approach had sowed animosity among locals. As The Scotsman noted, "People didn't take kindly to a billionaire American jetting in to a rural corner of Scotland, making disparaging remarks about a collection of buildings on a hillside that didn't fit with his idea of an upmarket golf resort." A critically acclaimed documentary, You've Been Trumped, told the story of how he'd managed to railroad through the course.
Almost immediately, Trump was engaged in a fight over the wind farm. In 2012, he fired off a characteristically Trumpian letter to First Minister Alex Salmond, the head of the Scottish government. "With the reckless installation of these monsters, you will single-handedly have done more damage to Scotland than virtually any event in Scottish history," he thundered. "As a matter of fact, I have just authorized my staff to allocate a substantial amount of money to launch an international campaign to fight your plan to surround Scotland's coast with many thousands of wind turbines."
With typical humility, he told Salmond, "Please understand that I am doing this to save Scotland."
That was, one might say, a wee bit daft. "It's hard to think of a less sympathetic character in the eyes of most Scots. Despite all his tartanry and trumpeting of heritage, The Donald is almost the anti-Scot personified," wrote Lesley Riddoch. "Left and right, unionist and nationalist, man and woman, young and old—it takes quite a lot to unite the people of this notoriously fractious little country in a collective shudder."
The fight soon turned even nastier. It emerged that a Salmond aide had written to Trump in 2009, asking the businessman to back the release from prison, on compassionate grounds, of Abdelbaset al-Megrahi, the Libyan convicted in the 1988 Lockerbie bombing over Scotland. The release was not popular in Scotland or the United Kingdom. Trump's son Donald Jr. gleefully blasted Salmond, claiming that the first minister was backing the wind farm as retribution for Trump declining the request.
"He asked us to support his decision to release a terrorist that killed hundreds of people. Ever since we refused to do that, he has been a total enemy of ours," Donald Jr. told The Scotsman. "From that point on, all of the promises that we were made about the [wind farm] application changed drastically."
But Trump's gnashing of teeth about the supposed environmental damage from the wind farm rang rather hollow, given that his resort had been built on theretofore-protected dunes. Meanwhile, it was becoming clear that the 6,000 jobs he'd promised as part of the project weren't about to materialize—there were just 200 by the summer of 2013.
Having lost the fight over the wind farm at a lower level, Trump announced in February 2014 he was taking his toys and going—well, not home, but to Ireland. But he also said he would appeal the wind-farm decision. In the meantime, he vowed to keep the Aberdeen course open, even as he halted plans for a second course on the site. "We have a spectacular piece of land for the second course and we look forward to getting on with the project," he said, "but I can't do that in all good conscience when the threat of very ugly industrial turbines looms over Aberdeen."
Two months later, however, Trump bought Turnberry, a golf resort in Ayrshire, in southwest Scotland. And in July, he insisted that he liked Alex Salmond. He declined to take a stand on a referendum on Scottish independence—Salmond's life's work—saying the outcome would have no impact on his development plans. Yet when the referendum failed in the fall, Trump wasted no time stabbing Salmond in the back. "Had he not littered Scotland with these horrible wind turbines, which have raised everybody's taxes … I think he would have done much better," Trump told Fortune. But he also added, "Scotland is the most magnificent land there is."
Then came Trump's presidential campaign, and its long string of variously outlandish statements. There was the honorary degree taken away, along with the business ambassadorship. Hundreds of thousands of Britons signed a petition calling for Trump to be barred from the U.K. Golf officials reportedly decided not to play the 2020 British Open at Turnberry. Trump lashed out, feelings hurt and feeling unappreciated.
"I have done so much for Scotland, including building Trump International Golf Links, Scotland, which has received the highest accolades, and is what many believe to be one of the greatest golf courses anywhere in the world," he wrote in an op-ed. "The UK politicians should be thanking me instead of pandering to political correctness."
And then, finally, came the repudiation at the U.K. Supreme Court. Trump has again vowed to appeal to a European court, but the odds of a victory are vanishing toward nothing. Salmond, who resigned his leadership of the Scottish National Party and the first ministership after Scotland's independence referendum, got a chance for sweet revenge, branding Trump "three times a loser."
What went wrong in Trump's relationship with his mother's homeland? The Donald has built his incredible rise in U.S politics by courting a political constituency that feels ignored by politicians. In Scotland, acting as a businessman, he adopted a much more traditional approach: He assiduously worked to win over powerful national leaders, whether in the Labour Party or the Scottish National Party. That worked for a while—for example, it helped him overcome the resistance of local Aberdeenshire officials to his golf development. In the long run, however, his act wore thin. His bombast alienated Salmond and other government officials, and it never won over many ordinary Scots.
Trump seems to have believed that his nostalgia for his mother's homeland—newly felt when he needed approval for his golf courses—would win over Scottish hearts. "I don't feel like an interloper," he once said. "I don't feel that people see me as an outsider." He seems to have been wrong. Scots aren't in desperate need of another rich American with a seemingly superficial desire to connect with his roots. Such Americans are easy to find—scarfing haggis, neeps, and tatties on the Royal Mile, or standing on a street corner in St. Andrews, sporting ill-fitting tartan golf gear. Trump may have been wealthier than the rest, but he was also louder, ruder, and less endearing.
It's a painful reality for a man who says he just wanted to honor his mother, for which there might be no better remedy than a few drams of a fine single malt. Alas, Trump is a teetotaler.