A Trump-Netanyahu Meeting Is Happening
The Republican presidential candidate's visit to Israel was scheduled before his controversial remarks about Muslims.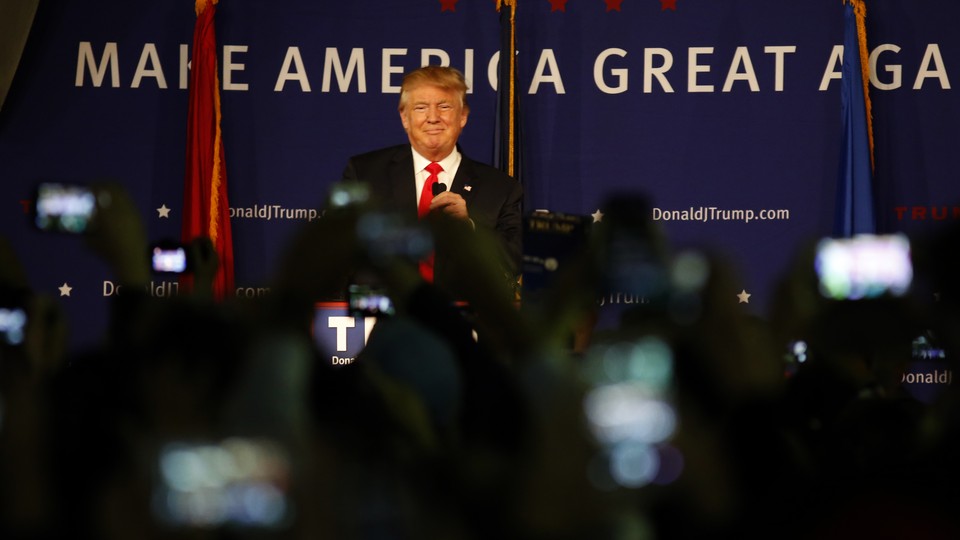 Updated on December 9 at 1:57 p.m.
Israeli Prime Minister Benjamin Netanyahu condemned Donald Trump's remarks about Muslims, but said he would meet with the presidential candidate—and others running for president—when the Republican visits Israel later this month.
A meeting between the two men is scheduled for December 28, when Trump is scheduled to be in Jerusalem.
Trump's visit to Israel, which he announced on Twitter on Tuesday, has proven highly controversial, and his proposed meeting with Netanyahu has been condemned by some Israeli lawmakers, mostly Israeli Arabs and members of leftist parties.
Issawi Frej, an Arab-Israeli lawmaker from the Meretz party, wrote to Silvan Shalom, the interior minister, asking that Trump's visit be blocked.
"As an Israeli citizen, I ask that the state treat the racism against me in the same way it would relate to racism against Jews," he wrote, according to The Times of Israel. "Just as it is obvious that Israel wouldn't allow an anti-Semite to use it to advance its political goals, so too, should be the case of Trump."
Omar Bar-Lev, a member of the Knesset from the Zionist Union, tweeted:
Much of the outrage at the announced visit follows Trump's remarks on Monday in which he called for a "total and complete shutdown of Muslims entering the United States until our country's representatives can figure out what is going on." He has since doubled-down on those remarks, citing the attacks in San Bernardino, California, which was carried out by an Illinois-born man and his Pakistan-born wife.
But while Trump's comments—and Trump himself—have been widely condemned around the world, including in Israel, a visit to Israel is akin to a rite of passage for any serious presidential candidate. Barack Obama did it when he was running in 2008, as did Mitt Romney, prior to the 2012 election.
Michael Oren, the former Israeli ambassador to Washington, cited those visits in comments to The Times of Israel. He added that while Trump's remarks should be condemned, Netanyahu should meet with him—and other presidential candidates—to avoid being seen as taking sides in American politics.
"At the same time," he told the news website, "it's important for leaders of a country close to 20 percent of whose population is Muslim to stand up and say that we distinguish between radical violent Islam and the faith that inspires millions not just here but internationally."
The Jerusalem Post reported that Trump, during his trip to Israel, was also planning a visit to the Temple Mount, the site that both Muslims and Jews consider sacred and which has been the source of recent violence between members of the two faiths. The newspaper cited a "source closely connected to organizing the trip to Israel."
Tensions over the Temple Mount has prompted Netanyahu to bar Israeli politicians from visiting it. Trump's proposed visit to the site is already being condemned.
"Such a visit," Taleb Abu Arrar, an Arab-Israeli lawmaker, told the Post, "will set the whole region on fire."